What does it feel like to be a woman who is changing history? A woman that I am proud to call a friend can now answer this question first-hand.
Christina "Kiki" Kelley recently had the opportunity to travel to Iran as the Team Leader for the Men's Greco-Roman Olympic Wrestling team. This wasn't her first international trip as the Team Leader, but it turned out to be the most ground-breaking. She didn't have much time to prepare. In fact, to get her visa photo in on time, she fashioned a hejab out of pajamas and safety pins with the help of a Walgreen's Somali employee. They got the shot and the application went through, despite some discussion on the Iranian side about allowing Ms. Kelley to enter the wrestling arena, since no woman had done so since the Iranian Revolution.
To prepare for the trip, friends helped Kelley cobble together about four days' worth of Islamic-appropriate garb from the web and a local Somali dress shop. Another friend found the single Lonely Planet Iran guide book available in Minnesota. Kelly studied basic Farsi phrases on the circuitous route to Frankfurt where she caught the 3 a.m. flight to Tehran.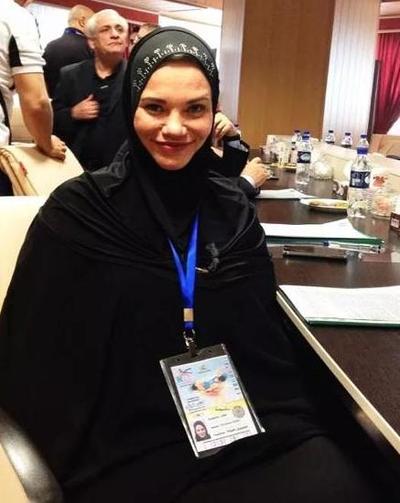 In Frankfurt, Kelley had changed into a conservative black chador (a long robe) and hejab for the 1:20 a.m. arrival at Imam Khoumeini Airport (IKA). Consequently, no one recognized her at the airport, since they were looking for an woman in typical American dress. When they finally recognized her, she was whisked through security as a diplomat. But not before the Iranian-born coach for Team USA and the remainder of the team got in a good laugh about overlooking Kelley.
As the first woman team leader for the Greco-Roman team (as well as the first woman to enter several male-only sports arenas since 1979), no one could really prepare her or offer much advice. "My main concern once I was there was -- what do I wear for this event?" She decided to err on the conservative side and chose all black for that first entrance into the "House of Wrestling" for an International Federation of Associated Wrestling Styles (FILA) board meeting. During this meeting, the Iranian Student News Association (ISNA) reporters asked Kelley for a brief interview. It seemed informal, mostly focused on why as a Western woman she was wearing conservative Islamic attire. "I explained that while it wasn't required for me to wear the traditional dress, I wanted to show respect for their culture." This ISNA footage made it onto that night's news. And the next day, newspapers featured her under the heading, "Modest American Woman Team Leader to Attend World Cup."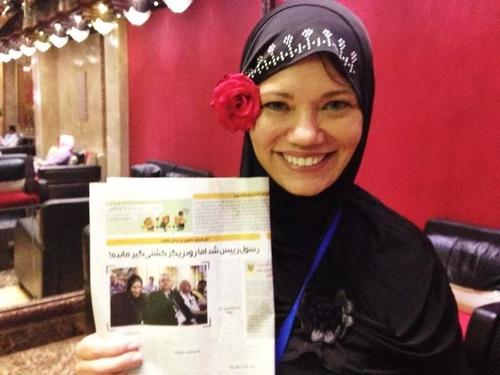 On May 14, 2014, Kelley was the first woman allowed in the Shohadaye Haftom-Tir Sports Hall since 1979. She arrived separate from the team. Upon approaching the arena, four Iranian police vehicles surrounded her car. She was escorted to a back door of the complex through a double line of guards. At that moment, Kelley wondered what she'd gotten herself into, but then quickly got to work immersing herself in the matches.
After lunch, Kelley was informed that she would be included as part of the opening ceremonies. Kelley decided to change out of her black hejab, opting for a more patriotic look this time consisting of red, white, and blue. After her outfit change she entered the arena where she was handed the USA banner and asked to march the perimeter of the arena with the other country representatives.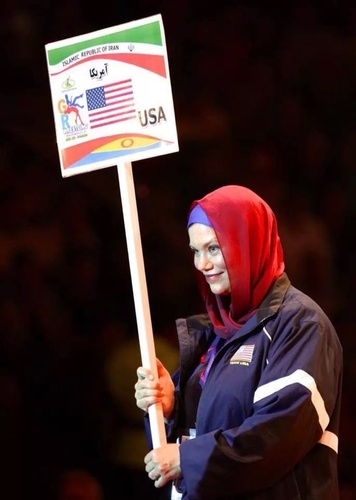 I was not only the first woman in the arena, but I was walking in front of 5,000 men. I had no idea how they would respond to me. The first third of the arena was completely nerve-wracking. I was grateful to be wearing a [long] skirt so that my shaking knees were not visible. The second third of the arena I began to gain more confidence, and by the end I recognized that the men were not only accepting my presence, but they were even chanting my name at times and cheering. How surreal. It could have been so different.

While circling the arena, there were young boys performing synchronized tumbles to traditional Iranian music. As each one completed their tumble, they would pop up and stare at me for a moment, like 'Is she really there?' After the brief eye contact, I bobbed my head to each boy and said 'Salam' in acknowledgment.

Following this ceremony, we were all escorted back into a waiting room. It was then that the magnitude of this historic moment hit me and tears started rolling down my face. The little boys backstage showed concern. I smiled and did my best to explain that I was crying happy tears. The boys broke cultural protocol to approach me, shake my hands and look me in the eyes again.

That's when I knew that when these little boys are grown men -- when they are the senior wrestlers -- everything will be different, everything will change. There will be women in that arena, not just one. And I was lucky enough to be there at that moment representing the women who will undoubtedly follow me there, as team leaders, coaches, referees and wrestlers.
Many more media interviews followed, but instead of the press inquiring about her outfits, their questions now centered around the sport and technique analysis. Kelley was elated and shocked when one interviewer even asked her the existential question: "What is the one thing that you would tell the world right now?" To which she responded, "We don't need to wait every four years to live the Olympic spirit -- it is something that each of us could cultivate and practice on a daily basis."