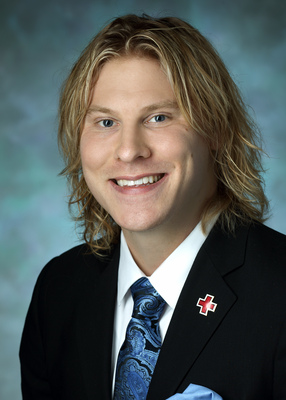 Image: Keith Weller
"If you can't fly then run, if you can't run then walk, if you can't walk then crawl, but whatever you do you have to keep moving forward." ― Martin Luther King Jr.
I became a Red Cross volunteer to show my appreciation to the 36 blood donors who helped save my life. Since 2007, I have been an advocate for blood donation and have traveled the country hosting dozens of blood drives and participated in many events to raise awareness. In 2009 I hosted my very first "Iron Heart Red Cross blood drive" in the Turner Auditorium at Johns Hopkins, and now, as a Graduate School student at Hopkins, it meant a lot to be recognized with their Martin Luther King Jr. Community Service award.
Begun in 1982, the Johns Hopkins' annual M.L.K. Jr. commemoration event celebrates the legacy of Martin Luther King, Jr. by honoring community service done by members of Johns Hopkins University and Johns Hopkins Hospital and Healthcare Systems who demonstrate the same spirit of volunteerism and citizenship that characterized the life of Dr. King. Throughout his life, Dr. King had a deep faith in what people working together could accomplish for themselves and for their nation. Past speakers include Maya Angelou, Harry Belafonte Jr., Stevie Wonder, James Earl Jones, Bishop Desmond Tutu, Jesse Jackson, Danny Glover, Rosa Parks and Coretta Scott King.
The theme of this year's event was "Equal Justice and Equal Opportunity: Our Children Deserve No Less," and the selection of Freeman Hrabowski III as the keynote speaker couldn't have been more appropriate.
Hrabowski is the President of the University of Maryland Baltimore County, and one of Time magazine's 2012 "Most Influential People in the World." His research focuses on minority participation in science and math education. As a result of his leadership, UMBC has become one of the nation's leaders in awarding postgraduate science and engineering degrees to African-American students.
Growing up in Birmingham, Alabama, he was quite familiar with Dr. King's passionate work for civil rights. As a child, he participated in civil rights protests and heard King speak at the funerals of four girls killed in the 1963 Sixteenth Street Baptist Church bombing.
In the incredible presentation that Hrabowski gave, his message of hope and values left a profound impact on me when he stated, "I challenge you to watch your thoughts, they become your words. Watch your words, they become your actions. Watch your actions, they become your habits. Watch your habits, they become your character. Watch your character, it becomes your destiny".

It was a very powerful event from beginning to end, and I was truly honored to represent the American Red Cross and be recognized by Johns Hopkins for my volunteer efforts.