My name is Brian Boyle, I am 27 years old, and I am the National Volunteer Spokesperson for the American Red Cross. But nine years ago on July 6, 2004, I was a blood recipient after being involved in a near fatal car accident that caused catastrophic injuries. My heart was pushed across my chest, crushed pelvis, shattered ribs, broken clavicle, collapsed lungs, every major organ was damaged, and I lost 60 percent of my blood.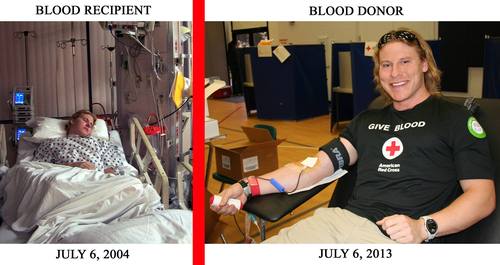 When I arrived at Shock Trauma at Prince George's Hospital Center by Medevac helicopter in critical condition, I received thirty six blood transfusions and thirteen plasma treatments, underwent fourteen life saving operations, and would then spend the next two months in a medically induced coma on life support.
I eventually awoke from the coma and after intensive rehabilitation I learned how to blink, move my fingers, talk, eat, sit upright, stand, walk, and then eventually to swim, bike, and run.
Three years after leaving the Intensive Care Unit, I completed the healing process when I crossed the finish line in the Hawaii Ironman World Championship. Swim 2.4 miles, bike 112 miles, run 26.2 miles. These are the distances that comprise the 140.6 mile Ironman triathlon, the world's most grueling single day athletic event, and also the event that fulfilled my recovery.
The foundation of my recovery came from 36 blood donors who I never met, nor will I ever have a chance to know. What I do know is that the short amount of time they gave in order to donate blood gave somebody like me a lifetime.
Every day since I left the hospital has been about showing my gratitude for the life I have been given and the people who have helped me throughout my journey. At 1:15PM this past weekend on July 6, I celebrated life by donating for the eighth time, reaching my first gallon in blood donations.
The blood drive I attended was in Honor of Lillian Grace Smith, who was born September 26, 2011 at St. Mary's Hospital in Leonardtown. She was admitted to Children's National Medical Center on March 7, 2012 due to concerns with her loss of mobility and muscle control. After extensive metabolic, neurologic, and genetic testing it was determined that Lily had a rare, degenerative genetic disorder called Krabbe disease. The disease usually has a very grim outcome and her family was told there was no hope and to begin making funeral arrangements for their child.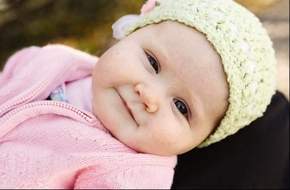 After a thorough examination and many tests, Lily's parents were informed that because of her early diagnosis and her disease's slow progression, Lily was a candidate for a new procedure which involved 14 days of chemotherapy and ultimately a cord blood transplant that would hopefully extend her life to 10-15 years. Lily received about 65 pints of blood while undergoing her transplant, so the blood drive was her family's way of giving back.
This is the power of donating blood: You're not just giving blood, you're giving life, and there is no greater gift than that
To find a blood drive near you, please visit here.