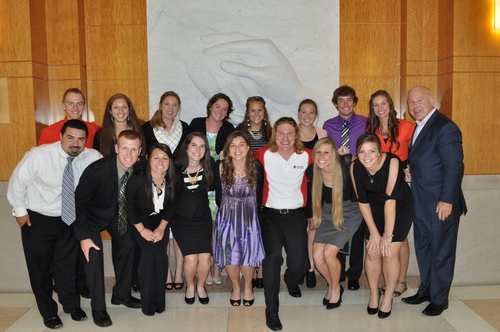 For the third year, I had the privilege of visiting with the students in the American Red Cross NAIA Collegiate Leadership Program at the Red Cross National Headquarters in Washington D.C.
Each year the program kicks off with two weeks of energetic training. Student-athletes from all over the country acquire first-hand coaching, mentoring and professional leadership training presented by senior Red Cross leadership and NAIA representatives. They learn to organize successful campus blood drives, actively participate on a leadership board and take part in diversity and cultural competency training.
"This program is incredibly exciting as it demonstrates the value of successful and
meaningful partnerships and celebrates the impact of youth leadership," National Chair of the American Red Cross Biomedical Services, Brian Hamill, said in a statement on the Red Cross NAIA Program website.
These individuals have an amazing opportunity to gain leadership skills and save lives. The program is intended to: exemplify core values of the NAIA Champions of Character program; inspire a new generation of Red Cross volunteers and leaders; promote diversity on Red Cross Blood Region boards of directors; foster leadership opportunities; champion a philanthropic cause; and impact local communities.
I always look forward to speaking with this extraordinary group every year, they truly are an inspiration and I know they will accomplish all that they choose to pursue in life.
To learn more about the Red Cross NAIA Collegiate Leadership Program, please visit here.