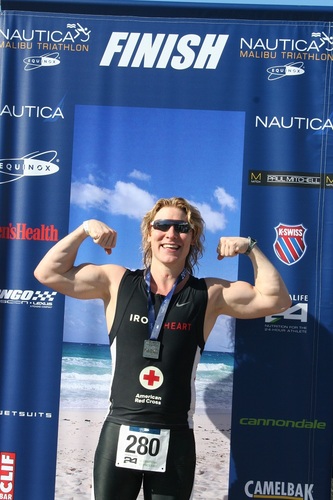 This past weekend I participated in the Malibu triathlon, which is a race that I've always wanted to do ever since I entered the sport. This race was very special to me because I represented the American Red Cross and dedicated it to the 36 blood donors that helped save my life when I was in the hospital in 2004. To honor these selfless people, I wore 36 individual Red Crosses on my race suit.
The course was very scenic, the event volunteers were amazing as always, and I had my family and friends there to support me from start to finish. After all the hard work and preparation this year, it was a great feeling to place in the top ten of my age group, and I owe that to a lot of people who helped me along the way. You may be out there swimming, biking, and running by yourself, but it is never an individual effort when it comes to participating in these types of events.
With my background, it means so much to be able to participate in triathlons and marathons; I have competed in over three dozen endurance since I started in the sport in 2007. When I cross the finish line in these events, it is my way of saying "Thank You" to everyone who has helped me along my road to recovery. It is because of these amazing people that every step is an achievement and every breath is a miracle.
To see a news segment that CBS of Los Angeles aired before the race, click here.