I look at some paintings and wonder where they come from -- how did the artist conceive of this image in the first place? How did they start out? I suspect the artists themselves couldn't really say.
When I asked my then three-year old son how he chose a name (Tweazer) for our new French Bulldog puppy, he said: "It just came into my head."
Look at the Chagall painting. Not many of the usual rules are being followed, not conventions of perspective, anatomy, or even gravity. People don't float around like that, but you know the feeling if you've been in love... the flow, weightlessness, warmth, swept off your feet, your world turned upside down, the intimate closed loop of a kiss... the world outside empty, cold.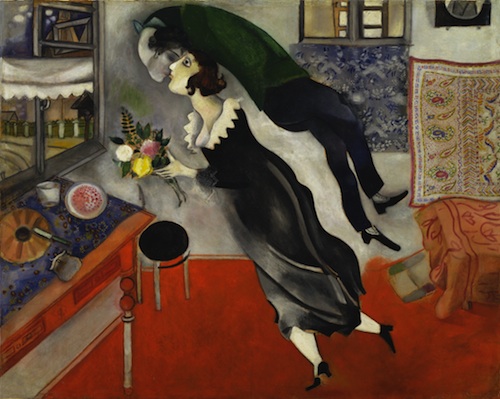 © 2013 Artists Rights Society (ARS), New York / ADAGP, Paris
Hear my soul speak:
The very instant that I saw you, did
My heart fly to your service.
Shakespeare: The Tempest - Act 3, Scene 1, lines 60-3
We enter the painting by Arshile Gorky and find no way out -- this world is inescapable, piercing, discomfiting. There is no air in the painting, no rest, no escape, no world outside.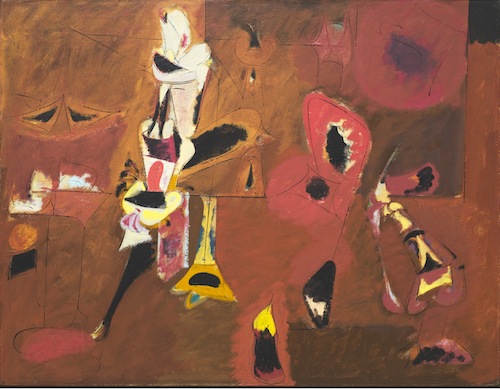 © 2013 The Arshile Gorky Foundation / The Artists Rights Society (ARS), New York
...Wrecked, solitary, here -
And then a Plank in Reason, broke,
And I dropped down, and down -
And hit a World, at every plunge,
And Finished knowing - then -
Emily Dickinson, I felt a Funeral, in my Brain (280)
Both visualization and visual perception use the same neural networks in the brain. In visual perception the "mapping" function in the hippocampus receives sensory input from the visual cortex (the brain's largest system) and creates a hypothesis about the world (e.g., we see). When we see "with the mind's eye" we also create a visual worldview, building a new model, a picture (a memory, a dream, a painting) that corresponds to cues in the world we've previously experienced. Imagination follows the same pathways as visual perception, only in reverse.
Everything we need to know about love and pain is in Chagall and Gorky. That the feeling that a painting evokes is communicated by its form, color, shapes, and marks, is self-evident and explicable. It isn't magic. Though we can chart pathways in the brain, how a new visual language is born somehow remains a great mystery.