When Jim Peplinski entered the NHL more than three decades ago, players didn't look to the officials to solve their problems. Rectifying disputes wasn't the referee's strong suit, and the concept of a diving penalty could not be assimilated into the hockey mind.
Players policed themselves -- and they, for the most part, respected one another's space.
"In eight hundred hockey games, I don't believe I was ever, even once, hit from behind by another player," says Jim Peplinski, 52, who played with the Calgary Flames from 1980-1990, and once again, briefly, in 1994.
Peplinski and the Calgary Flames share roots.
The Renfro, Ontario native was selected 75th overall by the Atlanta Flames at the 1979 NHL Entry Draft. When the team relocated to Canada, Peplinski became an original member of the Calgary Flames, notching 38 points and lacing the skates in all 80 of their inaugural season games.
The sort of game that the 20-year-old forward encountered in 1980 would be unrecognizable to a rookie in 2014. Today's game is quicker, the players' skills are broader, the fourth lines are more formidable, and a series of rules have drastically reduced or eliminated the game's earlier emphasis on those more ruffian tactics.
"It was a different type of contest back then," says Peplinski. "In the 1980s, if you weren't prepared to fight or to be physical, in many cases, you didn't play. The league has tried to put in rules that make players feel more comfortable. I think that players are just as courageous today, but they are more skilled, faster and stronger. Hockey, I believe, can be just as exciting today and just as physical, without some of the sideshow stuff. And I'm not trying to take away from career pugilists."
As a Flame, Peplinski found himself enmeshed in the heat and intensity of the Battle of Alberta on multiple occasions, matched up against a seemingly endless supply of stern rivals on the Edmonton Oilers.
"The rules back then couldn't protect No. 99, so Glen Sather had to," says Peplinski. "Love them or hate them, they had a great wolf pack mentality. Wayne Gretzky was so good that a lot of teams tried to bring the Oilers down to their level by being more physical with them. Calgary wasn't geared toward that mindset. But Sather responded because he had to. Pairing Dave Semenko with Gretzky and Jari Kurri was brilliant."
Peplinski had his name etched on the Calgary Flames' first Stanley Cup in 1988-1989, the year they dispatched the Montreal Canadiens in six games. However, one of the Flame forward's most memorable moments took place a few years earlier in the 1986 Stanley Cup Final. Peplinski and the pesky Montreal forward Claude Lemieux came together during a post-game melee.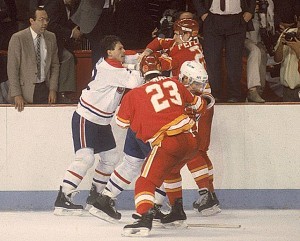 One of the strangest incidents of its time, Lemieux gouged at Peplinski's eyes and then gnawed his finger to the bone. Peplinski skated to the penalty box and exhibited the bloody appendage to referee Denis Morel. As a precaution, he obtained a tetanus shot.
"Claude had been taking some liberties," says Peplinski. "He had been very vocal in that series. Very vocal. There had been a scrum at the end of the game, and I went to Claude and I thought, 'Okay, now it's you and me, no referees.' I was thinking, 'Will he stand up and go with me or try to get away?' Just as I thought, he tried really quickly to get the upper-hand, and he couldn't. So he tried to gouge me in the face and he bit my damn finger."
During the final altercation of his career, Peplinski got tangled up in another post-game, post-season fracas, this time with Chicago Blackhawks hothead Dave Manson. With his team beaten 5-2, at the final buzzer Manson crosschecked Flame linemate Tim Hunter. Seconds later, Joel Otto wrestled around with Blackhawks goaltender Alain Chevrier and Manson accosted Peplinski.
"I ended up paired with Manson," says Peplinski. "For some reason, he saw the need to fight. It was the last thing I wanted to do, because it was definitely not the time. I kept resisting. Finally, the referee came over and said, 'All right, go ahead.' I drilled him. Except for the fight I had with Dave Hutchinson, it was the only fight where I've ever knocked someone right down. I was resisting and resisting."
Peplinski says that the game he played in during the 1980s, while unquestionably a bit more violent, and occasionally a bit more of a spectacle than a sport, claimed a certain honor and integrity lacking in today's competition.
Headshots and cheap shots and the current lack of accountability can be whittled down to an absence of respect and perhaps too much of players relying on the referee and the rules for protection.
"At times, players forget to adhere to the adage of 'protect yourself at all times,'" says Peplinski. You need to be aware that you can be hit at any time. It seems as if that awareness isn't always there now."
Reflecting on all of the names and faces his career has crisscrossed with on the ice, Peplinski, fourth in the Flames' annals with 1,467 career penalty minutes, singles out Behn Wilson as one of the game's primary tough prototypes.
"Behn Wilson was a skilled guy who could default to Neanderthal behavior when he needed to," says Peplinski. "The toughest guys I ever played with were Joey Mullen and Doug Gilmour, against probably Glenn Anderson. After Behn Wilson, I'd say that Barry Beck, Clark Gillies, Bob Probert and Dave Brown were the best fighters. I have to say Tim Hunter was the best technical fighter I've ever seen."
Peplinski says that the purpose of fighting was never -- and should never be -- about injuring an opponent or absorbing a face full of knuckles, but demonstrating to teammates that you can account for yourself and keep the opposition honest. You win an honorable victory by showing up.
"To me, when Colton Orr fights, and he throws 20, but receives 18, that's not really winning."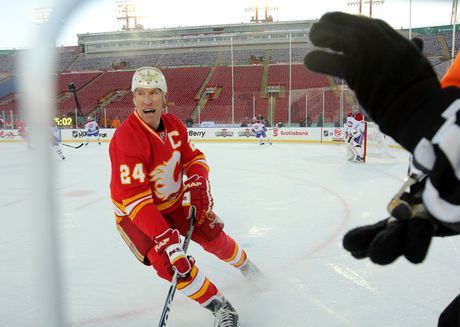 His hockey experience has taught Peplinski to accept whatever comes his way and that the most important thing in life is that one faces it with courage and gives it the best effort he has. That philosophy led to the creation of Jim Peplinski Leasing in 1990. In addition to operating the Calgary-based, vehicle-leasing business across Canada and directing a public oil and gas company, Peplinski remains active with the Calgary Flames' alumni association and business development. He keeps active in charitable events and preserves a strong family life.
"Calgary is a great city," says Peplinski. "It's a city where people really work together. While I love the game, I try to get involved in things that are much broader in scope than skating up and down the ice."
Brian D'Ambrosio interviews 30 former NHL tough guys in Warriors on the Ice. Available now.