There is an old saying that if you give a man a barbecue, you feed him for a single day. But if you teach a man how to barbecue, well, you feed him for the whole summer.
Former NFL running back Kenny King hopes that at your next barbecue -- be it during summertime or otherwise -- his King's Q Sauce will be close at hand on the picnic or dinner table.
"My King's Q Sauce is a work in progress," says King, 56.
Though it comes from an old family recipe, I've been working on it seriously for about a year and a half, and I'm working on developing and marketing the brand. Here in Texas we are into barbecue, and I've got something that is quality and handmade.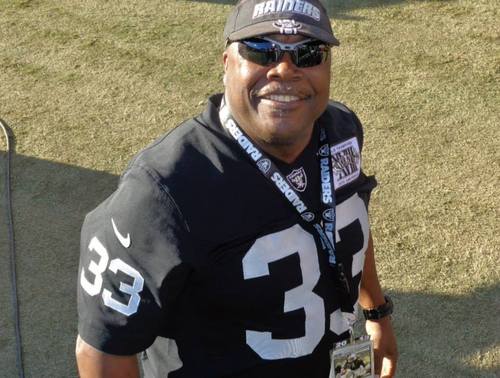 King's memories of barbecue are interspersed with those of his father, Walter King, a purveyor of fine barbecue, who proudly supplied a never-ending flow of delicious grilling.
Barbecue is a passion for me. And it all started with a sauce my dad made years ago, in the small town of 2,000 people, in Clarendon, Texas. What I'm trying to do now is to make it my own sauce, and to perfect my own sense of sauce. I realize that with barbecue sauce it has to be something unique, my own signature.
King has sent samples to every state and is talking with regional distribution centers about meeting or increasing production.
My goal is to make it less expensive, and more accessible to people. I'd like to lower the cost to the consumer. With shipping, I have to charge $10.50 for one bottle. If you are a big business barbecue like Kraft's or Sweet Baby Ray's, then you can charge around $1.50 for 16 ounces. My price for 16 ounces is six dollars -- maybe I could get it down to $3.50. I price my quarts at $12. Some say that is high, some say it is fair, but they all love the flavor.
"Son, you've got to pay attention."
One thing Walter King, who passed away more than 20 years ago, taught his son: barbecue requires considerable attention.
"All the local people would come to him for barbecue," says King.
I remember once when we were doing a little barbecue for a July 4th celebration in the black community. Dad made his signature sauce. I put a large piece of meat on my mesquite wood, but a friend came up to me to talk, and I burnt the ribs. See, the grease dropped and charred the ribs really badly. I still remember my mom saying, 'I hope your friend Billy Wilson doesn't come by again.'

Dad said, 'Son, you have got to pay attention. You need to pay attention so you don't burn your meat. You don't put the meat directly on the heat, you put it on the side and you let it smoke. You've got to be serious. You have to stay with it.'
His father's memory still inspires Kenny to honor the man's infinite love of barbecue. Though, Kenny has had to tinker with the family formula.
I had to remove some of the brand name ingredients, because I can't sell it that way. There have been a few trials and tribulations. I tried it with a tomato sauce at first, and that was nasty. Then I moved to a ketchup based sauce, and that makes it a little thicker.

The best way to use one of my sauces is, you take your meat and smoke, take your completed meat, and you let it sit for 15 minutes, then you baste it, and let it set aside. It will make it real smooth, with a nice little kick. It's hot barbecue, but it doesn't burn your mouth, especially the signature smoke flavor.
Early Days on Houston Oilers
Kenny King started playing football in the seventh grade, following the path of his two older brothers. He was drafted in 1979 and spent his rookie season deep on the depth chart.
I was the sixth running back on the Houston Oilers, behind guys like Earl Campbell, Boobie Clark and Rob Carpenter. I made the Oilers as a special team's player, but I wasn't that happy. I had played at Oklahoma on the wish bone, and I had a great time. Come the end of that season, I had made $35,000 a year, and I was on injured reserve.
King says when he looks back at that Oilers team that it is hard not to recall the powerful punishment of Earl Campbell.
"Earl Campbell was a beast, he really was," says King. "I mean, Marshawn Lynch today is a beast. But the original beast was Earl Campbell. He had amazing leg strength, power."
King recalls one game on September 30, 1979 when the Oilers were playing the Cleveland Browns. Some members of King's family traveled from Fort Worth to the Houston Astrodome, including his nephew who hoped to obtain a souvenir of Campbell's.
Sometime near the end of another hard-charging performance for Campbell (three touchdowns and 76 yards on 18 attempts), while on the sidelines, the hulking fullback tossed King a souvenir for his nephew.
Earl came out at the beginning of the fourth quarter. I looked down at him, and he had his hand on his helmet. He was so tired at the end of the game, he had run so hard, he had hit so hard. With Earl, when he got hit, he got hit four or five times before he hit the ground. I watched him as he ran over and through them.

I remember a collision once between Earl and Jack Tatum, when he was on Oakland, right near the goal line. It was such a loud collision. But Earl stumbled in, and he got the touchdown. He was one of those guys who played with respect and dignity.
Oakland Raiders and the Cinderella Years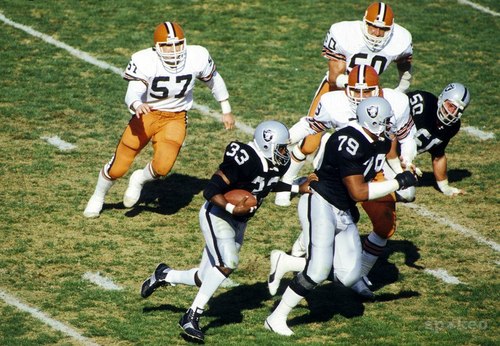 Speaking of Jack Tatum, King, the second-year running back, was traded to Oakland for the outspoken Tatum, a nine-year veteran. Also involved were Oakland's seventh-round draft choices in 1980 and 1981. With the 1980 No. 7, the Oilers selected Craig Bradshaw, a quarterback from Utah State and the younger brother of quarterback Terry Bradshaw. (Craig played two games in his career.)
On the second day of the draft in April of 1980, King received a call telling him that he had been traded.
At the time I was contemplating retiring from football. Bum Phillips basically said, 'Hey, we traded you.' I sold everything I had or just left it in the apartment. In my mind, if I was not starting I was going to retire to the oil industry.
Politely speaking, the 1980 Oakland Raiders were a ragtag collection of caste-offs, malcontents and underachievers. At the start of the season, even the most impracticable fan couldn't have dreamt up their 27-10 Super Bowl XV victory over the Philadelphia Eagles.
"We were misfits," says King.
It's hard to imagine or describe everything that happened on that Cinderella team. Al Davis was a visionary, if he liked what you had, he would have you as a Raider. Davis would say, 'You have the potential to be great.' We were real misfits. Bob Chandler had come over from Buffalo, Otis McKinney came over from the Giants, and Burgess Owens came over from Jets. We had Jim Plunkett, who came over from San Francisco. We had Dan Pastorini, who came over in the Ken Stabler deal.
What memories of Super Bowl XV have endured the longest? Besides Rod Martin's three interceptions, it is Jim Plunkett's pass to Kenny King for a then Super Bowl record 80-yard reception. It was a simple six-yard pattern that ended with Plunkett scrambling and delivering the ball to King, who raced down the sideline for six, to put Oakland ahead 14-0.
"It was the greatest thing," says King.
Bob Chandler led me in on that last block, the ball went over Herman Edwards, and then in for 80 yards. It was all very humbling. I am humbled even today. I always give that autograph. That was 33 years ago, and kids still come up to me.
King moved to fullback when the Raiders drafted Marcus Allen and he helped orchestrate Allen's Super Bowl XVIII MVP performance in 1984 -- a 38-9 victory over the Washington Redskins.
What I realized in that game was that Marcus Allen had speed. When he made that complete reversal, with Darrell Green chasing him, he showed that speed. I knew he had talent -- he put moves on guys all the time in practice. But what a remarkable athlete -- the magic of the wiggles and gestures. I'm lucky I had the chance to block for Allen and Billy Sims (in Oklahoma).
Hall of Fame Name Game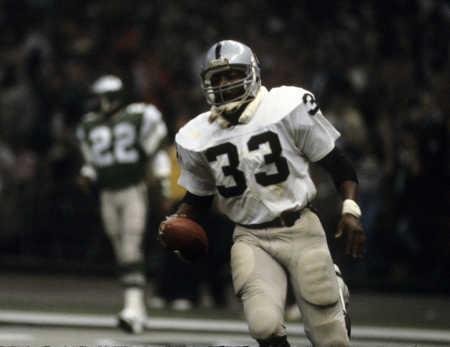 Any conversation about the 1980s Oakland Raiders would not be complete without a discussion of the highly controversial NFL Hall of Fame.
Ray Guy deserved to be there long ago. But Tom Flores and Jim Plunkett deserve to be there. What does it take to get you in there? When you look at the guys who are in there, just how can you exclude Jim Plunkett? Is it because he doesn't have enough passing yards? I don't know who is on the selection committee, but I would love to chat with them. You want to see the rewards come to those who deserve them. Robert Brazil. Cliff Branch. Lester Hayes. Flores just had his 76th birthday. Do these guys have to die before they get into the Hall of Fame?
King is grateful that he is physically viable. Like most running backs, he played regardless of whether he was hobbled with a twisted knee, or a sprained ankle, or a torn Achilles; he didn't think twice back then about injecting his wounds with cortisone or Novocain, and swiftly returning to action.
They don't shoot up players any more. At $40,000, I had to play. I had to play. I needed and I wanted to play. You make those sacrifices. And I'm not saying that guys today are soft -- because that's not the case.
King says he had a scare a couple of years ago. Following a serious migraine attack he met with a neurologist, who recommended that King complete a full set of head and brain CAT-scans, which revealed spots on his skull.
The neurologist said it could be from a concussion. They said they would monitor them in case they grow. As football players, we ask ourselves what we could have done differently. When you see Earl Campbell, Jim McMahon or Derrick Jensen, suffering the debilitation of their faculties, it's very hard. You start to think, 'Am I okay? Am I good?' It's very frightening.

I see and hear about a lot of guys, and I say, 'Wow, I didn't know that he was that bad,' or 'I didn't know he couldn't walk.' You just have to bite your tongue and say a prayer. You say prayers for your fellow teammates or for those who are suffering physically.
Entrepreneurism: "I'm Working to Make it Happen"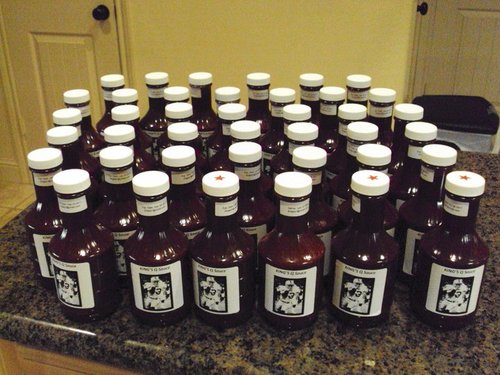 Following retirement in 1985, Kenny King climbed the corporate ladder in the shipping and packing industries, followed by a few years at a food distribution company, and he is currently employed full-time at a logistics company for AT&T.
If there is one thing King understands it is that success is depended on effort. And his budding effort known as "King's Q Sauce" comes in four varieties: mild, medium, hot and an option called Skorcher.
"Right now I've got a maximum of two months of inventory already made," says King, who is presently reading Food Truck for Dummies to get more insight into the startup costs associated with such an endeavor.
In a few weeks it'll be spring, and people will be thinking of barbecue. I'll get geared up for that. I can make close to 20 gallons a day. I keep about 10 gallons on hand at all times. I don't like to keep a supply older than six months.
Kenny King is a man with dreams -- a man with a two-burner stove and a couple of large pots who hopes to make his mark indulging appetites. It's his hands doing the mixing and stirring, and his brains doing all of the future planning.
"My wife is helping get things going, too. Our youngest son said that if things got big, he would move to Texas and help out. I'm working to make it happen."