So we are in production for our La clemenza di Tito. First thing Tuesday morning Christopher Alden gave his wonderfully improvised presentation of his ideas to the cast (below) - and there followed a splendid examination of all the characters with this immensely intelligent cast giving as good as they got. A great debate and an excellent example of intelligent discourse between serious people. So we are on the way of a great journey of discovery. This is always for me a joy to observe and a source of satisfaction. Everyone is thinking - is that not so rare? Yes!!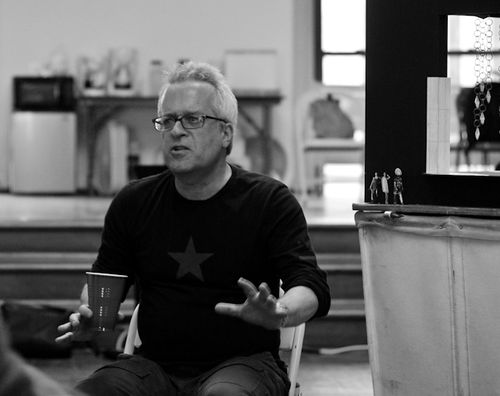 And that afternoon they got into the opera with three hours of detailed work on the first scene. I was there for the last hour or so and it was clear that there was an abundance of energy and creative passion. Well this is day one of staging rehearsals. But for now we are all fired up!

Below you have the first action - Act 1 Scene 1 - a first stab at getting the ball rolling. This is Christopher with Paula Murrihy (Annio), Amanda Majeski (Vitellia) and Renata Pokupic (Sesto). It was a good start........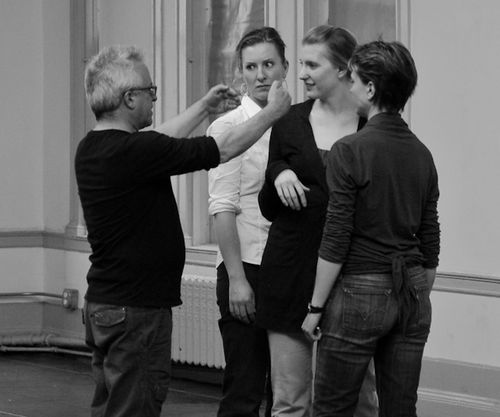 There are some more pictures on my photo site. Click here.
Meanwhile life goes on for the General Director. We are at that stage of getting the program for the season to the final proof stages. We will announce our 2010 season on Thursday - so the press is on the line in advance asking questions. These are all quite easy to field so far. We continue to have to usual routine stuff to deal with.
And oh yes - we still have to raise money to pay for all this. The box office sales are steaming ahead. And we have an event at the Union League Club on Thursday evening which should achieve some useful things. But these are difficult times so we have much to do other than producing good opera.