That was how I thought that I would mange to get over the stresses of the last few week. Well actually it was good and quite calm but very busy. But I managed to get a quiet few minutes in the sun at lunchtime -- bliss.
With Mose over and Giasone on we can now move on to Three Decembers. Frederica von Stade (Flicka) is here and rehearsing with her new stage children -- Matt Worth and Sara Jakubiak. Here you see her with Matt this afternoon. The mother son relationship is there already!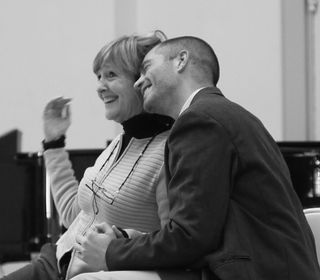 It is so wonderful to have Flicka here with us to do this moving human piece of Jake Heggie's. We go back a long way - the first time I heard her was in an audition in New York Town Hall more years ago than we should discuss. She could not accept my offer for a minor role in Wexford where I was at that time Artistic Director; however she turned up at Glyndebourne in 1973 as the Cherubino in that legendary Peter Hall production of Figaro, with Ileana Cotrubas and Kiri te Kanawa in the cast. Flicka was the Cherubino of first choice for a generation. Unforgettable. And unforgettable also was her Penelope in Ulisse at Glyndebourne in 1979, with Richard Stilwell in the title role. What a combo they were!
We will be following the progress of this from now until the opening on May 8. If you do not have your tickets you are very foolish! Get them now!
I walked back to the office from our rehearsal room through Millennium Park on this chilly bright and breezy afternoon. The cherry and other blossoms are out and make the whole scene bucolic and seductive as you can see below. But do not be deceived -- it is still inner city!
Now for an early night... at last.