One evening in March 2012 around 8 p.m., Egyptian video blogger Ahmed Anwar was sitting at home when he got the idea of making a short spoof film inspired by the police having just given Marwa, a famous Lebanese dancer and singer, an award.
Ahmed called his friend to come over and they thrashed out a quick script. By 11 p.m., they were filming. Within 24 hours, it was on YouTube. The six-minute film poked fun at the police for honoring Marwa when they should have been out fighting crime.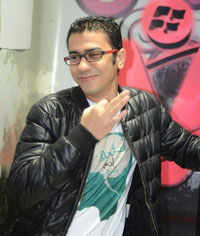 "There were these photos of her winning the award -- they gave her a copy of the Koran and a sort of trophy. I wanted to make a film about it," Ahmed told me during my visit to Cairo this week.
The film included real footage of dancing policemen, as well as a mock interview with a potential recruit to the police. For that scene, Ahmed's friend was interviewed using a feather duster as a microphone and was told that traditional dancing was now on the police academy curriculum.
After Ahmed's video went up on the internet, several thousand people watched it. He then carried on making sarcastic videos about the Egyptian authorities and nothing more happened until six months later. That is when police started to question Ahmed's neighbors about him.
"They started to ask my internet service provider about me, they questioned people at my work, my dad's work," he told me.
Then in March 2013, six months after the questions began, policemen came to Ahmed's house looking for him. He wasn't home, but he later heard that the Ministry of Interior had complained to the public prosecutor about the film. Ahmed explains, "I was charged on three counts, including insulting the Ministry, abuse of the internet and a sort of 'deliberately provoking people' charge."
Under Egyptian law, anyone can make a complaint to the public prosecutor about anything they see or hear on the media. The prosecutor then decides whether the case is worth pursuing. Human rights activists say in recent months there has been a surge in the number of cases brought by the public or even -- as in this case -- the government itself. There has also been a surge in the number of cases that prosecutors have chosen to pursue further. Journalists, political activists and bloggers are increasingly likely to have a complaint made against them to the prosecutor and for the prosecutor to pursue it.
According to local media experts more cases have been brought against journalists since President Morsi took office in June 2012, than were brought under the whole 30 years of former President Mubarak.
Today, Ahmed is in hiding out of fear that he will be jailed while his case goes through the system. He was evading the police when I met him in Cairo this week. He's a thin, cheerful, trendy 26-year-old who told me that he's put about 15 films on the internet since he started video blogging soon after the revolution.
He notes, "I started in April 2011, but the first ones were serious. I started getting sarcastic with my videos about December 2011. Some of them have had over 350,000 views."
The dancing policemen film has had 38,000 views, around 10,000 since the case against him was reported in the media. Local newspapers have dubbed him "YouTube's Bassem Youssef" after the famous Egyptian satirical TV star.
Ahmed's case went to court on May 4 and the next hearing is set for June 1. He says one of the charges against him carries a jail sentence of up to three years, but he's still refusing to take the film down from the internet.
"The U.S. government should speak out against these cases on denying freedom of expression," he told me. "They gave so much public support to [President] Morsi and the Muslim Brotherhood that when the authorities bring these sorts of cases the U.S. should speak out about it."
Let's hope the U.S. is listening to Ahmed and others targeted in an effort to limit freedom of expression and that the charges against him are dropped -- prosecuting him undermines the Egyptian government's credibility more than his film ever could.