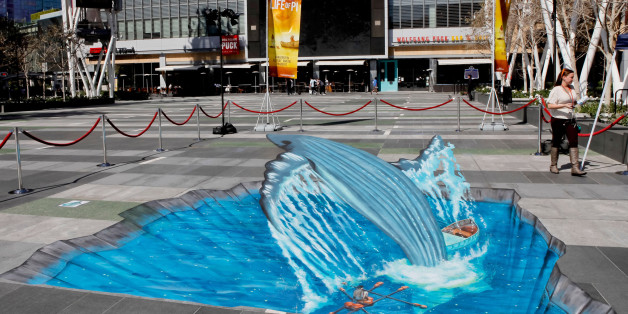 Like the boy in Life of Pi, the Los Angeles visual effects worker has been stranded at sea, unaware of which direction will most likely lead to shore.
The shipwreck occurred on the biggest stage of the film industry: the self-congratulatory pageant known as The Oscars.
While Kristin Chenoweth asked actresses about how they came to choose their rippled dresses and bloggers tweeted nasty asides (was Renee Zellweger actually drunk?), there was a protest across the street from the red carpet.
"Imagine The Avengers without The Hulk!" "I Want a Piece of the Pi, too!"
These were some of the signs that 400 protesting visual effect workers carried outside the Dolby Theatre.
The protest was aimed at the film industry itself. The centerpiece was the massive layoffs and bankruptcy status of the effects studio Rhythm & Hues, which had worked on the award-winning Pi.
After Life of Pi won four Academy Awards (including Best Achievement in Visual Effects and Best Director for Ang Lee), Phillip Broste, a former compositor for Rhythm & Hues, wrote an open letter to Lee and the filmmaking industry.
"It took hundreds of hours from skilled artists and hard-working coordinators and producers to craft the environments and performances in Life of Pi," Broste wrote. "Not to mention the engineers that wrote all of that proprietary code and build the R+H [Rhythm & Hues] pipeline. That is where your money went. I'd say, judging from the night you just had," while effects workers protested outside, "you got one hell of a deal."
Since the megaphone moment of The Oscars has passed, have visual effects workers landed ashore? Not quite. In fact, there's only additional wreckage.
Six visual effects studios have filed for bankruptcy. Numerous others have had to lay off hundreds of employees. And, not that he's the villain in the narrative of visual effects but, last week Lee announced that his next film will be a 3D boxing movie set against the "Thrilla in Manila" bout between Muhammad Ali and Joe Frazier.
After the layoffs and the Academy Award win for Life of Pi, Rhythm & Hues was purchased at a bankruptcy auction at the end of March by Prana Studios (an LA-based company that itself was bought by India's 34x118 Holdings Inc). In May, Rhythm & Hues sold its six acre office to a New York real estate development company.
On July 24, after laying off 500 workers and being rescued from bankruptcy, Rhythm & Hues held an additional auction: selling office equipment they would no longer need. Among the lot were 150 computers, 300 office chairs and two hi-tech animation cameras.
The problem for LA visual effects workers is that their work can be done more cheaply abroad. It is now status quo for visual effects to be created abroad, where there are low currency rates, government subsidies, cheap labor or tax breaks.
This has caused many former LA effects workers to become nomadic, taking jobs in Vancouver, Montreal, London, etc as they become available through those countries' competitive subsidy programs.
This "pipeline" is a system for LA facilities to interact with workers abroad -- in Canada, the UK, China and India -- to do the effects work that LA is capable of doing, but those regions are cheaper through subsidies or cheaper labor. Out the door go local jobs, unused computers and empty desk chairs.
Ironically, the demand for visual effects and 3D conversion has increased dramatically since 2009 (the year Avatar was released). The amount of films released in 3D between 2009 (20) and 2012 (38) has almost doubled.
Consequently, the number of 3D digital screens has intensely escalated. There were only 98 3D theaters worldwide in 2005. By the end of 2012, there were 43,000. In the US, attendance for 3D films has dropped, whereas it has increased worldwide. But, with more tentpole films debuting abroad before showing in the US, it is global receipts that spin the film market, not just US attendance.
Sensing a wave of unease in the industry, in July, the Visual Effects Society released a report of steps for California-based effects houses to consider.
The report (which is available in full, at the bottom of this post) identifies foreign subsidies, tax incentives, globalization and a lack of long-term focus as what is killing the LA visual effects house.
The VES also acknowledges that there's little the industry can do about most of the global factors. They suggest that studios focus on their place in the global pipeline: maintaining their offices as a creative incubator.
The loss of film jobs in LA isn't something new. In fact, visual effects are just the last to leave. Runaway production began in the 1990s as filming moved to Canada and the UK due to favorable exchange rates and tax incentives.
"The visual industry was immune to this for a while," the VES report said. "But by the 2000s international effects providers were able to take advantage of high speed communications, and proximity to the studios was no longer important."
Countries with lower workers compensation like India and China are offering a 20-60 percent discount in production in hope that cheaper visual effects studios will help attract other technology industries to their regions, the VES reported.
"If they [filmmakers and producers] are relying on making those compromises to go to different parts of the world to make their movies, then we have to have to [help] facilitate that," Namit Malhotra, CEO and founder of Prime Focus World, said during the Produced By Conference in June in Los Angeles.
The story of Prime Focus World is the opposite of Rhythm & Hues.
Malhotra started Prime Focus, now a premiere visual effects company, from a garage in India and then grew internationally. The company has 3,000 employees in 18 offices in India. Prime Focus's LA office, right next to Capitol Records in the heart of Hollywood, has only 40 employees in LA, according to the LA Business Journal.
At the PGA conference, Malhotra compared the current visual effects model to giant corporations like Nike and Apple: designed in America but assembled through a global pipeline of coordination.
With this model, what are LA visual effects companies supposed to do to stay viable? They could focus on commercials, which have a quicker turn around. Or, they could concentrate on creating preliminary effects designs in pre-production. This would protect their creative involvement by setting the design in LA before post-production work is outsourced for completion.
Additionally, as the VES whitepaper suggests, LA facilities could look outside of the media market and into using their technology to enhance "medical visualization, industrial design, architecture and military simulations."
While these are all viable long-term options, the emotions of effect facilities to fight to keep assembly domestic have led many to call on LA and CA government officials to protect the industry.
"The bigger question is why the hell doesn't California do something instead of letting it all go away?" Jules Roman, CEO of Tippett Studio, said to The Wrap in March.
Tippett had just laid off 50 workers -- 40 percent of its total staff. "There are so many territories with interventionist economic policies that it makes us feel we are really being preyed upon," said Roman.
Although LA Mayor Eric Garcetti has said that he will approach California with measures to shrink runaway productions and create the city's first-ever "film czar," Roman is skeptical of California voters' willingness to help Hollywood.
Roman notes that when people think of Hollywood jobs, they see executives, agents and actors who are earning millions.
However, she said to The Wrap, those people are "above the line." Visual effects workers, some of the only industry workers without union representation, are "way, way below the line."
The entire "State of the Global Visual Effects Industry" report, published by the Visual Effects Society, is available here.
Eric Roth, the executive director of the Visual Effects Society, wrote a previous blog post for The Huffington Post on the plight of the effects worker.