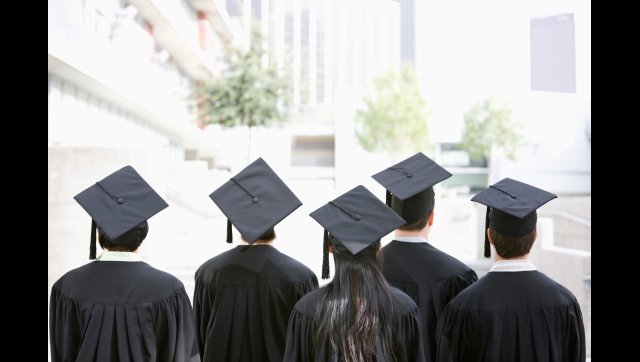 This month, graduation caps and tassels will fly as high school graduates get ready to start the next exciting chapter of their lives. While a momentous milestone and a proud occasion for many families, each graduation also serves as a reminder that some students will not receive a diploma this year.
America's public high schools are producing fewer graduates -- a quarter of the 3.8 million students who entered high school in 2011 will not graduate. A report by the Alliance for Excellent Education found that if the students who dropped out of the Class of 2008 had graduated, the nation's economy would have benefited from an additional $319 billion in income over their lifetimes.
But how as a society can we prevent students from dropping out before graduation? One solution is to look at the beginning of a child's academic career. A strong indicator of student achievement in high school is the skills developed during the elementary and middle school years. Trends across various states and demographics each tell their own story, but the overall message is clear: Students are grossly underprepared in the basic skill sets such as reading comprehension, math and problem-solving that form the foundation of a high school education.
A recent Children's Defense Fund report on the state of American children demanded that as a country we need to do more to lift our children to higher academic ground. The report surveyed 30 developed countries on the overall achievement level of 15-year-old students. The United States ranked almost last -- a dismal and unacceptable 24th place -- suggesting that other countries are better suited for high school success. Additionally, 60 percent of fourth, eighth and 12th graders in public schools currently possess reading and math skills below appropriate grade levels.
This deficit in basic skills illustrates that we must do more to prepare young students. We must reach them in their earlier years to equip them with the skills that allow them to move up through the school system and be prepared to enter the workforce.
Having fewer high school graduates translates into a smaller number of college graduates and a less competitive American workforce in the overall global economy. The choir of voices calling for more college graduates in the areas of math and science is deafening. Companies like Chevron are investing in initiatives that recruit more math and science students to prepare them for jobs as engineers, scientists and other highly skilled positions. These recruitment efforts will not be successful if students are unable to read, write and perform at the appropriate grade level by the time they enter high school.
It has never been more critical to ensure that our children focus on academics from a young age. The summer break should serve as a reminder of how investments made in our local communities can help keep kids on track and improve our children's education. Investing in positive and nurturing community spaces for children is an excellent way to reach them early and keep them on the right path. Whether through a community sports league, a day camp or an art class, these are the outlets where kids learn the critical skills that shape the types of citizens they become as adults. These outlets can be places of imagination, curiosity and learning. They can be where kids build enrichment skills, get active and develop healthy lifestyle choices, and maintain positive self-esteem. Most importantly, they can serve as the bridge that keeps them on a pathway toward success.
If we want to ensure better outcomes and brighter futures, we must start within our communities. Providing the kind of support necessary to build strong local communities does not happen overnight and rarely involves just a single actor. That's where you come in.
Groups and individuals from nonprofits, the business sector and government must make investments together to help those around them, because individual efforts are not enough. Success flourishes in this country when our citizens join together in a common purpose to improve the lives of everyone. This sense of community and social responsibility is what drives volunteerism that can lead to positive change -- in this case, setting our kids up for greater academic success.
In this spirit, each year United Way hosts a Day of Action throughout the country and around the world on June 21, the summer solstice -- the longest day of the year. United Way chapters representing all 50 states, the District of Columbia and Puerto Rico participate in Day of Action activities such as recruiting readers, mentors and volunteers for projects that benefit local communities. Last year, Day of Action events took place at more than 1,230 project sites, benefitting nearly 250,000 Americans.
After 125 years of working with communities, we know it is a collective effort and it is my hope that this year's Day of Action and continued efforts throughout the year, will continue to make progress towards raising awareness and recruiting volunteers. Building strong communities that invest in education will mean a future with more high school graduates, a stronger workforce and a growing economy.