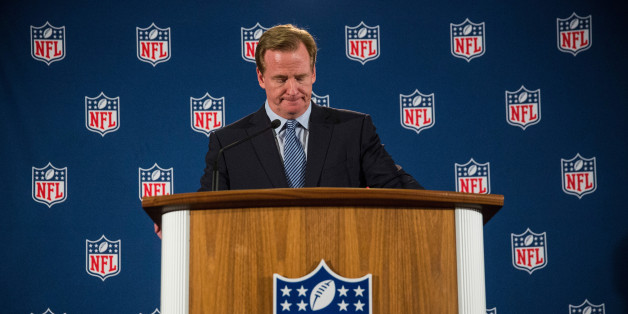 It was during an otherwise unremarkable conversation a couple weeks ago with my dad -- just another recap of the weather in Wisconsin, the bathroom remodeling project, and the latest performance of our beloved Green Bay Packers -- when I thought, could this be the moment?
One minute we were talking about football. The next, with no fanfare or premeditation, we were talking about domestic violence.
Twenty-plus years ago, when Gloria Steinem wrote, "Make no mistake: women want a men's movement. We are literally dying for it," an old invitation echoed anew by UN Women Goodwill Ambassador Emma Watson at the UN last month, she was surely thinking of something bigger than a casual phone call between a father and son. But I wondered: if my dad and I could suddenly discuss this topic so comfortably, might similar conversations be happening among men across the country? And, if so, could this nationwide conversation prompted by the Ray Rice and Adrian Peterson cases be the tipping point we have been waiting for -- the moment when all of us more fully acknowledge the epidemic of domestic violence happening in families around the globe?
I'm hopeful, but not certain. Our opportunity may already be slipping away. The headlines are focusing on procedural dramas, calls for resignations, and suspended journalists. In other words, distractions. If we don't want to forgo this rare opportunity, all of us -- fathers and sons, coaches and players, men and women -- must recognize that the true story isn't in the clickbait headlines. It's in all of our lives.
Here's what three headlines in that story would look like:
Violence against women happens at epidemic levels across the globe. The most recent data estimate that one in three women around the world will experience some form of violence in their lifetimes. This violence takes many forms: physical abuse, rape, sexual harassment, and various types of psychological violence. It is a statistical certainty that no one reading this article has a family, peer group, or professional colleague untouched by these crimes, regardless of your cultural or geographic background. This violence is not just prevalent in the headlines; it is enormously prevalent in all of our lives.
Violence emerges from a society-wide mindset that grants men a sense of entitlement and authority and devalues women's bodies and agency. This violence does not come from football practice. It does not come exclusively from any one location or demographic. And it is far too common to emerge only from individual men's pathologies. Instead, this violence comes from a fundamentally unequal society, one that still uses the phrase "be a man" to encourage physical domination, violence, and sexual entitlement. Research by the International Center for Research on Women (ICRW) has shown how subscribing to such violent, inequitable ideas about gender can multiply a man's likelihood of perpetrating violence.
Furthermore, once this violence establishes itself in our families and communities, it is very hard to eradicate. Data from around the globe show that violent experiences during childhood -- being a victim of child abuse or witnessing violence against one's mother -- are strongly linked with rates of perpetrating and suffering violence as an adult. Yet this fundamental link between the dual crises exemplified by the Peterson and Rice storylines has gone unexplored by the U.S. media so far. The lesson is clear: intractable, intergenerational violence doesn't come from the headlines; it comes from the society that all of us create.
Despite its enormous prevalence, violence is preventable. We know that these harmful definitions of "manhood" and the systematic devaluing of women are at the root of this violence, so therefore we know how to address and eliminate it. We can undermine violence by radically redefining what it means to "be a man," and this has to begin as early as possible in boys' and girls' lives. That's why ICRW is proud of its partners who have led brave, transformational conversations with school-age boys and young men in India and in the Balkans region to promote a more respectful, nonviolent masculinity.
Wherever we are, all of us have a role to play. First and foremost, we must reject all violent acts. But beyond this, there's nothing stopping us from modeling the kind of nonviolent, gender-equal society we want to live in. We can all take care with the phrase "be a man," using it to equate manhood with integrity, instead of with violence. And simply acknowledging the global epidemic of violence and societal gender inequality in our routine interactions can both identify us as safe allies for those in our lives experiencing violence, and signal to boys and girls around us that rejecting violence is the truer marker of manhood.
There's no reason these small scale, transformational actions can't take place right on the sports field itself. Cowboys tight end Jason Witten, a survivor of child abuse and longtime anti-violence advocate, funds a program called "Coaching Boys into Men" through his charitable foundation. Evidence shows that this U.S.-based curriculum and its international adaptations capitalize on the powerful socializing influence of team sports to reject toxic macho mentality in favor of respect and nonviolence among young boys.
As the president and vice president's new campaign against sexual assault has rightly proposed, "it's on us" to prevent all forms of domestic and sexual violence against women. Maybe it needed to come from football -- one of the most ubiquitous, influential elements of American society -- to prompt such a far-reaching national conversation on this topic, among men and women alike. But no amount of on-the-field or off-the-field punishment for Rice or Peterson will transform our society into one that prevents and rejects violence. As my dad and I are figuring out right along with you, the solution won't come from the NFL. It'll depend on all of us.
Brian Heilman is a gender and evaluation specialist at the International Center for Research on Women (ICRW), a Washington, D.C.-based global research institute focused on women and girls.