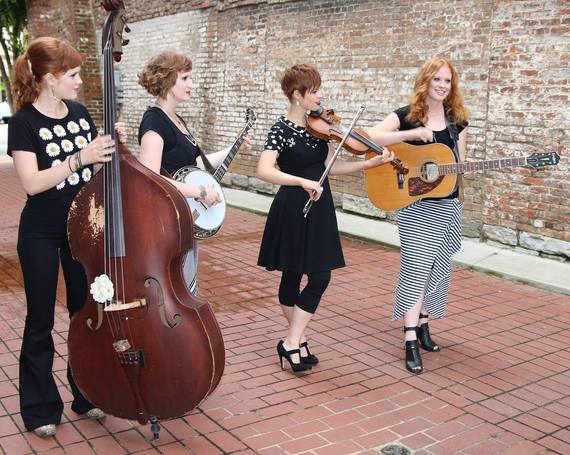 Uncle Si from the A&E show, Duck Dynasty has been sharing a a YouTube video on his Facebook Page from a four sister act, Redhead Express.
Kendra, LaRae, Alisa, and Meghan are all sisters and every one of them a redhead. Because of their love for music, the whole family decided to sell their home in Alaska, buy an RV, and head for the Ozark and Appalachian Mountains, where they performed wherever they could get booked.
Lead singer, songwriter, and eldest sister, Kendra, has been singing since she could talk. She started out singing in church, and from then on she would sing or play where ever she could.
LaRae calls herself the 'Utility Man,' playing banjo and guitar, and she has created her own, unique playing style -- influenced by the likes of Earl Scruggs and Bela Fleck.
Alisa plays violin and loves to fiddle, finding it her knack to improvise with the songs they are playing.
Meghan is the baby girl and plays the biggest instrument of all -‒ a 1939 S100 Kay bass that seems nearly impossible for the petite girl to hold up. Her soul is deeply rooted in the music that they love.
Their sound is a combination of acoustic country mixed with modern, and a traditional rootsy twist. It is a mix of sweet family harmony with deep emotion and, at times, thought provoking.
This country quartet has been working together for the last seven years, and confides that they have grown much closer as they overcome struggles and discover each others' roles in the band.
"Music has a way of breaking down barriers of race, opinion, and religion. All those things that people get caught up in, but they can always agree on music," Kendra added.