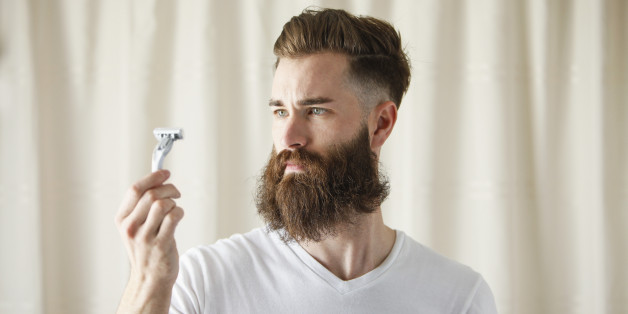 For those who know me, it's not a secret that I am very interested in the cross section between entrepreneurship and social missions. I had the privilege of meeting Laura Zax, Social Impact Manager at Harry's. She speaks very enthusiastically about what she does and within seconds, it's easy to tell she has an authentic passion for her work at Harry's. Growing up in the heart of Washington, DC and attending Georgetown Day School, which was founded a full 10 years before Brown v. Board of Education as the first desegregated school in the district, Laura's education had always been mission driven; as she puts it, "it really never occurred to me to pursue work that wasn't."
Shortly after college, Laura joined Ashoka, where she helped vet and select outstanding social innovators for Ashoka's premier fellowship in social entrepreneurship. After leaving Ashoka, Laura joined the NYC-based startup Harry's, eager to learn more about the private sector and the realities on the ground at a brand new socially responsible company.

BK: What did you study in school?
LZ: I was an English major and am really glad to have majored in the humanities. If you want a strong case for why majoring in the humanities makes a ton of sense for preparing yourself for the realities of the real world, check out the book Excellent Sheep by my favorite college professor.

BK: What is Harry's?
LZ: Harry's is a direct-to-consumer men's grooming brand built out of respect for quality craftsmanship, simple design, fair prices, and a belief that businesses should positively impact the world.
BK: What do you do there?
LZ: I'm the Social Impact Manager at Harry's. My role is to represent and advocate for our values and positive impact across the business. Our mission is to help people get ready, whether through our product, which helps our customers get ready every day, or through our community engagement program Harry's 1+1 and our college program H'university.
Harry's 1+1 is our pledge to give 1% of our sales and 1% of our time to organizations that help people from all walks of life get ready for the next step--whether that be college, a first job, or a new career. Today I spend a lot of time coordinating skills-based volunteering projects with our non-profit partners. We've built pitch decks, dashboards, marketing strategies, and more with our non-profit partners, leveraging our team's skills to accelerate these organizations' important work.
I also help run H'university, a program we created to help college students get ready for the real world by teaching them valuable skills they can't learn in class while connecting them to internship opportunities at like-minded companies that value those skills.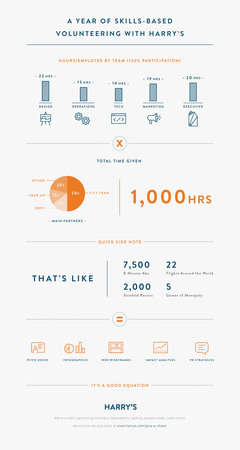 BK: How did your position at Harry's come about?

LZ: After two years in the non-profit sector, I realized I had to learn how business operates. Business is an unstoppably powerful actor in our world, and as someone interested in systemic social change, I just had to go into the system. My thinking was: how could business ever change for the better if the people who wanted to do so didn't embed themselves in it?

One of our founders, Jeff, had previously co-founded Warby Parker, the eyewear company that's known for leading the way for socially responsible businesses. I came to Harry's in the first place because I knew Jeff was a firm believer in business being good for the world, and I wanted the opportunity to shape that part of a new company. It was truly a once-in-a-lifetime opportunity, and I'm grateful to the universe for putting me in the right place at the right time and to Jeff and Andy for trusting me to define our mission and how we live by it.

BK: What does a typical day to day look like?

LZ: The best part of my job is that there's no such thing as a typical day. Let me describe yesterday. I kicked off the day meeting with our tech team about a mobile app we're building with our main partner City Year. The app was the winning idea of a hackathon we hosted with City Year to come up with solutions to increase the percentage of young men applying to be corps members with City Year. I then spent the afternoon with our CEO Jeff and our PR team developing an external communications strategy with our partner Year Up. After shooting off a few emails to hiring partner companies for H'university, I hosted a mentorship fair where Harry's employees who are interested in becoming tutors or mentors met organizations with tutoring and mentoring programs and signed up for opportunities.

BK: How do you stay creative in your job?

LZ: Constantly asking for feedback and input from colleagues on different teams. Also, taking time away from the office, the conference circuit, and the goings-on of my sector to just reflect.

BK: What are specific skills that high school/college students can begin to build now?

LZ: Collaboration and communication are buzzwords for good reason - these two skills are absolutely the most important ones in an entrepreneurial environment. You can't learn these skills from readings, lectures, or problem sets. Put yourself out in the world--work with people who are different from you, with different goals, motivations, and interests. Build something with them. That's how you'll begin to both appreciate how valuable collaboration and communication are and hone these skills.

As for practical tips for entering the field -- there are two ways you could go about it: joining a pretty established company with an established sustainability and/or community engagement program or starting at a really new company and crafting that piece of the business yourself.
For the former approach, I'd recommend signing up for newsletters like Sustainable Brands and Triple Pundit to learn more about the companies that are doing work you admire. Going to conferences is also a helpful way to get a lay of the land in terms of who is out there doing what. As for the latter approach, keep your finger on the pulse of your city's newest startups, get in the door in whatever role you can, do that job well, and then use your knowledge of the business and the credibility you've built to propose a thoughtful way for the company to have social impact.
BK: What's dearest to your heart when it comes to Social Innovation?

LZ: I love when a company's core business goals align with social impact. Think, for instance, of Patagonia. If the environment is degraded, Patagonia's market declines. It's in their bottom line's best interest to protect the environment, and so concern for the environment is really seamlessly integrated into all aspects of their business.

BK: What's your ultimate vision when it comes to Social Innovation?

LZ: With respect to Harry's, I'm looking forward to a point in time where we can involve other companies as well as our customers in our giving model, serving as a platform through which others can give their time in skills-based volunteering projects that are important to them.