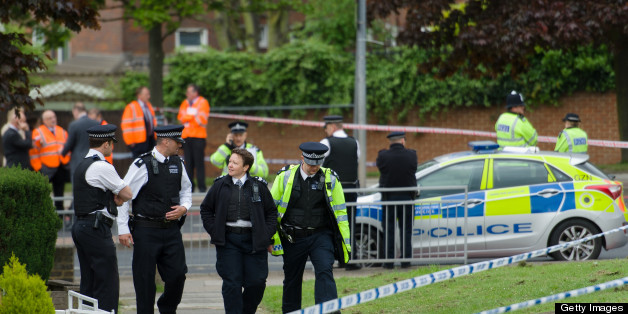 Convert Killer Had Ties to "Godfather" of Hate
Michael Adebolajo, one of the twisted suspected killers seen on shocking video from Woolwich, U.K. soaked in the blood of 25-year-old British soldier Lee Rigby earlier this week, had ties to one of the most dangerous instigators of radical Muslim extremism, not only in Britain, but here in the United States as well. While police have made other arrests in the case, it is emerging that a radical exiled cleric apparently planted the seeds of hate into the young mind of the Anglo-Nigerian English-born convert who hacked an innocent military drummer to death near a metropolitan London barracks on Wednesday. Security has been enhanced in Britain since the attack and fighter jets have escorted a passenger jet over England today following an incident on board.
Omar Bakri Mohammed, 54, who has harnessed a dangerous sliver of American and British youth to religious terror and extremism is a notorious English-speaking hate cleric who for almost two decades, while on public assistance, fomented radicalism in the United Kingdom. Now in Tripoli, Lebanon, he could be called the "Godfather" not only to many of the most hateful British extremists, but to a tiny yet, dangerous nexus of American East coast radicals, who reached him and his disciples through internet postings, sermons and live web-based conferences. Most recently his hatred directed at the West cited social depravity as well as governmental policies that hurt Muslims.
He told the London daily The Independent about his connection to Adebolajo:
I knew him as Michael when he came to the meetings and then he converted and he became known as Abdullah; I hear he then started calling himself Mujahid. He asked questions about religion, he was curious. He had first started coming when there was a lot of anger about the Iraq war and the war on terror.
Bakri, defended the carnage:
Under Islam this can be justified, he was not targeting civilians, he was taking on a military man in an operation. To people around here [in the Middle East] he is a hero for what he has done.
Mentor Is Fervent Bin Laden Supporter
Bakri has consistently praised Osama bin Laden, even naming his child after him, as well as the "Magnificent 19" 9/11 terrorists, blamed the 2005 London tube bombings on the British government and citizenry and has said Tony Blair and George Bush should be condemned rather than Bin Laden. He has called his adopted home of Britain "Dar ul-Harb [a land of war]." Bakri has also preached: "The jihad is halal [permissible] for the Muslims wherever they are, the whole ummah [Muslim community] wherever they are. OK brothers - wherever you are, do it." Recently released Wikileaks documents report that London was a preeminent recruitment center for terrorists and at least 35 Guantanamo Bay detainees passed through British mosques and education centers. Chillingly, Bakri, has also counseled his followers to slit the throats of Westerners.
In August 2010, Paul Cruickshank wrote in West Point's Counter Terrorism Sentinel:
An emerging network of radical preachers, demagogues, bloggers, and activists are attempting to disseminate extremist ideas among Muslim youth in the United States. Largely excluded from the country's mosques, they spread their message on the streets, outside the mosque, in small gatherings in private residences, on campuses and above all online, taking full advantage of new social media platforms to maximize their reach. They are a loose constellation of individuals, but have a clear center of gravity in two extremist groups that operate freely and openly in New York City.

The groups in question--the Islamic Thinkers Society (ITS) and Revolution Muslim (RM), both affiliated with the British extremist organization al-Muhajiroun--are increasingly appearing in counterterrorism investigations.
Bakri's banned British group al Muhajiron's tiny American affiliate was a precursor to three small New York extremist groups, the Islamic Thinker's Society, Revolution Muslim, and its successor Islampolicy. Two members of the original New York affiliate of al Muhajiroun, Syed Hashimi and Mohammed Junaid Babar, whose mother was nearly killed in the 9/11 attacks, were sentenced to federal prison in the United States for their role in traveling overseas to aid al Qaeda. In addition to numerous postings, Bakri has appeared as a main speaker in 2010 and 2011 in at least two major live global extremist Internet web conferences that also included Revolution Muslim and Islampolicy founder Younes Abdullah Mohammad. New Yorker Younes Abdullah Mohammad was arrested in May 2011 in connection with alleged Internet threats directed against the producers of the cartoon series "South Park" and is now serving a lengthy prison term. Followers of these American offshoot groups have been tied to notorious homegrown terrorism cases in the United States. In October 2010, NPR reported, "Of the two-dozen homegrown plots in the United States in the past year, Revolution Muslim was linked to one-third of them." Similarly, in December 2010 CNN reported, [I]n just the past 18 months, eight of the 27 reported cases of homegrown terrorism saw U.S. terror suspects frequenting, blogging on, or directly linked to Revolution Muslim and the Islamic Thinkers Society -- another extremist New York group that another convert and Bakri follower Yousef al-Khattab played a role in." In addition to Younes Abdullah Muhammad, other dangerous Jihadists linked to either al-Khattab or Revolution Muslim include:

Colleen LaRose, aka "Jihad Jane" 49* Attempted murder of Dutch
cartoonist Lars Vilks. Plead guilty attempted murder

Samir Khan, 25, Linked to Al Qaeda, Internet media editor. Killed in drone strike in Yemen in Sept. 2011

Zachary Chesser, aka Abu Talhah al-Amrikee, 22, Posting threats re: cartoon South Park and attempted membership in Somalia Al-Qaeda affiliate al-Shabaab, 25 year federal prison sentence

Abdel Hameed Shehadeh Posted on Revolution Muslim and on civiljihad.com promoting Osama bin Laden and Anwar al Awalki; lied to federal authorities about travel to Pakistan, Arrested on October 26, 2010

Antonio Martinez, aka Muhammad Hussain, 22, A plot to bomb an Armed Forces recruiting station in Cantonsville, Maryland, Charged in January 2011

Bryant Michael Vinas , aka Bashir al-Ameriki, 29,Truck driver who was connected to Al Qaeda's plot to bomb Long Island Rail Road with bomb plot, Plead guilty to three charges

Daniel Joseph Maldonado, Trained at al Shabaab sites in Somalia, Charged

*ages are at time of arrest.
"Totenham Ayatollah's" Life of Hate
Born in Syria in 1958 the "Totenham Ayatollah," was considered Al Qaeda's most prominent spiritual supporter in the United Kingdom before being banned from the country in 2005 while on a trip to visit his mother in Lebanon, where he has remained ever since. He was sentenced to a life prison term in Lebanon, but that sentence was overturned after two witnesses surprisingly recanted their allegations.
Bakri came to Britain in 1986 after being forced out of Saudi Arabia for his radicalism and started collecting thousands of pounds in government funds in aid. Once in England Bakri was pivotal in the development of two of the most extreme groups there, that later created offshoots and successors both in the United States and the United Kingdom. One group the anti-capitalist, anti-democratic Hizb ut-Tahrir, "Party of Liberation," founded in 1953, seeks worldwide Muslim rule and has affiliates in over 40 countries, including a small American following in California, New York City, and the Chicago area. The small secretive group, which since Bakri's departure has condemned acts of terrorism, nonetheless, seeks to transform the United States and other nations into theocratic states in a Muslim Caliphate through non-violent means. The American affiliate is tied to the older UK organization.
After growing the British Hizb ut-Tahrir from a nominal presence to thousands of members over ten years, Bakri was booted from the organization in 1996. He continued to lead the more incendiary al-Muhajiroun, which he founded in Saudi Arabia in March 1983. He transferred that organization to the UK after the Saudis banned it in 1986 and renewed his attentions to it in 1996. Bakri was also directly involved in the International Islamic Front which sent fighters into the former Yugoslavia and Chechnya. Al Muhajiroun, which was disbanded in 2004 following a government pronouncement of its upcoming prohibition, was relaunched by followers and banned under different names, until getting banned again in 2010.
Groomed British Radicals
Bakri was crucial in the empowerment of other notorious British radicals. He financially and rhetorically supported hook handed hate cleric Abu Hamza al Masri, who is also tied to Jamaican hate cleric Abdullah el Faisal. Al Masri, a former Imam at the Finsbury Park Mosque is a vigorous bin Laden supporter who held 9/11 commemorative celebrations and preached that killings of non believers "kafirs" is justifiable. Al Masri faces terrorism related charges in the United States and he has been extradited here. Bakri is also a mentor to his former partner at al Muhajiroun radical ex lawyer Anjem Choudary, 46, who remains in Britain. Choudary has led banned and reconstituted organizations, including most recently Islam4UK, in a cat and mouse match with British authorities. Choudry and Bakri are also allegedly behind a new American group "Sharia 4 America" which calls bin Laden a "martyr," has wanted posters of Western leaders, and calls for a revolution to replace the United States with a Muslim theocracy.
Inayat Bunglawala, of the Muslim Council of Britain said Bakri won't be missed during his absence, "He is someone who for 20 years was given shelter by this country and he has spent almost all that time vilifying this country and its values." The married father of seven apparently also failed to inspire at least one former follower about the depravity of Western values. His daughter, Yasmin Fostok, a 29 year old dyed bloned, says "I don't get on with my dad." She was a London pole dancer who said she would go topless "if the venue is right."