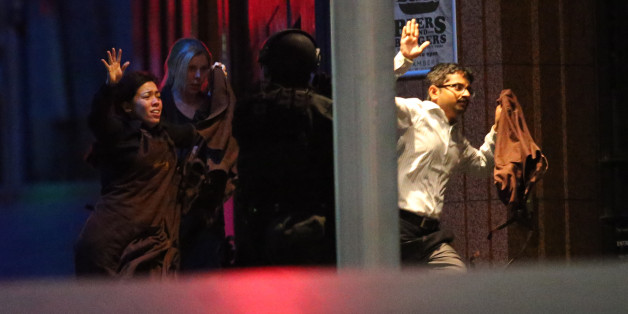 Siege's Violent End
At about 2:05 AM Sydney time Tuesday morning, heavily armed Australian police wearing night vision equipment raided the Lindt Café in Sydney's financial district. There, a lone Salafist extremist gunman with a criminal record, Man Haran Monis, was holding hostages for almost seventeen hours amidst tense negotiations. The standoff ended with at least two dead according to Australia network ABC.
The siege unraveled after at least a half dozen hostages escaped in the middle of the night as Monis was moving groups of hostages from one side of the café to the other. Earlier in the day another group of hostages escaped. The latest hostage escape apparently prompted an agitated Monis to fire a shot at a remaining hostage. At that point police moved in from two sides amidst bullets and flash bang grenades to prevent greater bloodshed from the suddenly agitated hostage taker, who may have been killed in the assault. Seven people were removed out on stretchers with five appearing to have been seriously injured. There have been numerous other recent raids in Australia against Salafist extremists who support ISIS, including arrests in the area earlier the previous morning. ISIS, like other terrorist groups, has taken to social media to encourage lone wolf attacks against Western targets, by people with no formal training.
Self Styled Hate Sheikh Had Criminal Past
Monis, who also goes by the name Sheik Haron, is a 49-year-old Iranian extremist with a criminal record. Monis is apparently yet another lone wolf extremist, like numerous others who have hit targets in Europe, Canada and the United States. Monis' website proclaims he "is not a member of any organisation or party. However, he supports his Muslim brothers & sisters, he is against oppression, he promotes peace, he is against war and any western invasion of Muslim countries." His personal struggles, like that of some lone wolves, may be a contributing factor to his violence. Some, like Fort Hood shooter Nidal Hasan, faced personal setbacks, that when combined with violent ideology, make them more prone to violent outbursts of political or religious revenge.
Monis sees himself as personally oppressed by the same forces unleashing violence on his coreligionists in the Middle East. On his website he compares himself to WikiLeaks founder Julian Assange, who he maintains, like him, was charged with sexual assault to "stop his political activity against oppression." In March he was charged with sexual assault for a 2002 alleged attack on a then 27-year-old woman during a "spiritual healing" session. According to the Sydney Morning Herald, he held himself out to be an expert in astrology, numerology and black magic -- not exactly a traditional Islamic mix.
He is also on bail for being an accessory in the murder of his ex-wife, Noleen Hayson Pal, who was allegedly stabbed by his girlfriend. He is perhaps best known in Australia as the "hate sheikh" who was convicted in 2013 for writing incendiary harassing letters to the families of Australian soldiers killed while fighting overseas in Afghanistan. His website suggests that he is a convert to Sunni Islam from Shia Islam. Monis is Iranian and Iran is the world's largest Shia nation. Iran is supporting anti-ISIS forces, as that Sunni group attempts to maintain a fundamentalist state in parts of Iraq and Syria. The United States and its allies have launched airstrikes against ISIS.
Had Gun, But No Flag: But What About Next One?
Monis had requested an ISIS flag and telephone contact with Australian Prime Minister Tony Abbott. He was armed with a gun and stated he had a bomb and planted others in the area, although that has not been confirmed.
His webpage's most recent entry on December 14 features a graphic photo of dead and bloodied women and children with a caption reading "that's why Muslims fight against the oppression and terrorism of USA and its allies including UK and Australia." His webpage, now removed, also addresses statements to world leaders, including Australian Prime Minister Tony Abbott, who has been in office since 2013.
While untrained domestic lone wolves have been inspired to undertake violent attacks, unlike their more sophisticated foreign counterparts, they often die or are captured shortly after initiating violent confrontations, with more limited casualties. Still, even untrained loners can kill dozens if a nexus of factors align. Monis, like many other lone wolves, had an active presence on social media, to not only promote himself, but justify the hatreds that transformed into violence. Western intelligence is not only fearful of the more common, yet erratic, lone wolves, but also of their better trained foreign counterparts whose training and coordination make them less frequent, but potentially more deadly due to their coordination and know-how. As the holiday season approaches, both lone wolves and more coordinated extremists of varying operational capacities will be inspired by the deed of each failed mission that preceded them.