NASA's next mission into space will study a valuable resource that's located right under our own feet.
A soil moisture mapping satellite, otherwise known as Soil Moisture Active Passive (SMAP), is set to launch on Jan. 29 from Vandenberg Air Force Base to track moisture in the Earth's soil and help scientists better track and forecast extreme weather events such as floods, drought and landslides.
If successful, SMAP will be the fifth NASA Earth science mission launched within the past year.
"With data from SMAP, scientists and decision makers around the world will be better equipped to understand how Earth works as a system and how soil moisture impacts a myriad of human activities, from floods and drought to weather and crop yield forecasts," said Christine Bonniksen, SMAP program executive with the Science Mission Directorate's Earth Science Division. "SMAP's global soil moisture measurements will provide a new capability to improve our understanding of Earth's climate."
According to the Space Archive, a Delta II launch vehicle will launch the SMAP satellite on Jan. 29 between 6:20 a.m. and 6:23 a.m. Pacific from Vandenberg Air Force Base in Lompoc, Calif.
"The liquid propellant first stage will use three solid rocket motors," the Space Archive notes. "Launch window opens 42 minutes before sunrise at Vandenberg, which could cause a weak Twilight Effect if the vehicle's exhaust is illuminated at high altitude by the Sun's rays."
Here's a simulation of the launch and how SMAP will measure soil moisture levels down to about two inches, globally and in high resolution. 
According to NASA, measurements from SMAP will provide high-resolution, frequent-revisit global mapping of soil moisture and freeze/thaw state that will enable science and applications users to:
Understand processes that link the terrestrial water, energy and carbon cycles.
Estimate global water and energy fluxes at the land surface.
Quantify net carbon flux in boreal landscapes.
Enhance weather and climate forecast capability.
Develop improved flood prediction and drought monitoring capability.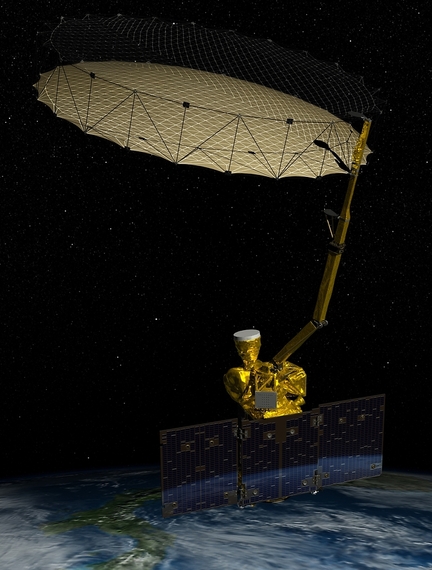 An artist rendering of NASA's Soil Moisture Active Passive (SMAP) satellite in orbit. (Photo Courtesy of NASA)
While the global data will allow scientists to better track drought patterns as well as the links between soil moisture and weather, it isn't expected to immediately affect the day-to-day operations of farmers.
"SMAP uses two microwave instruments to monitor the top 2 inches (5 centimeters) of soil on Earth's surface," notes Rosalie Murphy of NASA's Jet Propulsion Laboratory. "Together, the instruments create soil moisture estimates with a resolution of about 6 miles (9 kilometers), mapping the entire globe every two or three days. Although this resolution cannot show how soil moisture might vary within a single field, it will give the most detailed maps yet made."
That said, SMAP will be the last of five Earth science missions by NASA over the past year, with a goal of monitoring the planet's "vital signs."
That long-term data recorded on these missions, along with computer analysis tools, should help scientists get a better understanding of how the planet is changing -- and hopefully help come up with solutions that help balance some of the negative effects that have impacted our water resources.