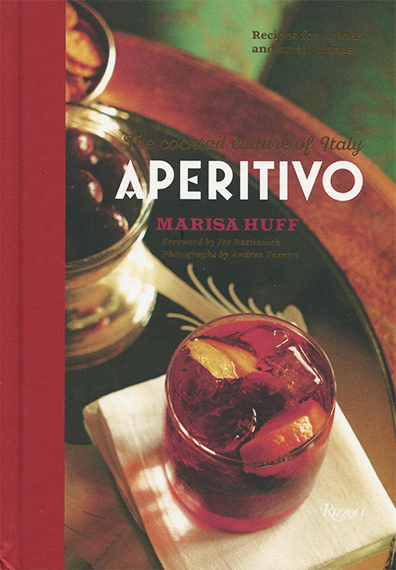 This book is a delight. This book is important. And, if you love Italian food, this is book you have to own, read, use, and tote on that next trip to Italy.
Getting through life gracefully involves just a few things -- money and love aside. You need exactly three things: some good food, delightful beverages, and a guiding principal. Happily those three are here in the pages of Aperitivo.
The guiding principal is my favorite one. The Goldilocks Principal or GP: not too much, not too little, just right. You can apply GP to everything: your personal life, your job, even your society.
Take the close of day when many of us gather somewhere, before dinner, for a little food and a little drink. In some societies, close of day can be too much. Ever done tapas for hours in Spain with multiple plates of food and seemingly endless beverages? And then be told it is off to dinner?
Or there can be too little. American bars may have great cocktails now, but that food too often is relegated to a bowl of peanuts. If you are lucky, chips and salsa.
Who does close of day just right? Who else but the Italians, the society of style. And in the major cities of Northern Italy, filled with food lovers and trend setters, there has evolved the domain of aperitivo. Good food, grand beverages. All cleverly delivered in just right quantities. You are sated, but not stuffed. You are happy, not hungry.
In the past few years, the sophistication of aperitivo has accelerated. Yes, there are Italian red and white wines still flowing. But now Italian genius is at work on wonderful cocktails with ingredients from around the world: gin from California, tonic water from Germany. And the food, although delivered in small bites, comes layered in texture and flavors.
Here's one of those cocktails, a Saffron Spell made with saffron simple syrup: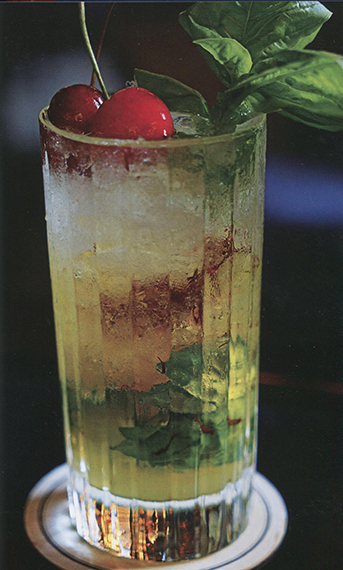 And this food dish is the favorite of author Marisa Huff. It's the Carbonara Tramezzini, a half sandwich with pancetta, eggs, cheese and Italian-style mayonnaise.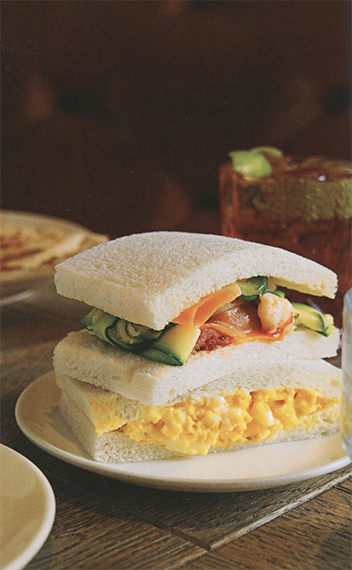 There are other delights here:
Octopus Salad with Potatoes and Celery
Watermelon Sprits
Prosciutto-Wrapped Veggies
Gin and Tonic with Fennel
Peppadew Peppers Stuffed with Tuna, Anchovies and Capers
Celery Root and Gorgonzola Crostini
These are dishes to relish, first with your eyes, then bite by bite. Slowly, happily.
I had the pleasure to speak with author Marisa Huff visiting New York City from her home in Padua. "I do detect that Paduan accent," I said. I have an ear for dialects.
There was only silence from her. She did not understand my joke at all. And, in truth, her English was flawless. Why, it was as if Marisa had been born and raised in, say, San Diego
.
Marisa was born and raised in San Diego. At UCLA she majored in European Studies, with a possible future in art history or, better, art restoration. As a junior, she spent the year abroad at the University of Padua. That introduced her to Italian food. And one Italian man. It was not immediate, but she married that man and eventually moved to Padua.
After UCLA and even before Italy, she has had a stellar career, working for Alice Waters and Jeffrey Steingarten, doing food writing and learning the meaning of culinary sophistication from top form chefs. In short, she has quite the pedigree.
From some of her articles on the Italian food scene, she was contacted to write this book. She toured Turin, Portofino, Milan, Florence, Padua, Rome and Venice to find the best in aperitivo. She got recipe ideas, if the not the actual recipes, from great locations. Then returned to Padua where she tested, perfected, and wrote for an American audience. It took two years. It is a noble and most successful effort.
Now, when you pick this book up -- and you really must do that -- you will notice it has a rather unconventional shape. It's longish and slim, rather like a Michelin Guide. I asked why and Marisa laughed, "Oh, it's all about the photographs."
Her friend Andrea Fazzari worked on the photos with as much skill as Marisa in the kitchen. When the editors got the photos and began crop them to fit a standard book layout, everyone became unhappy. No one wanted to crop. "Well," said her editor, "we'll make the book fit the photos." And that is the happy ending. You've seen two photos above. The book has many more.
My favorite photo? Right here: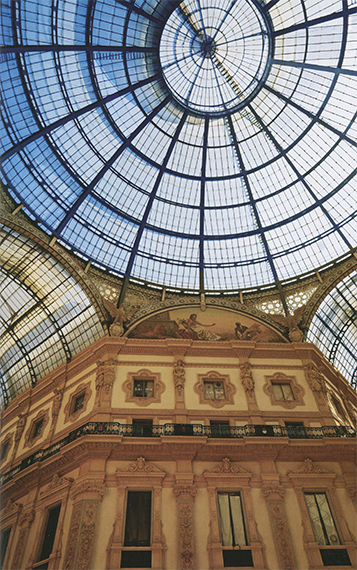 No, it's not food. It's Milan. Between the cathedral and the opera house sits the Galleria Vittorio Emanuele shopping arcade, built in the 1860s. It's a wonderful, humanist space. Seeing this arcade here brought back memories of a fall day with perfect pasta sided with Barolo. And having this picture here gave me a personal reassurance that this book was all about quality, elegance and, of course, being just right.
Besides writing Marisa is the Director of Communications for the Alajmo Restaurant Group. If you are visiting Italy, or Paris, visit their website www.alajmo.it for superior restaurant options.
For many more cookbook reviews and hundreds of excellent recipes, please visit Suzi's Blog at www.cookingbythebook.com. While you are there, you can learn how we use the kitchen for culinary teambuilding.
Follow Brian O'Rourke on Twitter: www.twitter.com/brianCBTB