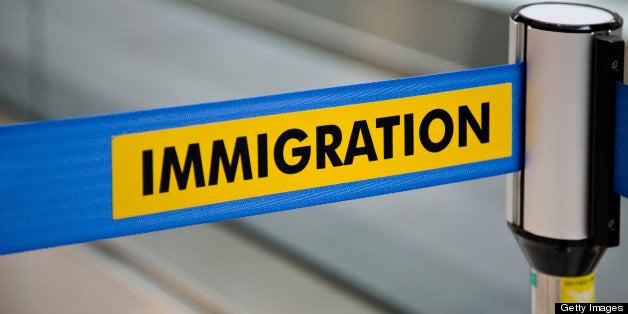 I used to be indifferent-verging-on-unsympathetic when it came to immigrants living in the United States without authorization.

Yes, me, the U.S. born openly gay son of working-class Salvadoran immigrant parents (one of whom lived undocumented for a few years), who knowingly had and has undocumented family members (including my aunt who helped raise me), and lived in predominantly latino and Asian-American immigrant communities in Los Angeles all his life.

Before I tell you how changed my mind on immigration, let me tell you about why my family came to the United States.

My parents, like hundreds of thousands of others, fled El Salvador for the United States in the 1980s in the middle of a bloody civil war between leftist guerillas and the U.S. backed and financed right-wing Salvadoran military government. I remember hearing my parents' stories about living in absolute terror with government-mandated curfews, shoot-outs breaking out in their neighborhoods, and pick-up trucks full of dead bodies. Even when my mom tells me those stories today, the desperation in her voice is as palpable as it would be if she were telling me in 1981.

At the time in El Salvador people were living in such fear they were desperate to leave, and had no option but to make the 3,000 mile journey crossing the borders with Guatemala, Mexico and finally the U.S., a country directly tied to El Salvador's government's countless human rights violations. This is the same country that refused hundreds of thousands of Salvadorans the same refugee status it had granted to Cubans and Vietnamese. The same country that today I love by working to make it better and speaking out against its injustices.

I knew very well why they and others came and crossed the border or borders to get here. So why in the world was I previously "indifferent-verging-on-unsympathetic?" There's plenty of reasons, but perhaps the strongest driving factor were the negative, racist, anti-immigrant messages I internalized that were rampant in media around the time of hostile anti-immigrant sentiment in California in the mid-'90s, but especially post-September 11, when I happened to be a teenager and more vulnerable to negative ideas, especially about my identities.

As a media advocacy group, at GLAAD we understand that media has the power to either inflame or help diminish prejudice toward any group. And I can tell you from personal experience that negative media portrayals of latinos, immigrants and LGBT people certainly made my experience towards self-acceptance as a gay Latino son of immigrants incredibly challenging. Notably it should come as no surprise that many of the organizations and activists that are virulently anti-LGBT, like Tony Perkins at the Family Research Council, are the same ones that are virulently racist and anti-immigrant.

How was it that I finally began to change my mind on immigration? For the first time in my life I heard the story of an undocumented person.

In my sophomore year of college, a close friend of mine invited me to a conference of undocumented students at UCLA. At the time I was about to study abroad in Paris, for which I borrowed thousands in student loans, and I was yet to be moved to support immigration reform. That is until I heard Ernesto tell his story:

There are so many barriers to undocumented youth that many of us don't make it to college. Even if we do, because we're undocumented, we're not eligible for financial aid [As a U.S. citizen, I was] so throughout the year we are working hard to raise our own money, but we still can't afford to live in dorms [like I did] and instead we go from friend's house to friend's house or even sleep in the library. And we can't study abroad [like I was about to] like our friends can, because we can't leave the country. So many of us give up that so few of us end up graduating. And even if we do graduate from college, because we're undocumented we can't even use our degrees.
That's what did it. That was the turning point.

Up until then I had no idea what it was like to live as an undocumented person, despite having close family members who were undocumented. Though that wasn't the worst of what undocumented immigrants in this country suffered, Ernesto's story opened my eyes and made me start questioning and undoing all the ideas I had about immigration and immigrants.

In that moment I finally understood why whenever my family would take trips south of L.A. to Orange County or San Diego, we all needed to take our IDs or passports with us -- because we knew police often targeted latino families, and if we didn't have proof of legal residency or citizenship, we could've been detained because of immigration enforcement programs like 287(g) and the more recent so-called "Secure Communities." I finally understood why my amazing aunt who helped raise me never joined us on family on trips to Disneyland or SeaWorld because she lived in fear of getting caught by immigration officials. As a kid all I wanted was to spend time with her, but I couldn't.

And now I can proudly say that I am advocate for all immigrants and for a fair immigration system that empowers all immigrants and their families, one that doesn't criminalize anyone.

GLAAD supports a fair and humane immigration reform, because our current immigration system hurts, scapegoats and vilifies all immigrants. There are many LGBT people who are undocumented immigrants, and many LGBT people who are U.S. citizens or legal permanent residents like me, who have mothers, fathers, siblings, grandparents, cousins, aunts, uncles and close friends who are undocumented.

We support immigration reform that protects the unity of all families (including gay couples in binational relationships); one that includes a fair pathway to citizenship that does not exclude day laborers, domestic workers, and caretakers, and one that ends with harsh enforcement policies.

At GLAAD we believe that it is important to tell to our own stories -- whether we are LGBT or immigrants or both -- because when we don't, we remain invisible, and prejudice and ignorance go unchallenged. Media needs to tell the stories of undocumented people that shed light on the many ways the current unjust immigration system harms millions, including through family separation and inhumane conditions and abuse in detention facilities.

Media should tell the stories of the at least 5,100 children whose parents are detained or deported who are currently in foster care around the United States. Nearly 400,000 people are deported each year, and 34,000 individuals are put in immigration detention daily. Eighty-four percent of detainees lack legal representation and can be held for months, sometimes years, in squalid conditions.

Or the stories of the at least 600 immigrants who were deported by hospitals over a five-year period because they were ineligible for public insurance as a result of their immigration status, like the 19-year-old girl who died shortly after being wheeled out of a hospital back entrance typically used for garbage disposal and transferred to Mexico.

Or the stories of transgender immigrants like 23-year-old Victoria Arellano, who died in 2007 in a detention facility after being denied medical attention and HIV medication. Immigration authorities denied her gender identity and put her in a men's facility that was designed for 50 inmates but held 80; and while Victoria's fellow inmates took care of her and after her death sent her mother $245, many transgender women placed in men's facilities endure taunting and even sexual assault.

Or gay couples like Eric and Juan, both Mexican immigrants who married in California before Prop 8, but because of DOMA and federal immigration laws, Eric can't sponsor his undocumented spouse Juan.

Finally, this is also why at GLAAD we are pushing for an end to the word 'illegal' in the media when it comes to undocumented immigrants. Describing a person as illegal -- or worse, as "AN" illegal -- reduces that person to an adjective and stops dialogue by allowing people to forget that there are human beings at the heart of this issue.

It is time for us as Americans to start asking questions about how we can make this country better. The time is now to enact a fair and humane immigration reform.