I've always been a fan of the Boston lobster roll and lobster continues to find its way into unique and unexpected dishes from coast to coast. If you're a fan of the buttery crustacean, chances are you've enjoyed it in various pastas and sandwiches or in the form of lobster mac n' cheese, lobster bisque and more.
Most of these creamy dishes integrate simple ingredients, making them quite easy to recreate in your own kitchen, while still adding a certain level of luxury that people often associate with eating lobster.
The key to an authentic lobster roll recipe is Maine Lobster. I use the tail, claws, knuckle and leg meat for the following recipe. The creamy lobster salad, with zestier flavors like red onion and arugula atop a crispy parmesan flatbread, make for a delicious adventure.
Here's what you'll need:
DOUGH
4oz x4 Pizza Dough, rolled very thin and randomly shaped
¼ cup All purpose flour

FLATBREAD
¼ cup Extra virgin olive oil with shaved garlic
¼ cup Shaved parmesan cheese
¼ cup Sliced red onion
LOBSTER SALAD
1lb Lobster meat (cooked and chopped)
1Cup Mayonnaise
¼ cup Diced celery
2 Tbl Chopped fresh chives
1Tbl Chopped fresh Dill
1 Tsp Fresh lemon zest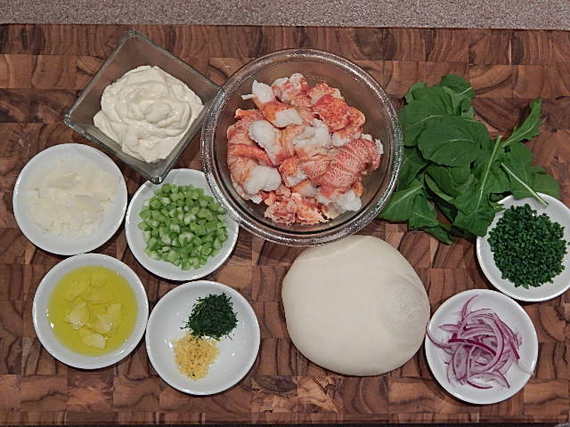 Combine mayonnaise, celery, herbs and lemon zest in a mixing bowl. Add lobster meat and gently fold to mix.

TOPPINGS
½ cup Arugula
4 oz Lobster salad
1 Tbl Chopped chives
PREP
1. Preheat oven to 500 F and place a baking stone or pizza metal on the lowest rack in the oven.
2. Lightly dust your table top and rolling pin with flour. Roll the dough out to an even flat rectangle about 14 by 5 inches.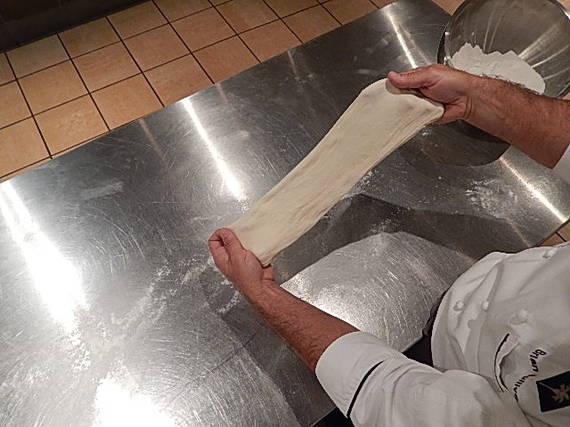 3. Drizzle olive oil with shaved garlic over the entire flatbread.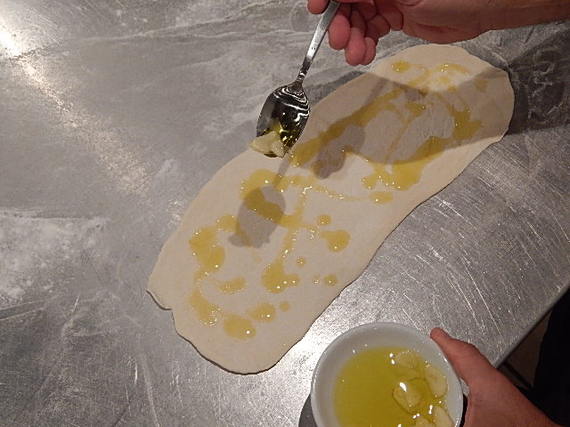 4. Spread parmesan and red onions evenly over the entire flatbread.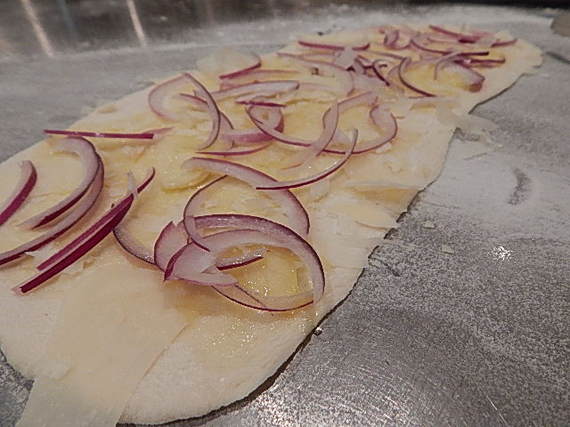 5. Carefully slide flatbread onto the preheated baking stone or pizza metal.
6. Bake until crispy, brown around the edges and the top is bubbling approximately 8-10 minutes.
GARNISH
Slice flatbread into four even pieces and lay arugula evenly over the top. Spoon lobster salad over the arugula and sprinkle with chives. ENJOY!