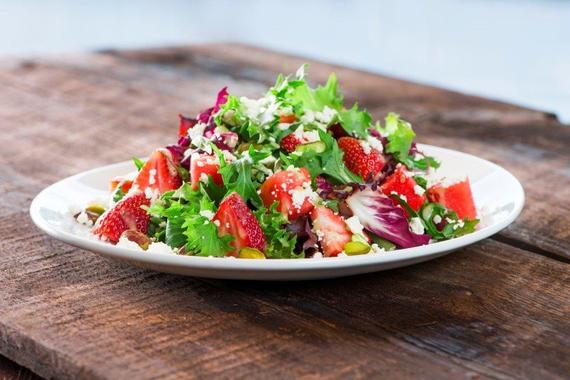 Thinking about fresh sourcing, the first thing that comes to my mind is the importance of the quality of the produce. When I visit farms that harvest the produce I use, I feel humbled. I get to see where the food comes from. Out in the sunshine, in the beautiful rich soil, I take in the smells of the fields. And when I meet the farmers I get a better understanding of the passion that they have for the vegetables and herbs and fruits that they grow.
There are two important reasons for obtaining locally sourced produce. One is taste. You notice it in the dish that you're eating because there's a natural freshness to it. And the other is the nutritional value of the food. The American consciousness and taste palate have become much more sophisticated over the past twenty years. People notice a difference in their foods because they've become more educated. Sometimes it's subtle but there's no substitute for garden fresh.
This time of year, I love to use locally sourced strawberries in recipes. Strawberries are sexy! Think about chocolate-dipped strawberries. They're romantic and very Americana. They always make me think about summertime too, and the 4th of July and glazed strawberry pies and strawberry shortcakes. That was my main inspiration behind the creation of the California Fields Salad.
Another delicious fruit ingredient in the California Fields Salad is watermelon. Strawberries and watermelons and California pistachios are a great taste and texture combination. This seasonal salad is tossed among baby greens and fresh basil, then dressed with a champagne vinaigrette and topped with feta cheese. Voilà! You've got a great summertime meal.
Oh, and don't forget strawberries for dessert! Especially the iconic strawberry shortcake. Start with shortcake biscuits (they're best if made from scratch. Use fresh cream in the batter, it makes them super moist). Then coat the biscuits on the outside with baker's sugar. Cut them in half and fill full with strawberries and a strawberry/vanilla puree. Top the entire dessert off with candied lemon zest and fresh whipped cream. For me personally, I like to have it with Häagen-Dazs vanilla ice cream.
Strawberries are everywhere this season, even in cocktails such as the agave and lime nectar margarita, strawberry mango cooler and strawberry mojito. You just can't ignore strawberries!
Probably the single most important thing is to make sure that you're sourcing the best tasting highest quality ingredients for all of your recipes. It's critical. It begins there because in order to have great tasting food you must start with great ingredients. You can't start with poor ingredients and create a good dish. It just doesn't work that way.
WHAT TO LOOK FOR WHEN BUYING FRESH STRAWBERRIES:
Strawberry season starts in April and goes into August.
When purchasing strawberries, they should not have any bruising on them. Look closely at the package. View it all the way around. Turn it upside down. Make sure there isn't any moisture in the carton. You don't want to see any bruising or discoloration.
All of the strawberries should be a beautiful even color. I would look at the area on top where the stem was to see how white it is. That's going to be an indication of how sweet they will be.
The fruit should be solid red from top to bottom. A deep red.