It's a huge honor to be a maid of honor or a bridesmaid, and you'll experience many fantastic moments as a member of the bride's VIP circle. However, with so many different tasks to complete, purchases to make, and personalities to deal with, bridesmaids may have to solve some etiquette challenges before they can pop those champagne corks.
You don't want to let the bride down or battle with the other 'maids...but you also have to look out for yourself so that you don't wind up in a financial mess or other big drama. Here, smart solutions to your toughest questions (that you've always secretly wished you could ask!).
Dilemma #1: You're asked to pay for a bridesmaids dress you can't afford, and everyone else seems fine with the price, so you don't want to rock the boat.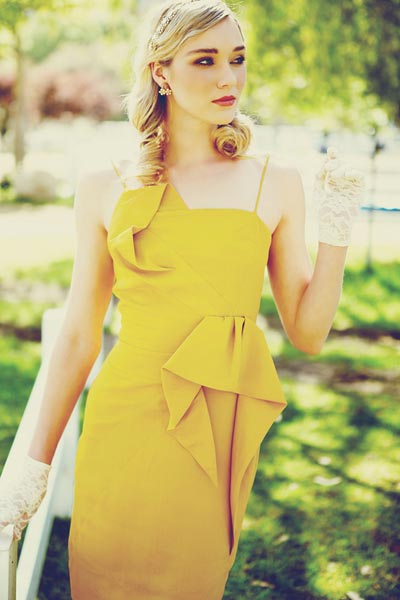 Photo Credit: Annie Edmonds Photography from Southern Weddings via Lover.ly
Problem Solved:
When the bride shows you a few dress "finalists" to choose from, ask if you can speak with her privately. Or, if she sends the photos via email, respond to the sender only; don't hit "reply all."
What to say: "These bridesmaid dresses are all very pretty, but they're more expensive than what I can afford. I want to be sure I have enough funds to help throw a fantastic bridal shower for you as well. Can we look for a few equally-pretty options that cost around (insert $X amount here)? Sorry to be a financial bummer—I'd be happy to find a few more options in the same color palette and style, if that's OK with you."
Don't be afraid to speak up: You may regret it if you don't, especially if you find out afterwards that all of the other bridesmaids thought the price was outrageous, too, but no one was brave enough to say anything! If you hear back from the bride that your new dress options are welcome, get it done right away so that the bride doesn't get anxious about this task taking too long.
Dilemma #2: You're asked to help pay for the bridal shower, and the requested amount for your contribution is much higher than what you expected.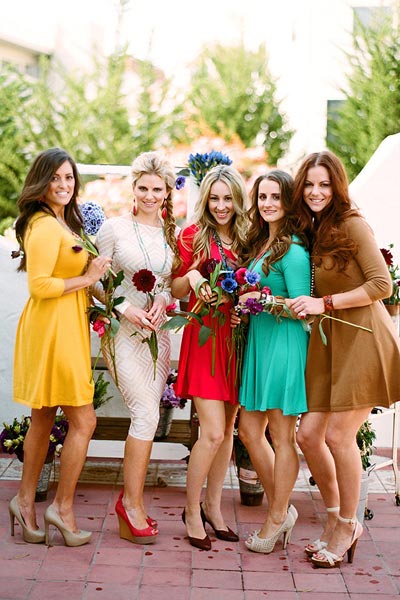 Photo Credit: Lane Dittoe from Bridal Musings via Lover.ly
Problem Solved:
Don't complain to the other bridesmaids about the exorbitant party cost—it's bound to get back to the maid of honor and/or bride eventually. Contact the MOH only, without copying the other bridesmaids on your message.
What to say: "(Insert bride's name here) deserves an amazing bridal shower, but I can't afford to contribute (insert $X amount here) for (insert restaurant name here). Can I help you find another great venue that's less expensive? Or, can we possibly plan a brunch instead of dinner, to help cut down on costs?" Don't go into detail about all of your financial crutches, especially any upcoming vacations, because no one will sympathize with you when you have a big Aruba trip coming up. Just stick to the goal at hand.
Another solution: Offer to do the labor-intensive tasks—writing out invitations, making favors, baking desserts, etc—in exchange for knocking some money off your share. The bridesmaids may see it as a worthwhile deal, so they don't have to spend their weekends slaving over party plans and DIY projects. This makes you a valuable member of their team, rather than a complainer who doesn't want to pitch in.
Dilemma #3: The other bridesmaids have their heart set on a girls' getaway, but it's simply not within your means right now.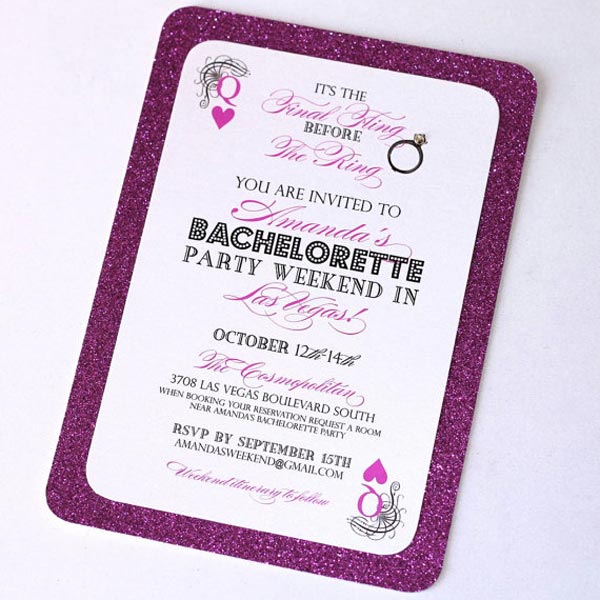 Photo Credit: EmbellishedPaperie on Etsy
Problem Solved:
If it's the bride's wish to plan a girls' getaway to Vegas, don't panic just yet: resorts have group packages that can be very affordable, and discount travel sites can turn up low-priced airfare. Check out all of the details and do diligent research before saying "yay" or "nay." In addition to travel and lodging, you'll need to factor in bar tabs, celebratory dinners, and other expenses, which can add up.
If you find that the cost is just way too high and the bride doesn't have her heart set on a particular location—Vegas may have been the maid of honor's idea—find fun places you can visit that are closer to home. For example, a boutique bed-and-breakfast nearby would give you the same bonding time, and you'd be able to spend more on activities, like a fine dinner, winery tour, or shopping. Also, use your connections to see if you can stay at a loved one's beach or ski house, or check out VRBO.com for vacation rentals at a fraction of the cost of a hotel.
Dilemma #4: You're being asked for your opinion way too often, and you don't know how to handle the endless barrage of text and email chains.
Problem Solved:
Before you get upset, consider that the maid of honor is responsible for including everyone. Maybe she was previously a bridesmaid who had a steamroller MOH to answer to, and she vowed never to be that way. Remind yourself that you're lucky to get asked for your opinion when so many other bridesmaids are just told what to do. If her messages are coming in way too frequently, or she expects an answer during inopportune times (e.g. while you're at work), then you'll have to diplomatically suggest a change in her behavior.
What to say: "You're working really hard on the wedding and doing a great job of including us all. But with so many emails coming in, I don't want to risk missing any important ones. Would it be possible to plan an in-person meeting with the rest of the girls to go over everything? Or, can we do one planning email per week, with all of the details laid out? That will be easier for us to track, and you won't have to field as many response messages, either." That's far nicer than saying, "Hey, I'm too busy for your messages every hour, so rein it in, okay?"
Dilemma #5: The maid of honor or other bridesmaids never include you in the wedding-planning process.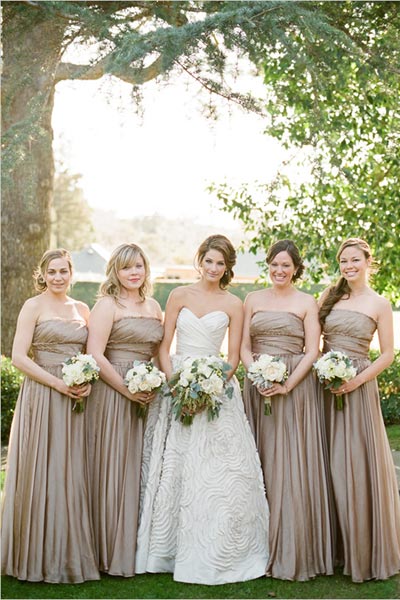 Photo Credit: Pat Moyer from Wedding Chicks via Lover.ly
Problem Solved:
There could be a few reasons for this, and you shouldn't take anything personally. The maid of honor may want to do everything her way or she might have been given a detailed list of what the bride wants...leaving no room for bridesmaid input. The actual reason doesn't matter; instead, just aim for a solution.
What to say: "I'd like to help out with (insert task here), so please just let me know if there's anything you need me to do." Offer to assist with specific projects rather than sending a generic "I want to help!" plea, which is less effective. If you keep getting nos, then you'll have to accept that the MOH isn't going to share the tasks. Remember, you also get to say no if she suggests plans that aren't doable (e.g. a bachelorette party you can't afford).
Don't complain to the bride about being left out, because that's very junior high school. Just make suggestions on a smaller scale (i.e. sending that cute bridal shower game you found on Pinterest), rather than offering to plan an event from start to finish.
Dilemma #6: You or another bridesmaid tries to run the show, so you end up stepping on the maid of honor or bride's toes.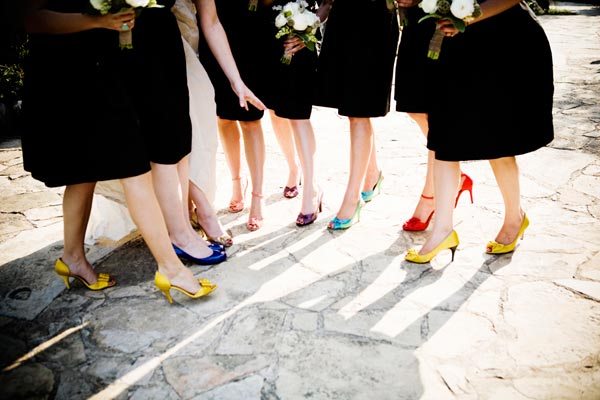 Photo Credit: Polka Dot Bride via Lover.ly
Problem Solved:
You might just be trying to help, or—although it's hard to admit it—spin things your way so that all the plans fit your budget or you get credit as the best planner ever.
If you're the bride or maid of honor: "I know that you have good intentions, but I'm starting to get some complaints from the other bridesmaids, and having to tell them you're really a sweet person. I'm hurt that you're trying to take over the wedding, so can you please tone it down? I want you to have fun planning with us, and not feel like you have to work so hard on everything."
If you're the bridesmaid: If you're the recipient of this "talk," don't fight back with excuses or complaints about how nothing would get done without you. Just apologize and take a step back into a supporting role. No pouting, no refusing to share ideas if they're not going to be heard, and no causing drama--even if your feelings are hurt. Let the bride have her day.
Dilemma #7: You or another bridesmaid is an "outsider" who's having trouble fitting into the bride's social circle.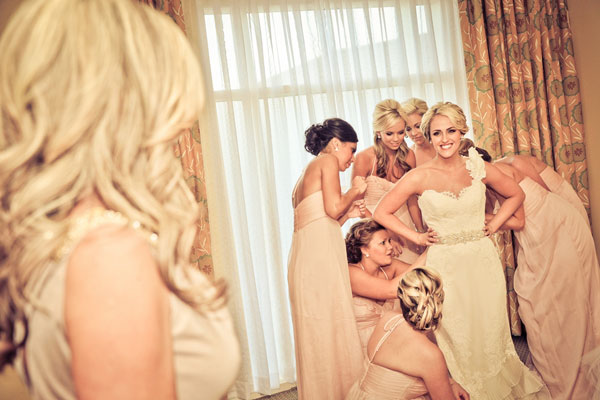 Photo Credit: Misty Miotto Photography
If you're the bride or maid of honor: Think about how difficult it is to be on "the outside." Organize a bridesmaids luncheon so that everyone can meet each other before a big event like the bridal shower or bachelorette party. Or, if you all live far apart, create a private Facebook group and have everyone share five fun facts about themselves. Discovering shared interests--watching the same TV shows, training for a half-marathon--can give them things to talk about with one another.
If you're the bridesmaid: Talk to the bride about what you'd like to help with for the pre-wedding events; they can make decisions according to your comfort level. For example, if you're a relative of the groom's and you don't want to attend the bachelorette party because male dancers will be there, suggest that the group take the bride out for dinner first, so that you can attend that portion and then bow out later, with no pressure about "bailing" on the bridesmaids.
Dilemma #8: The bride wants one thing for the shower, but her mom wants something completely different, so you're stuck in the middle.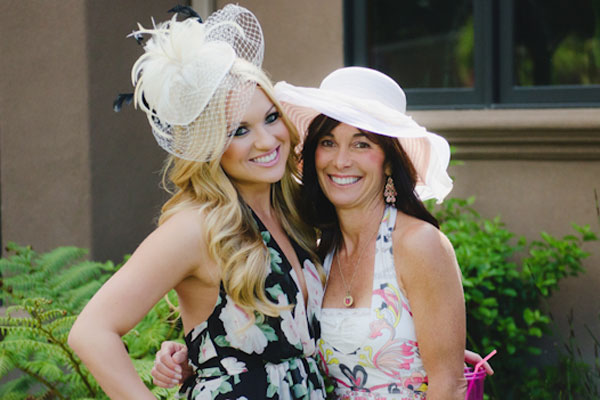 Photo Credit: Chrystal Cienfuegos Photography
Problem Solved:
When moms are included in the bridal shower plans, they often help save the bridesmaids money--that's one perk to keep in mind if she's being a royal pain in the you-know-what. Some moms latch on to the shower because they're not as involved in the wedding plans as they'd like to be, or maybe they're just very enthusiastic by nature.
Your primary loyalty is to the bride, though, so when her mother pushes for something that's completely different from what the bride wants, take a deep breath, be calm and confident, and tell her the bride's wishes that were relayed to you.
What to say: "Even though your idea won't work for the shower, it would be phenomenal for any other parties you're hosting on the wedding weekend!"
Don't complain to the bride about her mom's pushiness unless she truly acts out, like calling the caterer to change the menu that you and the other bridesmaids already set. While you want to spare the bride the embarrassment, her mom is more likely to take "no" for an answer if it's coming from her, not from someone she doesn't know that well.
Dilemma #9: The bride is so preoccupied with the wedding that she never asks you what's going on in your life. If you start to tell her about a problem you're having or a great thing that happened at work, she just starts talking about her day again.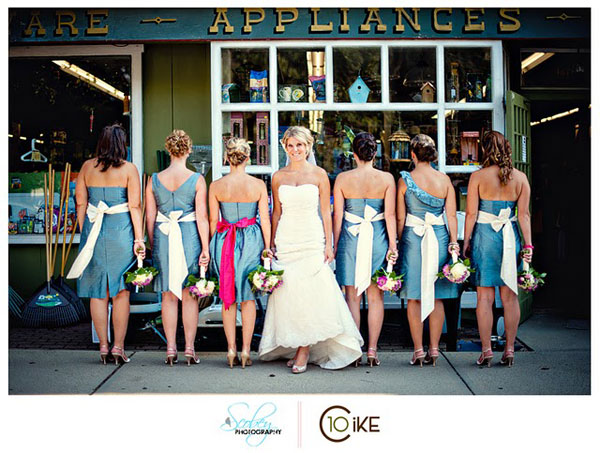 Photo by: Scobey Photography on Sparkle & Hay via Lover.ly
Problem Solved:
If the bride is obsessed about the wedding plans, or she's in the blissed-out early phase, that topic owns 99.9% of her brain right now. In the vast majority of cases, brides aren't even aware that they're doing this!
Smile and say: "Okay, you are so lost in wedding world right now! I've noticed that you're not really listening to the things I'm telling you lately, which is understandable, what with everything going on, but I miss talking with you about both of our real-world stuff!"
This should make the bride realize that she's been too "all about me" not just with you, but probably with other people, too. She'll appreciate your tone of understanding.
Don't be surprised if the bride snaps back into self-mode occasionally. The wedding is on her mind, and when someone is laser-focused on something, this is what happens. Just nudge her back to being "Her," and keep your relationship strong and close.
Dilemma #10: The bride can never make up her mind about what she wants, and it's affecting the bridesmaids' plans. Time is running out!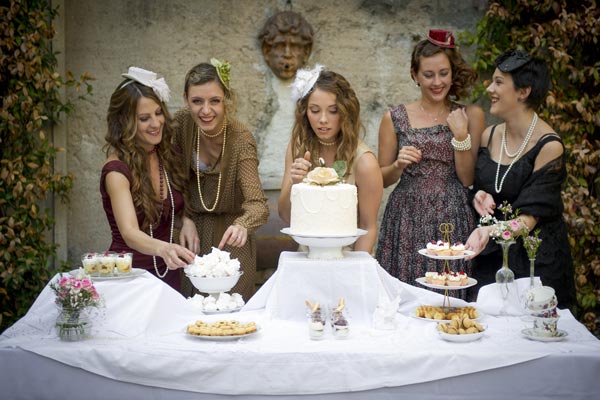 Photo Credit: Studio Fotografando from Varese Wedding via Lover.ly
Problem Solved:
It sounds like the bride is overwhelmed by too many options and she doesn't want to make any mistakes that she'll regret. Without confidence, she's likely to stall until the last minute.
What to do: Help her make a list of things she doesn't want. For example, if she's working on centerpieces, she can include that she hates greenery, bright pops of color, etc. This will give her a sense of accomplishment and help her get over that initial hurdle of where to start.
If she's still leaving things until the last minute: Gently remind her that the bridesmaids can't start on their tasks and fulfill them well if they're waiting and rushing around for her to make up her mind. When she hears that her stall tactics are stressing everyone out, she may work harder to make decisions in a timely manner.
When she finally decides on something, tell her to stop looking at Pinterest wedding images from that category! It'll only make her second-guess herself.
More from Bridal Guide:
By: Sharon Naylor, Bridal Guide contributor