This past year, Bridal Guide profiled extraordinary couples who triumphed and overcame all odds to get married, as well as those who opened their hearts and helped those in need. Their kindness, resilience and unwavering courage serves as a reminder of what's truly important on the wedding day.
10. Second chance: Bride gets a wedding re-do after suffering devastating memory loss
Just hours after Amanda and Cody Karth became husband and wife, the bride suffered an unusual medical condition referred to as Broken Heart Syndrome (where the heart muscle suddenly becomes dysfunctional). Paramedics were able to resuscitate her, but she fell into a coma for four days. When she woke up and began to recover, she discovered that she couldn't recall a single detail from her wedding. "The one day that every girl dreams of, I don't remember," Amanda revealed to "Inside Edition." Moved by their story, the show threw a second wedding celebration for the Karths. Amanda's vows included the line "You were there, overcoming devastating blows. My hero."
Related: Husband Uses Wedding Photos to Bring His Wife's Memory Back
9. Woman wears a wedding dress every day for ten years
Xiang Junfeng is referred to as "Sister Wedding Gowns" in her Chinese province because she wears wedding dresses on a daily basis, even while working in the fields! Her wedding has special significance to her because she's a survivor of domestic abuse; she was forced to marry an elderly man when she was just 18. She was his slave for 15 years, until she was able to escape to another village. With the help of a local woman, she not only got back on her feet, but she also fell in love — with her benefactor's brother! "I had only ever known a violent and abusive man, and I avoided men until I met my new partner, who brought me truly out of my shell and treated me so differently...I am very happy now, as my husband is very good to me," Xiang said in an interview with The Daily Mail.
Related: Sister Wedding Dress Shoot is the Cutest Idea Ever
8. How 15 bulldogs helped one man propose
2014 had its fair share of noteworthy proposal moments — starring a penguin, Peter Pan, a military dad, a video that inspired a high school bully to apologize, and a proposal that was filmed in 26 different countries. But the reader's choice award goes to Rob Micallef, who proposed to his girlfriend, Jessica Sammut, with the help of a Meetup group called "A Frenchie in Brooklyn." The couple went for a walk in a local park and followed an adorable pup wearing a heart-shaped balloon, which led them to a group of 14 more bulldogs. Their owners flipped over signs to reveal a "marry me" message and Jessica's answer was "yes"!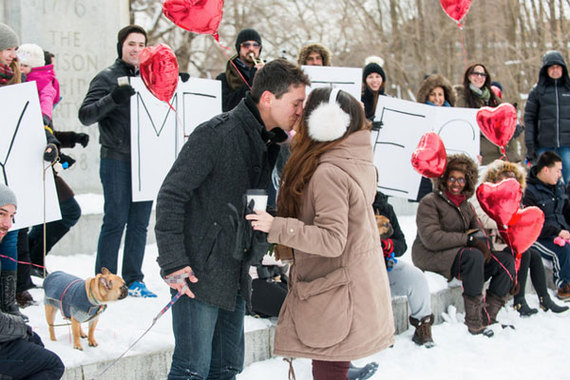 Photo Credit: Anne Hugus and Juan Cespedes for Exposure Media Studio
Related: 16 Pugs Help Man Pop the Question
7. After Marine dies, Facebook keeps their love alive
Marine Sgt. William Stacey was killed by an improvised explosive device during a tour in Afghanistan, shortly before he was planning to propose to his girlfriend, Kimmy Kirkwood. After Kimmy had received the tragic news that Will passed away, she posted one final "I love you" message on Facebook. There she rediscovered a treasure trove of photos and notes that they had sent to one another throughout their courtship. She writes that having this amazing reminder of their relationship "took on a complete new meaning when I lost Will forever." The couple's love story was posted on a special website that Facebook created to commemorate its 10th anniversary this year. It went viral and struck a chord with millions of readers, serving as a testament to the power of eternal love, which can endure even after someone has passed.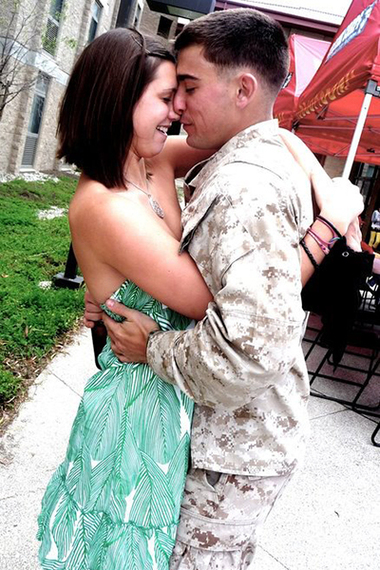 Photo courtesy of Kimmy Kirkwood / Facebook
6. The most heartbreaking wedding video you will ever watch
Rowden Go Pangcoga and his fiancée Leizel planned to tie the knot on July 8, 2014 — which would have been his 30th birthday — but in May, their dreams were dashed when he was diagnosed with stage IV liver cancer. His last request was to marry his one true love before it was too late. In just 12 hours, family members and friends of the Philippines couple managed to prepare all of the arrangements. Rowden's brother, Hasset, posted a same-day edit by Snap Creatives on YouTube, writing that "Unable to take him outside the hospital, we brought the church to him. It was like a heartbreaking fairy tale." The groom passed away less than 10 hours after saying "I do."
Related: Couple Plans Wedding in 24 Hours so That Terminally Ill Mom Can Attend
5. Couple finally gets their dream wedding after 72 years of marriage
Mira and Bob Graves eloped in 1942 before Bob was shipped off to war. Fast-forward seven decades later, and the happy couple lives at Antioch's Quail Lodge Retirement Home. When the director of the home, Jennifer Noble, asked them to provide a photo of their wedding for a Valentine's Day party, they couldn't because no film had been taken of their no-frills ceremony. She suggested that they have a wedding do-over and the couple relished the chance to re-live their "I dos." Their vow renewal not only included a professional photographer, but they also had a gown, tux, cake, flowers, and music.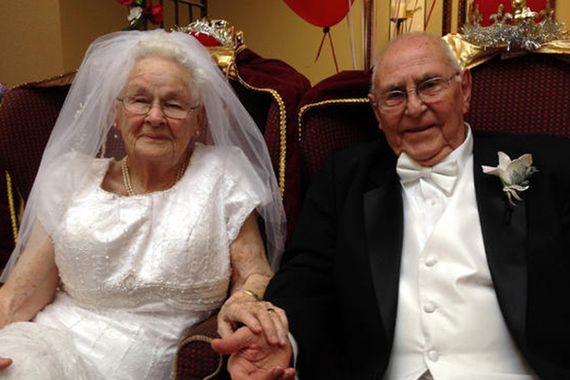 Related: Birthday Party Turns Into Surprise Wedding
4. The best mother-son dance we've ever seen
This mother-son dance had us cheering and clapping, and we weren't the only ones who loved it — it has over 9 million views on YouTube. The duo tricked their guests by starting off with a classic song before performing to different hits throughout the decades, including "The Twist," "Thriller" and "Bye Bye Bye." The best part is that unlike other wedding dances that have gone viral, they never practiced their moves together before the big day. They learned their parts separately and performed it for the first time together at the reception!
Related: Wedding Speech Turns Into Epic Britney Spears Dance
3. Widower pays it forward to a couple who reminded him of his marriage
After Lee Ballantyne's wife, Carol passed away from cancer, even the most routine activities became a painful reminder of what he had lost. They were married for 43 years, and they had three sons and five grandchildren together. After dining alone for the first time at an Italian restaurant and spotting a couple enjoying a romantic meal together, he decided to honor Carol's memory by paying for their bill and sending them a lovely note. "Watching them smile and chat as they studied the menu at first made me envious, but the longer I watched, the more I came to realize they are on the same journey as Carol and I experienced over the years," Ballantyne told the Daily Mail. 
2. Couple overcomes all odds to get married at Disneyland
Larry Ragsdale planned to propose to his high school sweetheart, Kelcie Yeoman, during a family trip to Disneyland. However, fate intervened when his car was hit by a drunk driver a week before they were supposed to leave. The former star athlete was left partially paralyzed, and Kelcie was with him every step of the way during his recovery. For three years, he endured grueling surgeries and physical therapy sessions, until he was finally able to propose to his longtime love with the same ring he'd chosen before his accident. However, after all of the medical bills, they couldn't afford to pay for the wedding they had originally envisioned, so Kelcie's sister, McKenzie, launched a fundraising campaign. They met their goal of $20,000 in just 11 days, and the couple got married in Disneyland this past September! "It was magical," the bride tells People.
Related: Triumph Over Tragedy at This Year's Boston Marathon

1. Dying father walks his 11-year-old daughter down the aisle
When Jim Zetz was diagnosed with stage IV pancreatic cancer, his biggest regret was that he'd never be able to attend his daughter Josie's wedding. He hired photographer Lindsey Villatoro of Love Song Events & Photography to capture one last family photo session. Touched by their story, she secretly reached out to local vendors to organize a special ceremony. In just 72 hours, she'd received donations for a wedding dress, a tuxedo, cake, catering, flowers and more. Understandably, Josie was initially overwhelmed by the idea, but later, she told the photographer that "this is the best day of my life."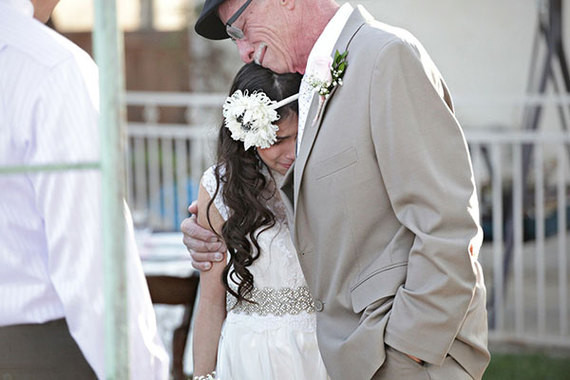 Related: Coping With Grief: One Bride's Inspiring Photo Shoot
Tell us which story resonated with you the most this past year!
By Stefania Sainato for Bridal Guide