While classic weddings will always have a special place in our hearts, we couldn't stop buzzing about these so-weird-they're-awesome nuptials and shocking bridal antics. Check out the most unusual headlines that crossed our desks this past year.
17. Guy proposed to all of the princesses at Disney World
Hopeless romantic (and jokester) Blaine Gibson decided to pop the question to every storybook princess he encountered during a trip to Disney World with friends this past summer. The 24-year-old Texan's final tally included Cinderella, Ariel, Rapunzel, Tinkerbell, Jasmine...and one very confused-looking Gaston, who briefly broke out of character. The photos immediately became an Internet sensation, with over 580,000 views on Reddit the week they were published. Read more ►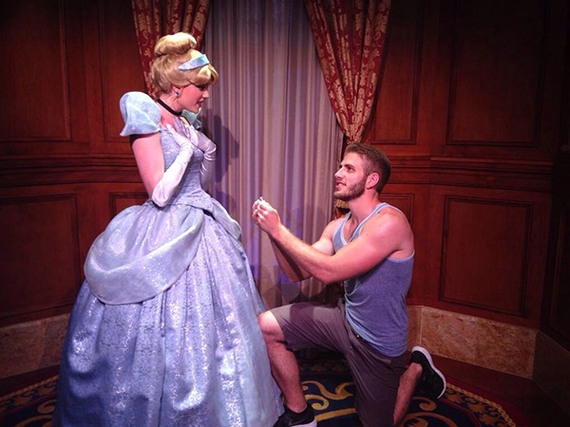 Photo Credit: Blaine Gibson on Twitter
16. Bride photo-bombed future groom 11 years before they even met
Is it fate or just coincidence? In the days leading up to their wedding, British newlyweds Aimee Maiden and Nick Wheeler unearthed a shocking childhood photo that proves their paths crossed 11 years before they officially met in college. The 1994 snapshot shows the teacher and her soldier husband playing in the sand at Mousehole beach, Cornwall. What makes the photo even more baffling is that they lived hundreds of miles apart when they were kids. Read more ►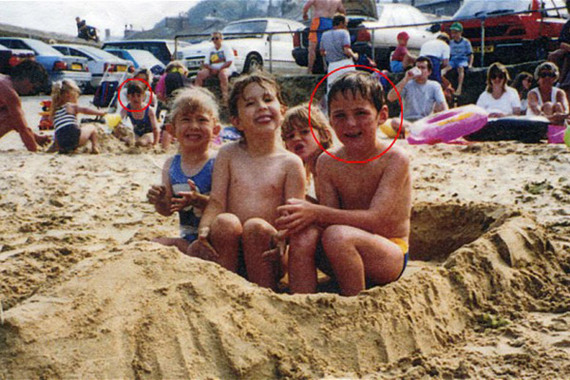 Photo Credit: The Telegraph
15. Bride-to-be asked her bridesmaids to carry corgis instead of bouquets
We've seen a lot of non-floral bouquets in our day, but this one takes the cake — or should we say Corgi? A Boston bride posted a Craigslist ad seeking six pups to participate in her dream wedding. Although it may sound far-fetched, the bride tells The Huffington Post that she's received 100 responses from Corgi owners so far. Read more ►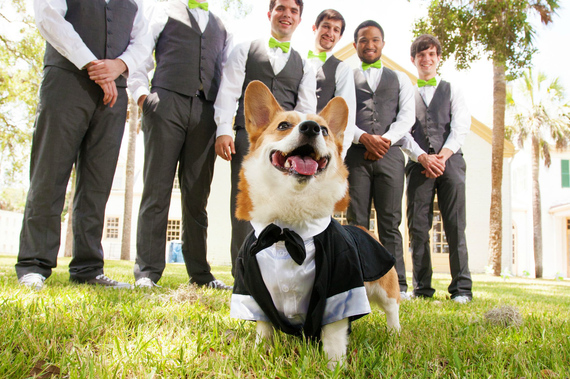 Photo Credit: User @3magdnim on Imgur
14. Whiskey wedding cam goes viral
Fireball's tagline is "Tastes like heaven, burns like hell, and what happens next is up to you." A groomsman in Iowa took that motto to the next level by duct taping a GoPro video camera to a bottle of this cinnamon whiskey. The result is a hilarious video that captures what really goes on at a fun wedding — germaphobes be damned. Watch the video ►
13. Four siblings all got married on the same day
Close siblings share everything with one another: their joys, sorrows, support...and in the case of the Fortney family, even their wedding day! Sisters Grace, Meagan, and Jessica, and brother Marcus all tied the knot to their respective spouses on June 14. They each had their own half-hour ceremony, followed by a joint reception at a local ballroom with around 1,000 guests (yep, you read that right). Read more ►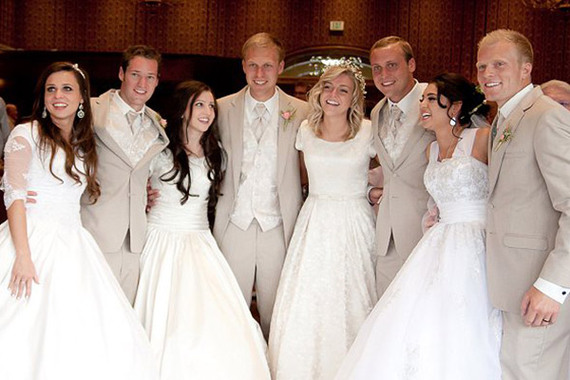 Photo Credit: Amber Davis via KSL-TV
12. The #WeStillComing photo sensation
A bride accidentally sent a wedding invitation via text to a couple of strangers — who decided to show up! That was the premise of a hilarious text message exchange that went viral this summer and became a trending hashtag on Twitter. Disappointingly, it turned out to be a hoax. The true story is just as funny, though: The bride, Amy, and her now-husband, Ian, ended up making an impromptu appearance in a rap group's music video. Read more ►
11. Couple shattered world record after getting married 109 times
Marriage vows don't have an expiration date but don't tell that to Lauren and David Blair. Throughout 30 years of marriage, the Hendersonville, Tennessee couple has continually renewed their "I dos"; 109 times, to be exact. They don't plan on quitting anytime soon: "We're just going to keep doing it. It just proves that love is still alive, and people can stay married for longer than four years," they tell The Tennessean. Read more ►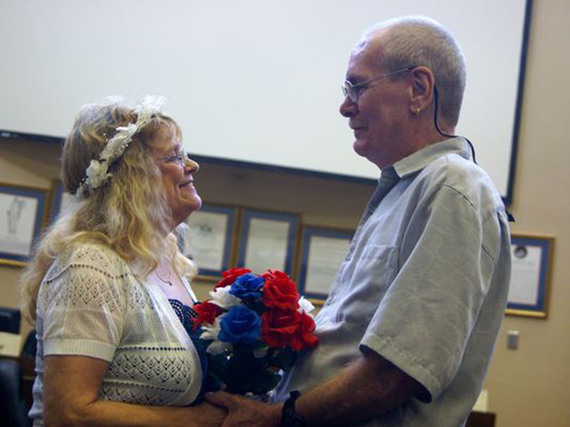 Photo Credit: Josh Cross, The Tennessean
10. This wedding trend was illegal in 48 states
Holy smokes! The New York Times reports that cannabis-themed nuptials were a craze on the West Coast this past year. "Weedings" incorporate the drug in everything from floral arrangements to favors and edible desserts to joint bars. There are even "budtenders" at dispensaries who will advise newlyweds on which strain they should choose. Read more ►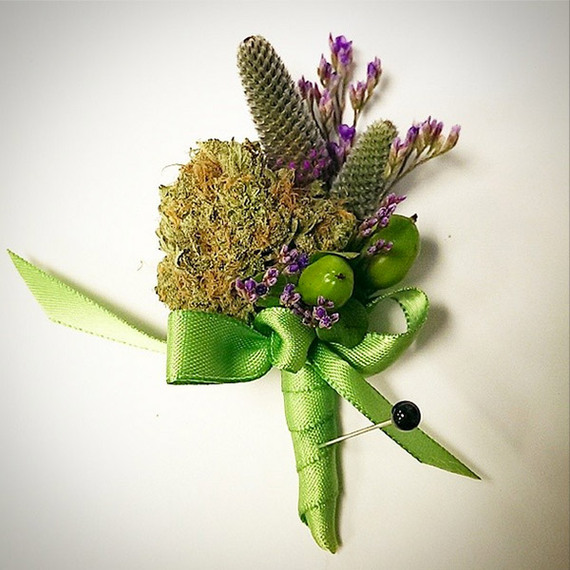 Photo Credit: The Hazy Daisy on Instagram
9. SWAT officer's unbelievable wedding shoot
Who knew "Bring Your Bride to Work Day" could be so badass? As a member of the Chongqing Armed Police Corps in China, 29-year-old officer Hou Weilin is on call 24 hours a day. Since he couldn't take the time off of work to accompany his bride, Li Jinyang, to their traditional pre-wedding photo shoot, they decided to improvise. With the help of his officers, the soon-to-be-married bride and groom took some snapshots at a SWAT training facility, and the action-packed photos blew us away. Read more ►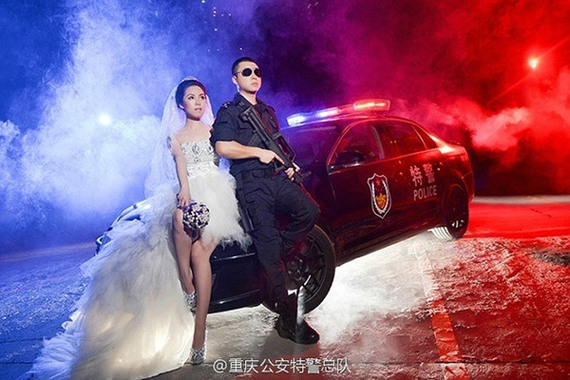 Photo courtesy of The Chongqing Armed Police Corps
8. Wedding venue threatened to fine couples for posting negative online reviews
The Union Street Guest House in Hudson, New York incited a firestorm of controversy this year when reports surfaced that they were fining newlyweds $500 for every negative review posted online. The hotel's attempt to suppress criticism ended up backfiring, big time: Over 900 one-star reviews were posted on Yelp in just two days. After being alerted to this issue, we investigated further: Is this an isolated case or are couples unknowingly putting themselves at risk by airing their grievances online? We opened the conversation up to vendors and lawyers — read what they had to say ►
7. Distraught bride sued wedding videographer for over $100K
Monica Nikchemny and Felix Komrash planned the wedding of their dreams at Crystal Plaza in Livingston, New Jersey. But the couple claims their dreams turned into a nightmare when they received the edited film from their videographers, Visualaz, which cost them $13,000. The bride compared it to a Seinfeld episode, alleging that it included sound effects and an applause track edited in — far from the production quality they expected based on the samples they'd seen. Watch the video ►
6. Couples exchanged vows 30,000 feet in the air
Alexander Serruys and Marieke won a contest from Thomas Cook Airlines to get married on an airplane. The craziest part: The Belgian couple wasn't engaged when they boarded the flight, so the proposal took place the same day, too! Read more ►
Indiana-based couple Dottie Coven and Keith Stewart became the first to get married during a Southwest Airlines flight. "There are a lot of things around flying that tend to not be fun. Let's make it fun again," the bride said. Watch the video ►
5. Extreme race weddings
Couples like Jennifer and Steve Fisher took the plunge while completing obstacles such as racing through mud, climbing walls and jumping over fire! When the couple started discussing their wedding plans, they knew they didn't want to have a "huge, expensive wedding." About three weeks before the Spartan Race, Jennifer joked that they should just get married after the competition, and to her surprise, her fiancé loved the idea. Read more ►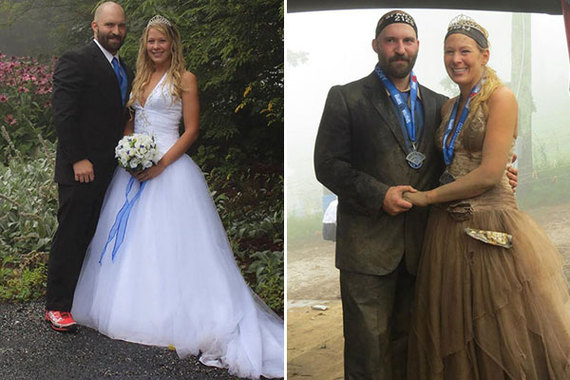 Photos courtesy of Jennifer and Steve Fisher
4. This couple allowed brands to sponsor their wedding — would you?
One Florida-based couple tried to raise $30,000 for their big day by pitching it as the ultimate out-of-the-box sponsorship opportunity for corporate brands. Everything from the bride's dress to the elephant carrying a "just married" sign (their getaway transportation) to the groom's swim trunks on the honeymoon will be brandished with company logos. A portion of the proceeds will go towards their favorite charities, and they aren't asking for wedding gifts. Read more ►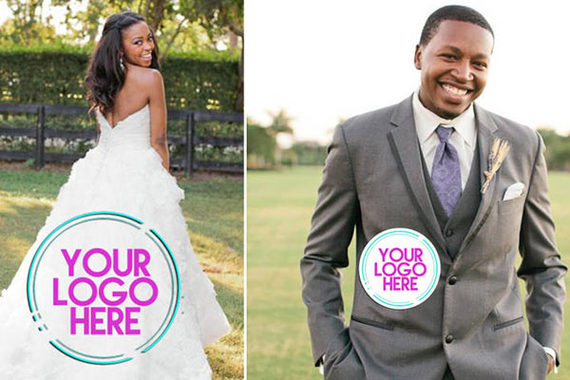 Photo Credits: SponsorOurWedding.com
3. Extreme weather conditions made for unforgettable wedding photos
When Michael Wolber and April Hartley planned to get married at Oregon's Rock Springs Ranch, they never imagined a wildfire would threaten their perfect outdoor wedding. "It was like a movie. We saw a fire truck roll up with sirens blaring," Wolber told The Oregonian. Read more ►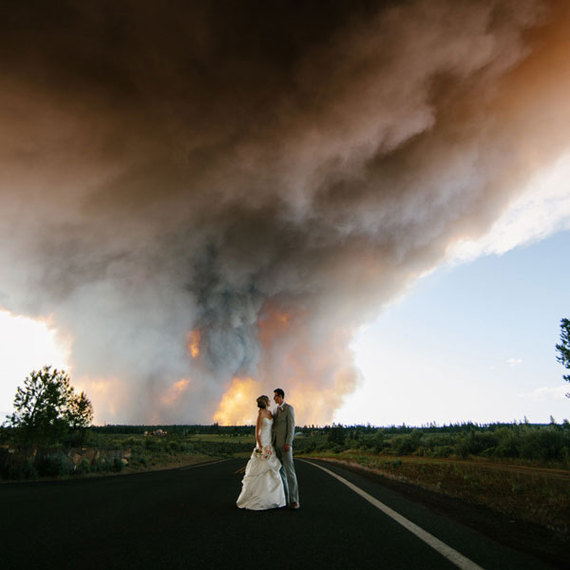 Photo Credit: Josh Newton Photography
Later in the year, a Canadian couple decided to pose for their wedding photos in front of a tornado! Photographer Colleen Niska captured stunning images of the happy couple embracing while a twister swirled a few miles down the road. Niska insisted on The Today Show that they were never in imminent danger: "We were a long ways from the tornado. It wasn't heading in our direction," she says. Read more ►
2. Total strangers married at first sight in new reality show
Would you agree to marry a stranger who is your scientifically compatible soul mate? Believe it or not, this isn't some insane marketing scheme for Match.com or a "would you rather?" question you'd ask your single friends after having one too many margaritas at happy hour. It was the premise of a new reality show, Married at First Sight. Six singles committed to arranged marriages in the hopes of finding their true love. Read more ►
1. Bride strapped newborn to gown and dragged her down the aisle
A Tennessee bride sparked outrage after she shared a photo of herself walking down the aisle on May 12 with her one-month-old daughter, Aubrey attached to the train of her gown. Mom Shona Carter-Brooks took to Facebook to defend her and her husband Johnathan Brooks' controversial decision, stating that the infant was "awake and well secured on my train." Read more ►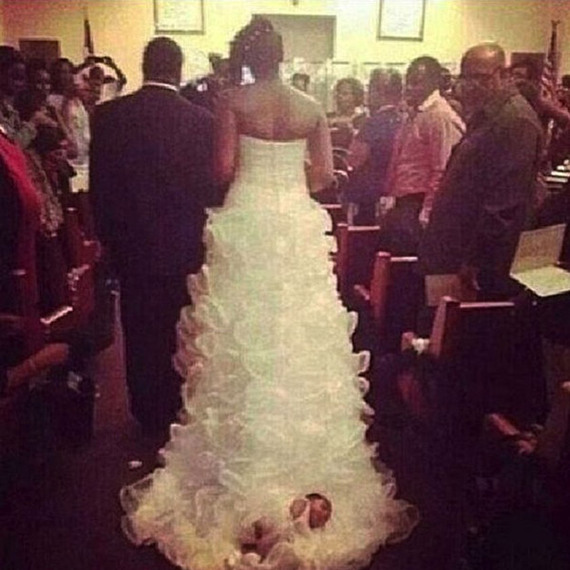 Photo Credit: Shona Carter-Brooks on Facebook via The Daily Mail
Tell us which story shocked you the most this past year!
More from Bridal Guide:
By Stefania Sainato for Bridal Guide
Also on Huffpost:
PHOTO GALLERY
Celebrity Weddings Of 2014