By Sarah Z. Wexler, BRIDES
Every wedding has a signature stand-out moment that makes it memorable -- and not just for the bride and groom, but for the guests too. Sometimes, it's a sweet moment that makes us say "awww," like a mom tearing up during her toast to her glowing daughter. Other times, it's a moment of humor, like the couple's adorable bulldog sniffing its way down the aisle as ring bearer. It can even be a crazy, over-the-top moment, like having the understudies to Jersey Boys woo everyone with pitch-perfect songs, or releasing tons of faux snow onto the dance floor for a winter-themed wedding extravaganza.
Of course, some of us normal folk love to live large, but celebrities do it bigger. Hello, Neil Patrick Harris and David Burtka's ceremony introduced by Elton John? Angelina Jolie's custom dress by Donatella Versace and decorated with her own kids' drawings, which she wore to (finally) wed Brad? Dinner at a 230-foot-long marble table à la Kim Kardashian and Kanye West's Florence nuptials? Those are just some of the things Hollywood's A-list newlyweds planned in 2014.
Want specifics? We tracked down 10 of the most memorable -- crazy good and crazy bad -- moments from this year's celebrity weddings.
1. Kim Kardashian and Kanye West: The Never-Ending Toast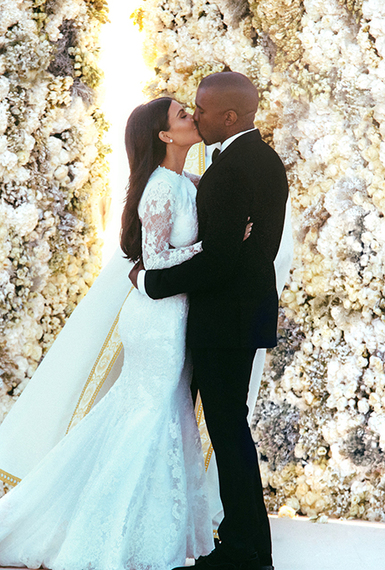 Photo: Courtesy of E!
Kim Kardashian and Kanye West are always over the top, and their Euro-hopping wedding was no different. From Jay Z and Beyonce's super visible no-show status to the 49-feet-high golden box that housed the bathrooms (better than port-a-potties, no?), there were too many crazy moments to choose from when it came to the #World'sMostTalkedAboutCouple's big day. But this rumor takes the cake: When Kim switched into her second dress of the night, Kanye reportedly stopped the music and gave a 45-minute speech to the guests that seemed to go on, and on, and on.
2. Solange Knowles and Alan Ferguson's Major Cape Moment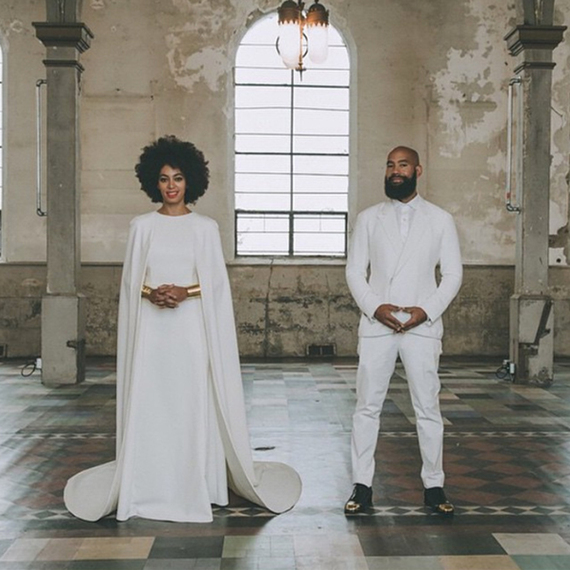 Photo: Courtesy of Beyoncé via Instagram
For their New Orleans wedding, Solange Knowles and her longtime boyfriend, video director Alan Ferguson, showed their dramatic flair. Not only did they ride up to the wedding on matching white bicycles, but the bride had some serious superhero style: She wore a white Stephane Rolland jumpsuit with attached cape, then changed into all-white Humberto Leon for Kenzo floor-length gown with -- wait for it- another matching cape!
3. Neil Patrick Harris and David Burtka: A New Take on the Ring Bearer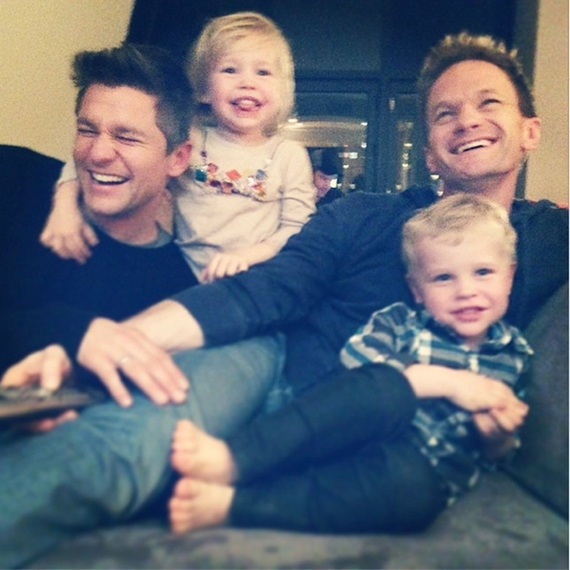 Photo: Courtesy of Neil Patrick Harris via Instagram
When Neil Patrick Harris and David Burtka married in Italy, they were introduced by Sir Elton John. But it was actually another guy who stole the spotlight: their three-year-old son Gideon, who wore a tuxedo and top hat and was supposed to be the ring bearer. But Gideon decided he'd rather be an "orange boy," and instead walked around handing the guests oranges!
4. George Clooney and Amal Alamuddin's BYOBoat Ceremony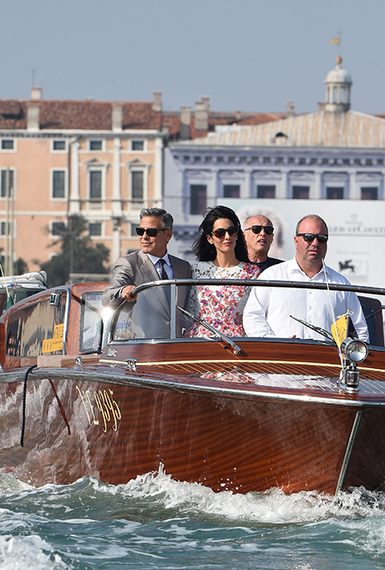 Photo: Getty Images
George Clooney and Amal Alamuddin married at Venice's historic Hotel Aman hotel, on the Grande Canal. Romantic and unique, yes, but it also meant all of their friends and family needed to arrive by boat (not to mention dodge dozens of paparazzi boats on the way).
5. Scarlett Johansson and Romain Dauriac: The Unlikely Location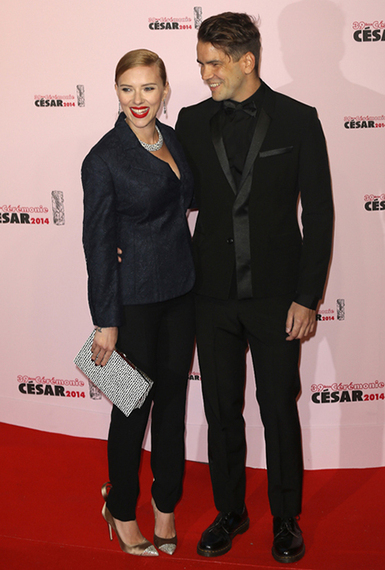 Photo: Getty Images
Most Hollywood couples choose somewhere far-flung and exotic to tie the knot, but not Scarlett Johansson and Romaic Dauriac. The couple secretly married at The Ranch at Rock Creek in Philipsburg, Montana with their baby Rose in tow.
See more: Ralph Lauren Shares His Top Tips for Decorating Your Reception Tables
6. Behati Prinsloo and Adam Levine: The Couple's Hilarious Officiant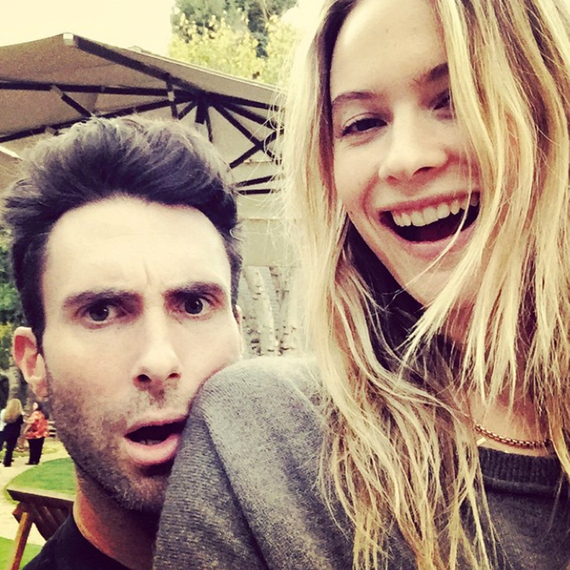 Photo: Courtesy of Behati Prinsloo via Instagram
Adam Levine and Behati Prinsloo's wedding in Cabo San Lucas, Mexico was a serious party (guests stayed cool with alcohol popsicles), but the most memorable moment happened at the ceremony when funnyman Jonah Hill played the part of officiant.
7. Jessica Simpson and Eric Johnson: The Bride Redefining "Wedding-Day Jewelry"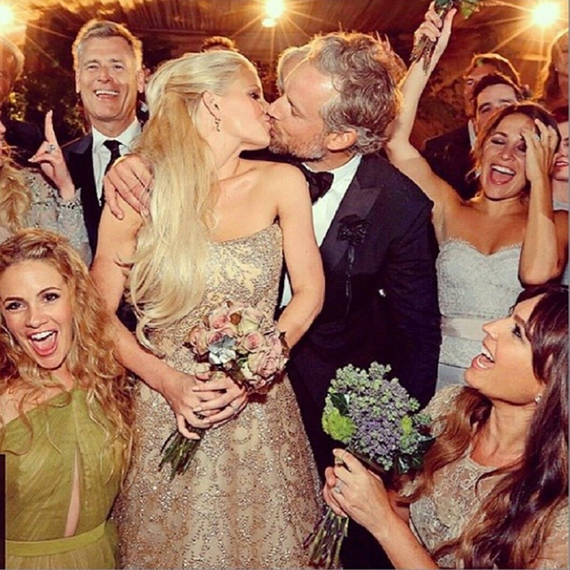 Photo: Courtesy of The Dress Reserve via Instagram
Since Jessica Simpson is a fashion mogul, you know she went all-out for her wedding to Eric Johnson, wearing a stunning custom Carolina Herrera gown. But the show-stopper to her ensemble was her estimated $750,000 worth of jewelry, including Neil Lane diamond earrings.
8. Angelina Jolie and Brad Pitt: The Bride's Kid-Graffiti Veil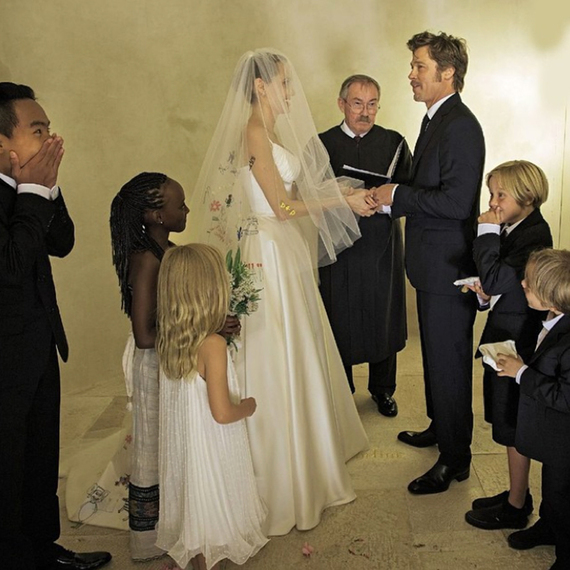 Photo: Courtesy of Angelina Jolie Official via Instagram
We know Brad Pitt and Angelina Jolie are 1) hardly traditionalists and 2) obsessed with their kids, but they included their six children in their French wedding in a very cool way. Along with a traditional antique lace-and-silk Donatella Versace gown, Angelina wore a veil featuring embroidered versions of illustrations drawn by her children.
9. Gabrielle Union and Dwyane Wade: The Bride's Quick Change

Photo: Courtesy of Dwayne Wade via Instagram
When marrying NBA player Dwyane Wade, who loves fashion and is a "groomzilla," bride-to-be Gabrielle Union knew she had to slam-dunk her dress selection. She decided on not one but two Dennis Basso gowns. Both had similar sweetheart bodices, but her first gown was beaded, with a slim, high-slit skirt, while the second was ruched and had a full skirt. Of course both were totally flattering.
10. Naya Rivera and Ryan Dorsey: A Coincidental Wedding Date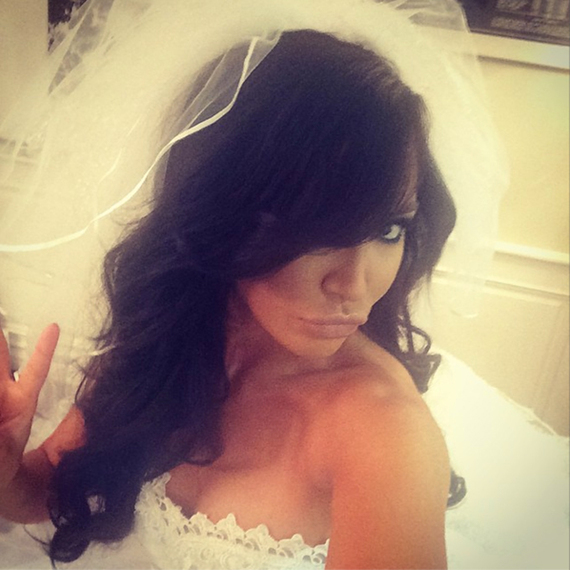 Photo: Courtesy of Naya Rivera via Instagram
Glee star Naya Rivera was set to marry rapper Big Sean on July 19, but three months before the big day, they broke off their engagement. So it surprised nearly everyone that she still got married on July 19 -- albeit to a different groom, her longtime friend Ryan Dorsey.
More From Brides.com: