By Christina Park, BRIDES
We spend a lot of time admiring everything about celebrity couples--their red carpet appearances, their outfits, their relationships, and their engagement rings, obviously. When it comes to bling, no one does it better than Hollywood's engaged A-listers. We can describe every detail of Kim Kardashian's 15-carat engagement ring from Kanye West, and we swoon over Blake Lively's pink and rose gold engagement ring from Ryan Reynolds, but there are so many more out there to ogle and admire.
With so many newly engaged celebrities, we reexamined our all-time favorite Hollywood engagement rings. Get comfortable with your mouth hanging open, because we guarantee these fabulous rings will inspire some serious envy -- not to mention your new favorite cut.
Here, our favorite celebrity engagement rings!
1. Jennifer Aniston's Engagement Ring
The former Friends star had a lot to say "yes" to when boyfriend Justin Theroux proposed with this whopper of a diamond in August 2012. (The roughly 8-carat emerald-cut solitaire ring cost an estimated $500,000!). She wears her mega-rock with pride -- and who can blame her?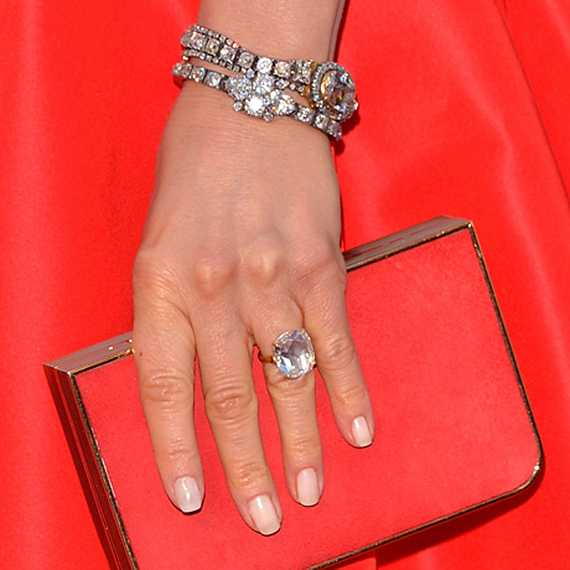 Photo: Getty Images
2. Jamie Chung's Engagement Ring
Bryan Greenberg proposed to Jamie Chung with a gorgeous (and huge!) classic round-cut diamond engagement ring. The proposal, which came as a total surprise to Chung, happened during the 2013 holiday season in her hometown of San Francisco.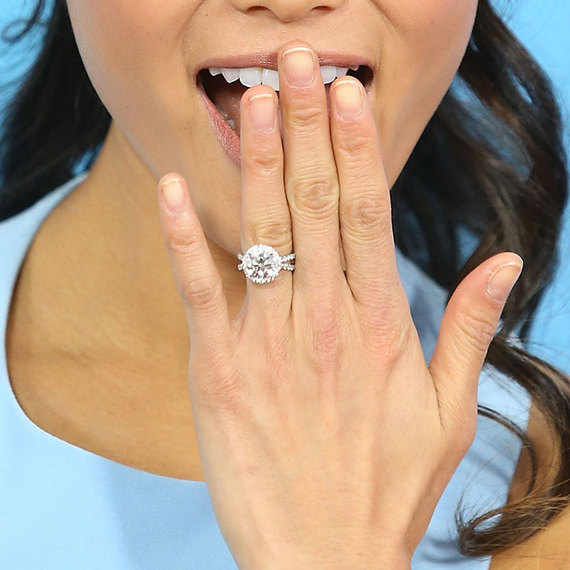 Photo: Getty Images
3. Elizabeth Hurley's Engagement Ring
Hurley's blue sapphire ring set between two trillion-cut diamonds is both a bold statement and a nod to British tradition--sapphires are a favorite of British royalty. The platinum engagement ring that cricket player Shane Warne gave to Hurley in 2011 is approximately 9 carats.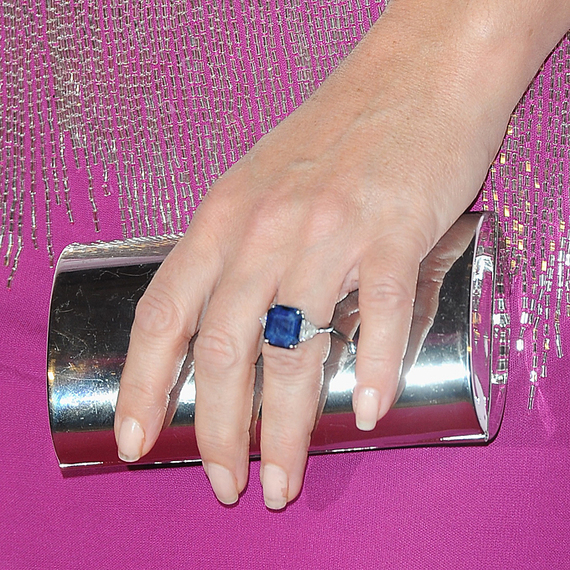 Photo: Getty Images
4. Halle Berry's Engagement Ring
Set in a textured, hand-forged, yellow-gold setting, the ring's four-carat emerald--sourced from Colombia--is flawless in color and flanked by two diamonds. Berry's fiancé Olivier Martinez, who proposed in 2012, commissioned the one-of-a-kind piece from his Paris neighbor, jeweler Robert Mazlo. The ring reportedly contains codes and symbols in lieu of an inscription, which only its wearer can understand.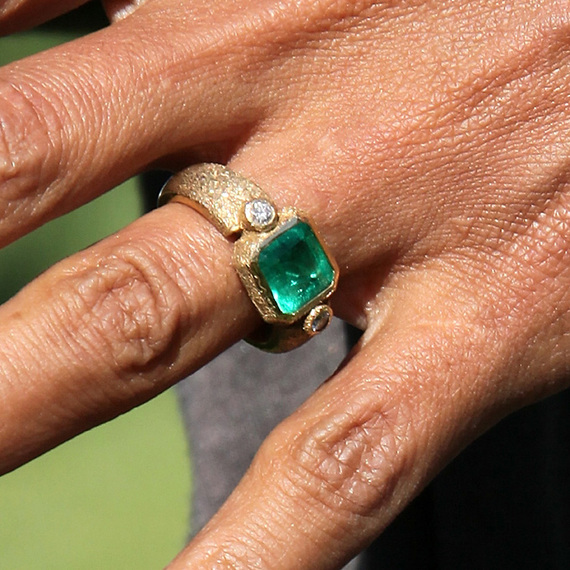 Photo: Getty Images
5. Jessica Biel's Engagement Ring
Jessica Biel's December 2011 engagement ring from love Justin Timberlake features a slightly rounded square-cut diamond surrounded by two rows of smaller stones. Notable details include scrolling rope-style sides and the use of blackened platinum, which creates a unique, vintage effect.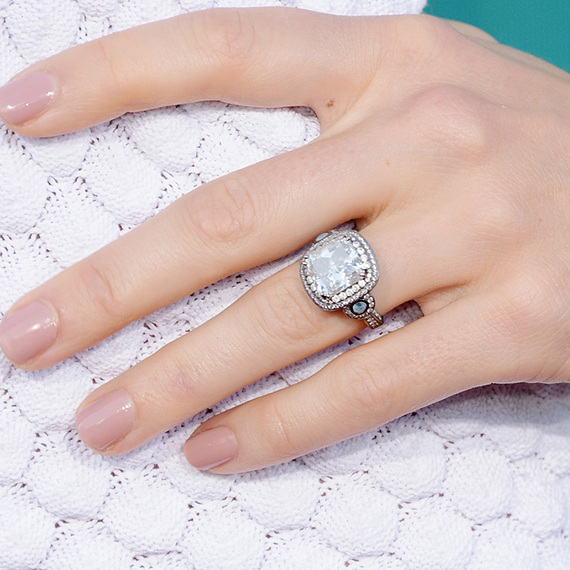 Photo: Getty Images
To see more celebrity engagement ring, check out the full slideshow on Brides.com
6. Kim Kardashian's Engagement Ring
We went crazy for Kim Kardashian's May 2014 wedding to Kanye West, but we're still floored by her 15-carat engagement ring. West reportedly spent a cool $8 million to procure the eye-popping cushion-cut diamond ring (and 33rd birthday present!). The D flawless type 2A rock (which jewelry designer Lorraine Schwartz described as a the "perfect cushion-cut diamond") is set in a pavé band so delicate, it looks as though the diamond is floating on air.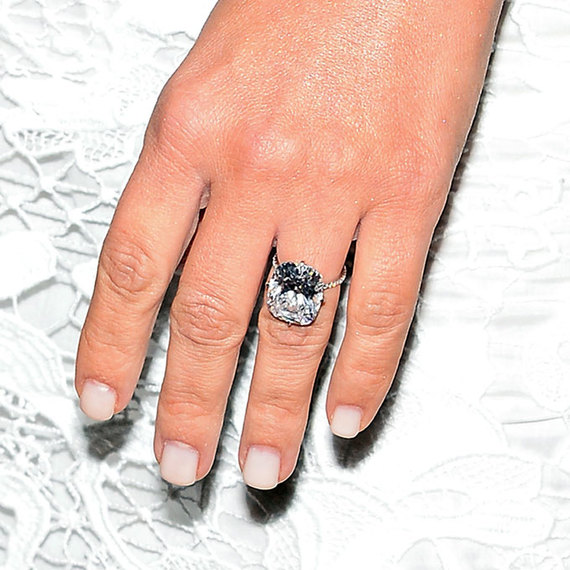 Photo: Getty Images
7. Ashlee Simpson's Engagement Ring
Ashlee Simpson gleefully announced in January 2014 her engagement news on her Twitter account with a photo of herself and fiancé Evan Ross with the caption, "My baby love and I are ENGAGED!!! Hallelujah Hawaii!!!!!" Yet we were more taken by the completely one-of-a-kind engagement ring she was wearing in the picture. Evan, the son of legendary singer Diana Ross, popped the question with this blinding Neil Lane diamond ring in a unique setting. He reportedly worked closely with the famed jewelry designer to create the unique bauble that seems to fit perfectly with Simpson's personality.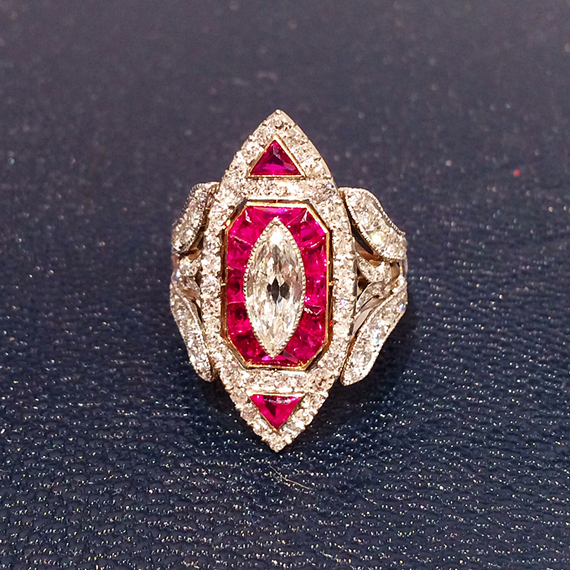 Photo: Courtesy of Neil Lane
8. Jessica Simpson's Engagement Ring
For his new wife Jessica Simpson, Eric Johnson selected a nontraditional Neil Lane ring when he proposed in November 2010. The gem features a 5-carat ruby and two pear-shaped diamond side stones, which to us speaks of timeless elegance, rich with glam.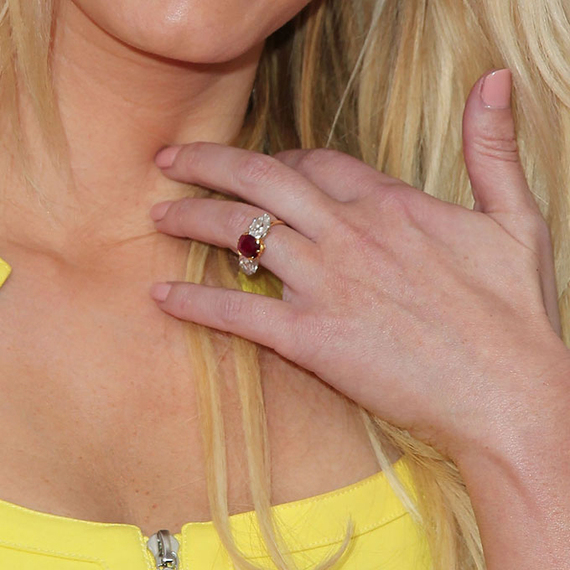 Photo: Getty Images
9. Natalie Portman's Engagement Ring
The examplary actress, who in 2010 became engaged with world-renowned dancer and choreographer Benjamin Millepied (They met filming Black Swan), wears a round-cut diamond ring encircled by a "halo" of pavé diamonds by Jamie Wolf.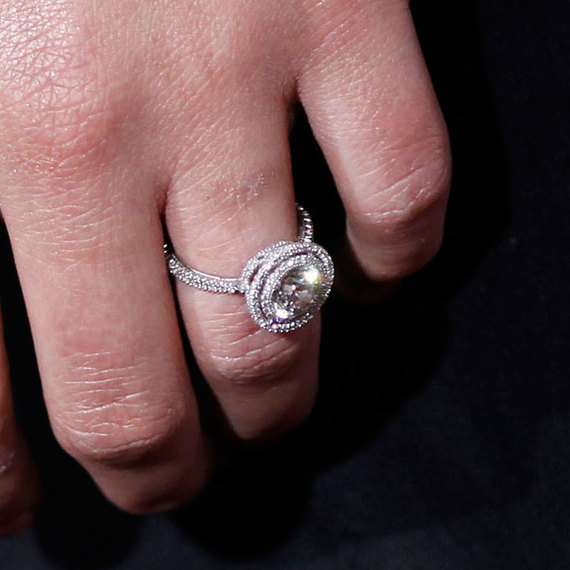 Photo: Getty Images
10. Scarlett Johansson's Engagement Ring
In keeping with her trés chic Parisian lifestyle with her French journalist fiancé Romain Dauriac, Johansson has sported a vintage Art Deco engagement ring since Dauriac popped the question in September 2013. The unique sparkler features three round diamonds surrounded by a diamond-encrusted rectangular setting.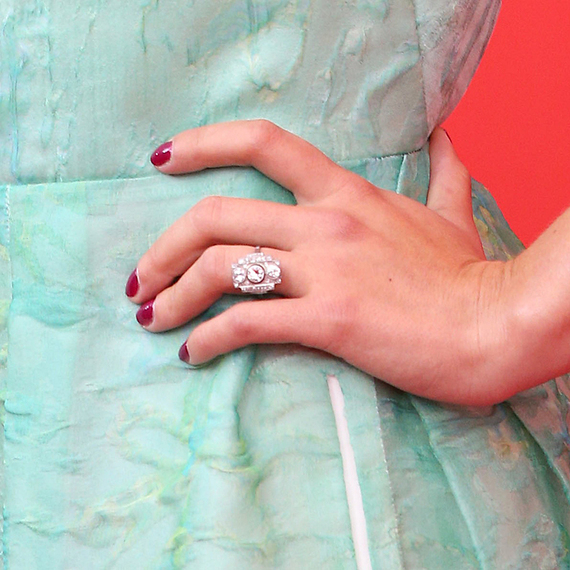 Photo: Getty Images
More From Brides.com: