I just returned from a most delicious and inspiring trip to Italy. Travel always feeds my soul and creativity, but this trip filled my superhero-of-love heart with jet fuel. And I think I know the secret to why every little adventure from start to finish was one where I was gassed up: I am incredibly easily amused and enthused. And, I highly recommend it as an elixir for the heart and soul.
I was traveling with a group of 10 friends -- five of us have known each other since high school, plus mates and a couple cousins thrown in for good measure. Luckily most of us shared this ability to be easily delighted, so it made for happy trails.
We were, though, all briefly tested when we arrived in the tiny town of Martano, Puglia, to meet with the manager of the villa we were renting in Carpignano. The villa would have been impossible to find, so she met us in the nearby town to guide us to our little slice of heaven. After a long, albeit exciting and amazing day of driving, we were all very suspicious as we tumbled out of our cars to wait for her arrival. This particular slice of Martano was not your typical adorable Italian village. Everyone wondered how beautiful this villa was really going to be if we were so close to our destination and we weren't being leveled by beauty or charm -- the start of which, it turned out, was only a few streets beyond our view.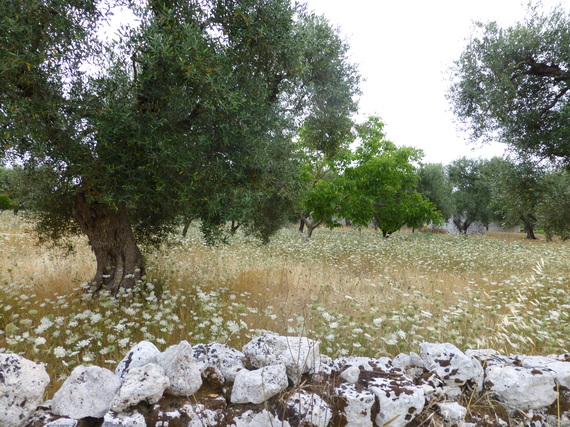 A few of us went off to gather groceries while we waited for our escort, and we found some major adorableness within 20 feet of our cars. We met the Italian version of Lucy Ricardo at the grocery store. As she encouraged us to buy all the right things, she drilled her index finger into the dimple on her right cheek, the sign we learned is used to convey that something is super-delicious. The gesture was made even more spectacular by this Lucy's truly Ball-ish eyebrows going way up into her hairline. Lucy was very easily enthused, and was a great omen of the exquisite villa awaiting us.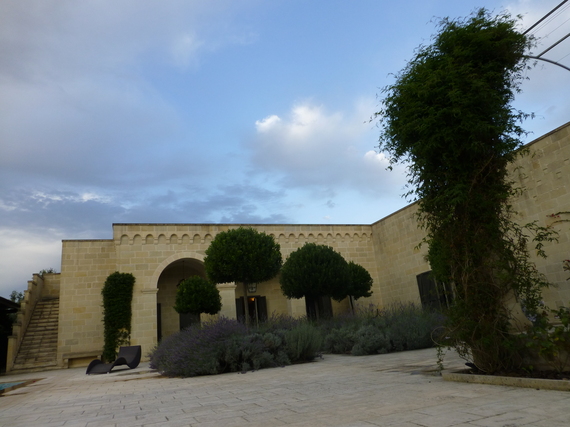 When I got home I realized how very lucky we who are easily amused and enthused truly are.
A friend asked where I had been in Italy. When I said I was in Rome for three days we discovered that I had overlapped with her sister's stay in Rome. She said her sister was having a horrible time though, because everything was "closed" in Rome. I cocked my head from side to side, not understanding her words. Must be the jet lag, I thought.
As I tried to make sense of it, I remembered the Trevi Fountain, as she rattled off her sister's list of sites that were "closed." They were in fact all covered to some degree with scaffolding due to renovations. But scaffolds are as much a part of Italy's architecture as the marble ruins. And in my easily amused state I adored visiting the Trevi Fountain emptied of water with scaffolding being built because we got to see all the details you miss when it is full of water, appreciating the sculpture with no distraction. And it was hilarious fun watching the workers fight about the scaffolding.
Best of all were the coins. It was clear that the majority of the wish-filled coins on he fountain floor had been removed for the renovation. But now littering the naked marble floor were obviously the coins thrown in during the night when people weren't around to judge. Probably tourists who weren't going to leave with wishes possibly unfulfilled.
I like those tourists. They are probably easily amused, too.
Another payoff for my being easily amused was attention from Italian men. In Los Angeles, I am nearly invisible to men, but I think because Italian women don't smile so very much, I received a lot of attention. "Are all Americans so beautiful?" one grocery store clerk asked as he kissed my hand. I had gone in to buy a bottle of water but my heart was so full and happy I am sure I was the happiest water-buyer he had ever seen. So, I remain feeling more "bellissima" than ever in my life.
That's a nice little side effect of being easily amused. You look better. So if you are someone who is easily annoyed, try faking being easily amused and see how cute you look in a few days.

Or move to Italy. That's my plan... where daily kitchen debris and herbs plucked from the garden like this can easily amuse you all the live long day.