I noticed the United States Holocaust Memorial Museum in Washington, D.C. for the first time on my way into town from the airport on Sunday night. It looked like a beautiful and mighty flame glowing against the clear night sky. The next day a friend reminded me it was Holocaust Remembrance Day: yet another synchronicity beckoning me to take action.
The most breathtaking thing that I am reminded of each time I revisit this horror is how recently it happened. Less than 20 years before I was born this insanity was rocking the world, rendering many world leaders deaf, mute and useless for far too long.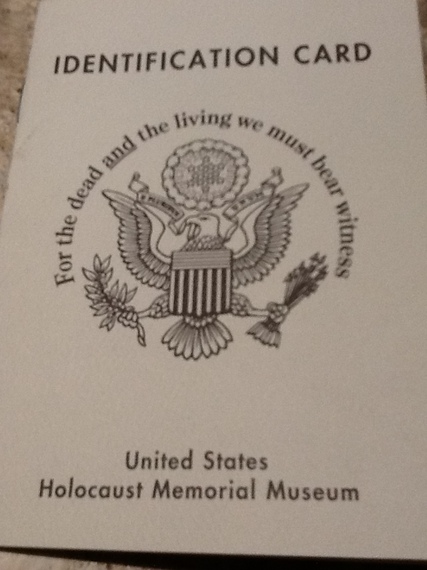 Concentration camp survivors took solace when bombs dropped nearby, instead of fearing for their lives: hope was near, the good guys were coming. And, yet the cavalry was too far away for far too long, everyone quietly absolving themselves of responsibility for stopping the madness.
How can we go unconscious even when atrocities are killing our brothers and sisters right next door? Is it simply too much pain for us to hold?
It is even easier for us to set aside those broken hearts after the fact, ignoring the fact that they have not yet thoroughly mended. We decide when enough time has passed for them to heal. We make these random assessments for our own hearts, our friends' hearts and the collective healing heart.
Earlier this same day I was riding around D.C. with a boisterous older black cabbie named Charles discussing another collective broken heart left for all of us to heal: American slavery. He remarked "You're so hip giiiiiirl!" when I said I thought this wound was remarkably recent, and remains largely unhealed. Charles' greatest passion is awakening people to the fact that its mark remains a shadow on all of our hearts - black, white, indeed, the American heart.
Charles thinks this slavery wound is festering in such a way that there is now an unconscious systemically taught under-achieving and over-criminalizing. When he was a kid he felt the leaders in his neighborhood and his family were working hard on healing the slavery wound, but somehow the next generation lost touch with the work still left undone. So now he is doing all he can, teaching in his community and writing a book to remind them to never forget, and to spur them to truly heal and excel.
Elie Weisel said it best: "For the survivor who chooses to testify, it is clear: his duty is to bear witness for the dead and for the living. He has no right to deprive future generations of a past that belongs to our collective memory. To forget would be not only dangerous but offensive. To forget the dead would be akin to killing them a second time."
Sometimes we have to remember a little louder, like Charles. Other times, we have to remember to tread more softly on each other's not yet healed wounds.
I was glad it was raining when I left the Holocaust Museum, somehow even the raindrops tread more softly on my reawakened, actively remembering heart.