In last night's episode, we finally get a Joan Holloway-Harris storyline. Kinda sorta. And you can leave it to Christina Hendricks to brighten up any scene she's in...even when she's throwing statues at idiot receptionists.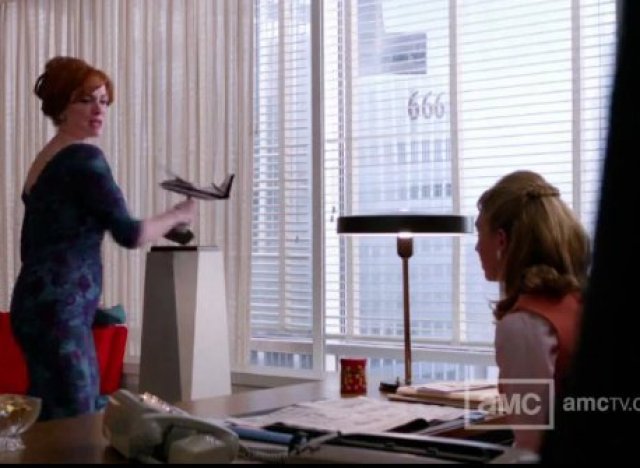 To be fair, that receptionist had it coming. She's the very definition of annoying -- whiny-voiced, meek and lacking common sense. It was only a matter of time before Joan told her off.
Stylistically, the mid-to-late 60's were hard for a woman like Joan. And not just for the impending youthquake that makes everyone over 30 (Joan is about 36) into a stodgy enemy, but because the fitted dress style fell out of favor. Tailored silhouettes transformed into dresses that were cut away from the body, and up very high on the leg. To quote my mom, "Even older ladies wore minis, because you really couldn't find anything else in stores."
Let's take a moment to let that sink in.
What's even harder for Joan is that the beauty ideal no longer favors the va-va-voom curvy silhouette. One could argue that it never really fell out of favor, but the fact was it was no longer fashionable. And for someone like Joan, who was "raised to be worshipped by men" (as she so eloquently put it to Don), it's going to be tough to no longer turn heads to whiplash.
Though Joan's wardrobe this season nods to the changes with abstract patterns and slightly less architectural silhouettes, her look is still largely in the early '60s. However, the wiggle dress with the three-quarter sleeves suits her beautifully. I can't imagine her in caftans or loose shifts. But, we'll see.
While we're talking about wardrobes stuck in the early '60s, we have Don still in his narrow lapels and skinny tie. And, a hat. Though initially I scoffed at the rumors that Don and Joan would possibly have an affair, I find myself wanting just that outcome. Both of them are, to some extent, very much stuck in their time. The hat, the wiggle dress and the jukebox choices all reflect that.
Elsewhere in the episode, we had Lane wearing a terrible tie, a gorgeous dress for Megan and a brief peek of a cute Peggy outfit. There was also a regrettable storyline involving Paul Kinsey, the charming beatnik-esque copywriter from the original Sterling-Cooper, becoming a Hare Krishna, but I'd rather not acknowledge that. But all of the aforementioned style moments -- and more -- are in the below slideshow.
And don't forget to come back here next Monday to chat about all things 60s fashion in our Mad Men Style Recap.
PHOTO GALLERY
Mad Men Episode 510 Style Recap