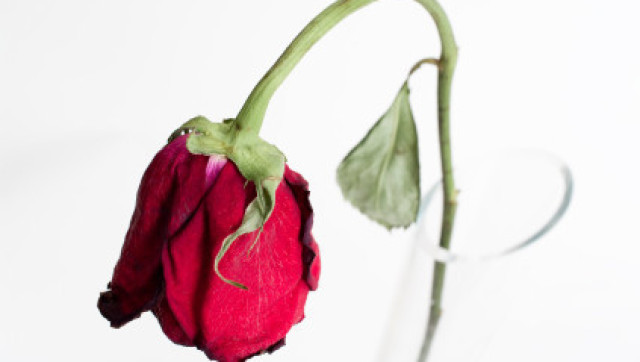 Valentine's Day has come and gone, and we're guessing you have some flowers and a few steamy memories to prove it. While the memories may last forever, that bouquet of roses you have in a vase, sadly, will not.
Once those petals begin to wilt, it's time to ditch the vase and get creative. Keep the romance alive a little bit longer by upcycling your wilted flowers:
1. Make Dried Flower Candles. Once your petals start to look a little sad, turn that frown upside down by sticking them on a candle! Affix the dried flowers to the surface of a plain, white candle and then add a layer of clear wax to hold them in place. The result is beautiful, but the process can get a little tricky, so check out this detailed step-by-step.
2. Shake Up A Cocktail. Prohibition-style cocktails are all the rage these days, so grab a shaker and put your flowers to good use. We love the combination of vodka with a little grenadine and rose petals. If your flowers aren't roses, just double-check that they're edible before adding them to your favorite floral beverage.
3. Homemade Potpourri. For a pretty and great-smelling addition to any room, throw together a little DIY potpourri. It's easier than you think! Play around with spices, herbs and oils until you've found your favorite scent.
4. Make Wall Art. Turn your flowers into a sentimental piece of art by pressing and framing the petals. Remove a few petals and place them between two pieces of paper. Then place a heavy book or two on top of your paper for consistent pressure. Once the petals are nice and flat (which takes about 48 hours), glue them to a piece of paper using Mod Podge and frame them. Just make sure you hang your pressed flowers properly!
5. Freshen Your Drawers. Keep your clothes smelling sweet by adding a small, breathable cotton or linen bag of dried flowers to your drawers and storage containers. Bonus points if your bags are also filled with lavender -- not only does it smell great, it's antibacterial and antifungal!
6. Freshen Up Fruit Salad. If your sweetheart gave you a bouquet of roses, then you can add an unexpected twist to your next fruit salad. Simply sprinkle some petals on top of the mix (we recommend pairing it with strawberries and poppy seed dressing).
Note: If you're going to consume your flowers (or just like to keep pesticides out of your home), buy them from the produce section of a grocery store or from a gourmet shop rather than a florist or greenhouse. Regardless of where they're purchased, it's always a good idea to wash your flowers thoroughly before eating them!
This post was originally published at BrightNest.com.