Admit it - how many online courses or programs have you signed up for, paid money for, yet actually completed?
I'm guilty of signing up for a few and found plenty of excuses to do something else instead. There just wasn't enough incentive to follow through or have any accountability. Until I heard about Seth Godin's newest endeavor the altMBA.
The program basically is about learning how to think, how to frame decisions, and ultimately make the change(s) that matter for yourself and around you. I hesitated for awhile, examining the excuses, the fear, you name it. I thought what the hell, I applied and was accepted. Then you go through the process of deciding whether or not to take the leap. I'm glad I did.
Only 100 people were accepted for this one month program. You work together in small groups of five people (cohorts) that changed weekly and had weekly assignments with deadlines for a total of 14 projects (the last 2 are bonus projects). After each assignment, we had to comment on another cohorts work (within 24 hours) with feedback from our perspective. It was intense and we held each other accountable. And I would do it again in a heartbeat.
The program has been over for three weeks now and we keep in touch daily because this experience created a bond. The bonus is that as altMBA "pioneers," we get to be involved with future altMBA sessions.
The biggest impact for me: (1) remember to ask WHY first when faced with a decision, (2) focus on what's important and not just "urgent" stuff, and (3) I got over my perfectionism.
Here's my open letter to future altMBAer's that was first published on the altMBA site.
Hello future altMBAer. If you like adventures like me, then altMBA fits that description. It's quite the voyage for 30 days! You definitely will need a lot of endurance. And be prepared to give it your all like on a sailboat when the wind is really strong and keeps changing directions. This is hard work. Really hard work that challenges you physically and mentally.
Each week we were given three assignments with specific due dates. Oh boy, the anticipation each Monday morning...what are we going to tackle this week? Which direction will the wind be coming from?
You will learn to like Slack as a great way to communicate with your cohorts, it's quite addicting actually. And get comfortable with WordPress. You will be doing a lot of writing. Doesn't matter if the writing is perfect, just ship it. We were all so proud when we completed a project and would announce on Slack... "I shipped it!"
I learned to frame my decisions better, taking into consideration what's important or not; and not be so reactionary in the process. Go deep with your analysis, not just look at the superficial stuff. And I learned that it's okay to not be perfect.
Most important, don't compare yourself to others either. You are unique and important just like everyone else. Listening to different perspectives is critical for growth. I received more compassion from my cohorts this past month than in any other learning environment. It was contagious.
Seth Godin and his team built a sailboat. Each of us have an important role in moving this altMBA ship forward no matter the wind direction we encounter.
I've got my spinnaker out because the wind is behind me for now. I am better prepared to handle the next shift and adjustment of my sails.
So glad I made this journey.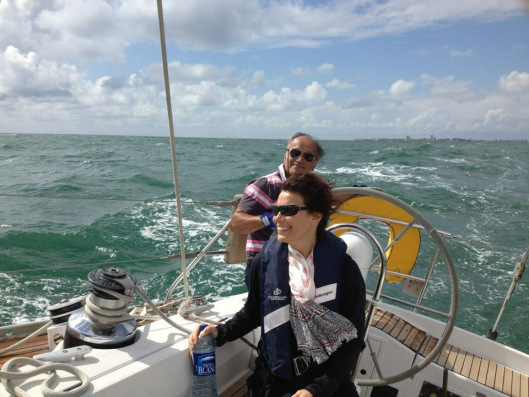 About the author: Brigitte is a Media Solutions Consultant, Health Advocate, and author of RealThings: 6 Ways to Embrace Life. Check out her personal site at Brigitte Cutshall.