Jet lag sets in after the 11-hour trip from San Francisco to Frankfurt, but I trudge along with the dedication I set out with to experience the Rheingau. After a good night sleep and breakfast at the hotel, I make way towards my first stop, Weingut König. It's about an hour drive from Frankfurt to the Rheingau and today it's raining. Traffic is horrid around 8a.m. -- I guess that makes sense since it is a working day after all, but it also gives me a chance to do a quick intro to the tasting (which will be shared post-trip). Don't be alarmed, my good friend and photographer Matt is handling the driving.
The Rheingau is vividly green and lush despite the rain, or perhaps on account of the rain (no matter) which gave an ominous glow over the old chateaus among endless rows of vines whose berries are barely the size of a round needle head at this point.
Through the narrow streets of Rüdesheim the car winds up the hill until i reach a single lane road which leads us to the Weingut and Assmannshausen. I am greeted by Robert König Jr., current owner and winemaker whose family has been making wine since 1704, as a VPD since 1989, and a little dog named Günter.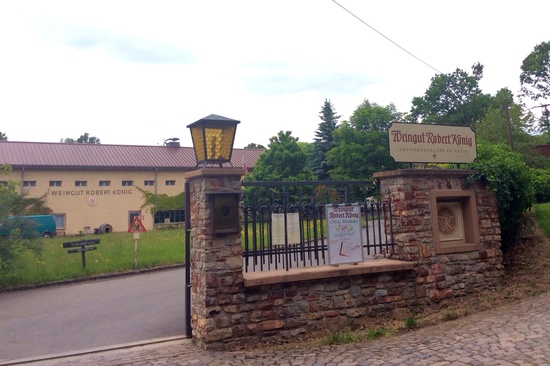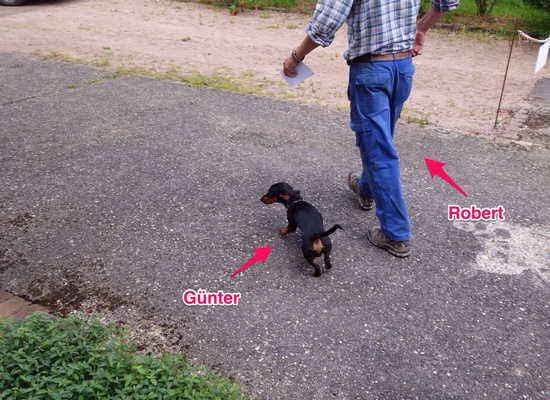 Spätburgunder, or Pinot Noir, is a speciality of Assmannshausen. The phyllite-rich soil in the area retains heat and does not hold water, yielding grapes that are relatively low in number, but that produce the finest-quality Spätburgunder. The grapes are handpicked, and all of Weingut Konig's red wines are produced using traditional mash fermentation, then aged in wooden barrels. The majority of the wines (98 percent) are dry.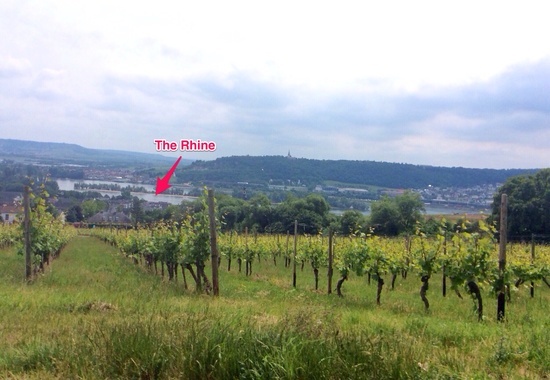 I'm excited to try my favorite Spätburgunder, a Trocken Spätlese, as well as the current 2012 vintages. Robert walks me to the tasting room and gives me a glass. Here goes nothing. Stay tuned for my video tastings which i will make available via Youtube at the end of my trip!
Robert is busy but checks in to make sure I'm doing alright, I use this moment to get a quick snap with the winemaker. I thank him for the tasting and I'm off to the next stop. Of course I get more pictures of the vines.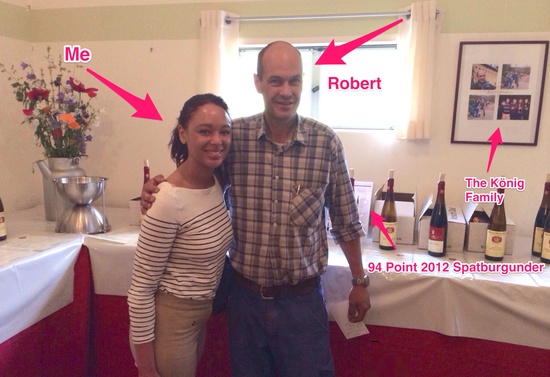 Glossary of Wine Terms
Rheingau - Rhine District. One of Germany's 13 designated wine regions.
VDP - Verband Deutscher Prädikats - Association of German predicate and quality wineries Association.
Spätburgunder - Pinot Noir of Germany
Rotwein - Red Wine. Grapes are described as blue in color.
Trocken - Dry. Refers to the style of wine, don't get confused as you can have a fully ripe dry wine!
Spätlese - Late Harvest. Refers to the berries that are plucked at full ripeness for flavor and concentration.