I am in crunch mode preparing for my trip to Germany. This second time around will be 10 days by convertible, through the northern wine regions of the Rheingau and Mosel, crossing over to the Netherlands before hopping back over Frankfurt to Berlin, so I've been carefully plotting the journey I will share through video journal with my readers. I will be joined by a clever kiwi with an accent to match and a hankering for sausage, who has agreed to film my escapades in exchange for random mid-air planking photos. Think traveling garden gnomes, or something.
Anyhow, let's get to the good stuff; the wine. I will be visiting one of the most famous vineyards in the world, the prestigious Bernkasteler Doctor vineyard (picture below) whose vines climb the steep slopes leading up from the Mosel River. There, I will taste the sweet nectar of Weingut Lay and Sophia Thanisch VDP.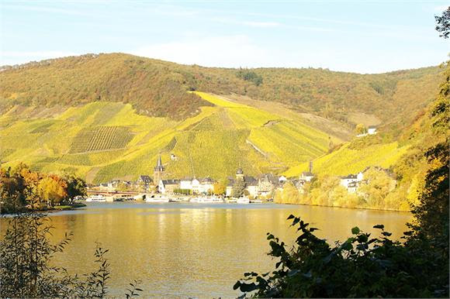 Then, I'm off to Clemens Busch winery, one of the top producers of organic wine in Germany. The estate is located in the village of Pünderich (near Bernkastel) in the Mosel wine-growing region.
I first discovered the wines of these three amazing producers of amazing Riesling through German wine importers Petra and Dade Thieriot of Dee Vine Wines, after having hosted my first German tasting three years ago out of a lean start-up office in San Francisco. I then had the opportunity to try a Doctor Reisling at Sofia Thanisch's winemaker lunch last year, hosted by Dee Vine (label pictured below), and the rest is history.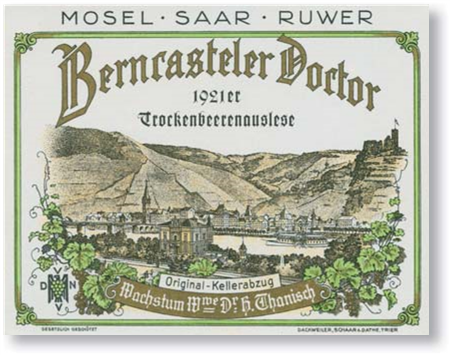 About a dozen tastings later and a deep knowledge of Riesling, which is humbly shallow compared to that of my mentors and idols in the industry, I will be taking my first trip to the Mosel Germany to share my experiences with you.
You won't be able to find these gems just anywhere, however, Dee Vine imports Clemens Busch wines as well as wines from Sofia Thanisch exclusively for the state of California and sells them wholesale as well as to consumers.
While Mosel Riesling will be far more satisfying than an oenophile could ever hope, I do have quite an affinity for the Pinot Noir grape and must add Weingut Robert König to the list. His elegant Spätburgunder asked me to come try it. How can I refuse? So I sneak in a quick visit before the Mosel and I'm off to the Rheingau.
Fast forward to day 10 and we've covered two countries, 1,204 km and I'm sinking into my chair to enjoy a last supper with a dear friend, Katharina. I've blogged, video journaled and social media'd the crap out of you, all while relearning how to drive a manual, but hopefully you've learned a thing or two about wine.
I leave Saturday for this grand voyage, so stay tuned for more details on the video journal and blog!