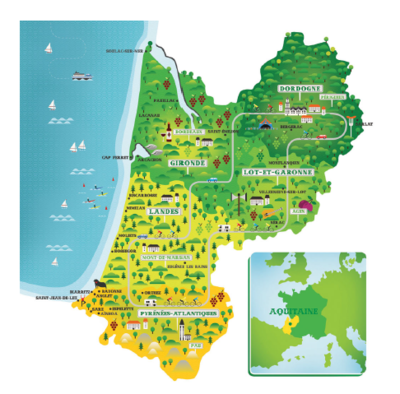 I'd like to share our journey through France by way of wine. In January we began in Southwest France, where we explored the wines of Aquitaine. We featured a selection of the following wines and pairings, representing the area of Southwest France.
2007 Château Sainte Marie Madlys de Sainte Marie
Bordeaux | 63 percent sauvignon blanc, 14 percent sauvignon gris, 23 percent sémillon
Subtle touch of peach and mango, this wine has attracted attention for the quality of its bouquet, which reveals scents of white flowers and citrus. Reveals in the mouth freshness and complexity that combine delicious fluency and ease of drinking.
Deviled Eggs -- Smoked Duck Bacon, Chives
2010 Château Cahuzac Fronton
Bordeaux | Negrette,, Cabernet Sauvignon
Concentrated, suave wine with marked minerality and impeccable balance. Medium-bodied juicy red wine exhibiting subtle hints of black currant, fresh plums and blackberries. The character of Château Cahuzacs' wines are largely due to the Negrette varietal, which is indigenous and unique to this corner of southwest France.
Basque Popcorn -- Tomato Oil, Brown Butter, Piment d'Espelette
2010 Château du Prieur Bordeaux 'Cuvee Reserve'
Bordeaux | 70 percent Merlot, 15 percent Cabernet Franc and 15 percent Cabernet Sauvignon
High quality Bordeaux built for everyday drinking. This medium-bodied wine offers notes of herbs, tobacco, savory, black cherry, cassis, toasty oak, cedar and bell pepper.
Butternut Squash Soup
2009 Château Fitère "Tradition" Madiran
Bordeaux | 70 percent Tannat, 30 percent Cabernet Sauvignon
Madiran is a Southwest France appellation known for powerful red wines made primarily from the Tannat varietal. Chateau Fitère has been in the same family since 1760, and Marius Fitère was the leader in the creation of the Madiran Appellation in 1948. Strong tannic wine.
Serrano Ham -- Tomatoes, Garlic tartines
Our next stop will continue our journey through Aquitaine, into Bordeaux, where we will explore the wines of the Left Bank, Right Bank and Entre-deux-mers. What does that means for us? Luscious, velvety wine from the largest wine growing area in France.
This Thursday, April 17th, you'll have the chance to check out these wines. Tickets are available on Eventbrite through Brit's Wine.
And now, for a quick tutorial:
Left Bank
Varietals: Cabernet Sauvignon, with some Cab Franc, Merlot, Petite Verdot, and Malbec
Soil: Limestone under rocky top soil
Popular Appellations: Medoc, Graves, Sauternes, St. Estephe, Paulliac, Margaux, St. Julien
Quick Fact: Graves is considered the birthplace of Claret
Entre-deux-mers literally translates to "between two seas" and is a dry white wine made in Bordeaux. Don't get confused however, there are several red wine producing appellations within this area.
Right Bank
Varietals: Merlot, with a lot of Cab Franc, some Cab Sauvignon, Petite Verdot, and Malbec
Soil: Limestone on top
Popular Appellations: St. Emilion, Pomerol, and Fronsac
Quick Fact: Relatively flat -- St. Emilion having steep hills