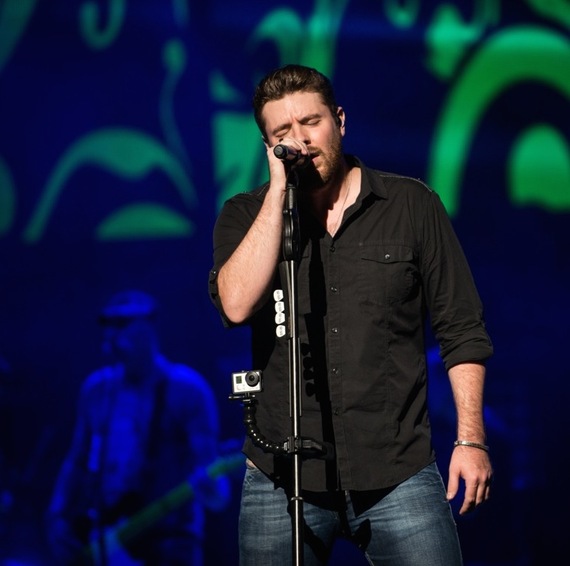 Unassuming country music star Chris Young describes himself as "a normal dude who just happens to have a really freakin' cool job." While the "cool job" part is clear-he's toured with everyone from George Strait to Miranda Lambert-Young's accomplishments place him squarely ahead of the "normal dude" pack. He's been nominated for dozens of awards (including a Grammy), scored six number-one singles (four of which he wrote), and sold millions of downloads and albums. Still, he says, he wants his friends to describe him as "fun hang out with."
Young's fans have come to know and love his fun-loving spirit, which is the perfect juxtaposition to his irrefutably traditional voice. This powerful one-two punch gives him the unique ability to belt out upbeat bar songs like "Aw Naw" and ballads like "Tomorrow" equally effortlessly, showcasing an impressive artistic range. Whether he's touring with other superstars or selling out his own headlining shows, 29-year-old Young always finds a way to have a good time-and makes sure his audience does, too.
I recently talked to the CMA Triple Play Award Winner about touring, his latest smash single, "Lonely Eyes," and fun distractions like karaoke, fantasy football, and Halloween. Here's what the talented Tennessean and die-hard Dallas Cowboys fan had to say.
ON TOURING:
You've toured with lots of amazing artists. What's one of your favorite stories from the road?
One of the coolest things that I've ever done was when I was out on tour with Miranda, and she and Brad Paisley did a combined show at Wrigley Field in Chicago. Obviously there haven't been a whole lot of shows at Wrigley Field, so getting the chance to play there was just absolutely ridiculous. It was one of those things that is just so cool, and they put the show information on the big sign at Wrigley. We went out and took photos. It said "SOLD OUT" and then each of our names would scroll across. Somebody waited until my name came up and took a picture. It's still on my bus and one of my favorite pictures.
For fans who've seen you open for another artist, what's one thing different they can expect in a full-length set?
There is a different flow. When I am opening for somebody, I get about 45 minutes. When I have 75 minutes or 90 minutes to do whatever I want, I can change stuff up and break it down to where maybe at one point I just go acoustic for a song, or it could be just me and my guitar player. Sometimes I do covers that I normally don't do. There is more freedom. Sometimes when I open for somebody, I might not have much space or there might not be a way for me to get stuff done the way I want it from a production standpoint. When it's my set, I can make it my own and just do more.
You'll be taking the A.M. World Tour global in 2015, visiting Australia, Germany, the UK, and Switzerland. What are you most looking forward to for those shows abroad?
Honestly, I'm just looking forward to getting back over there because once you do it one time, it's like, "Oh my God, this is so cool," and then as soon as you are back it's like, "I want to do that again!" But they have to want you to come back. So I have been really, really lucky that it's worked out. And not only did I enjoy it but, everybody else enjoyed it too. It's going to be amazing. I can't wait for those shows.

ON "LONELY EYES":
What was about it the track that made you say "I've got to cut this song" when you heard it?
A friend of mine wrote this. I was actually going in to write a song with him the day after he had finished it. As I was walking down the hall, he was playing it and was kind of mumbling over the lyrics because he didn't really know them yet. And I was like, "What the heck is this?" So I go down the hallway and was like, "Please tell me that this is your idea for today?" He goes, "Aw dude, no. I wrote this yesterday, but you have to hear it." Nobody ever actually heard it after me. I heard it and was like, "I want to cut that now. Like, yesterday. You cannot play this for anybody else!" Luckily no one else ever heard that before I cut it.
As a songwriter, is there a feeling you get that tells you a song has the potential to be a smash hit instead of just a really great song?
I would love to say that there is one specific thing, like I could put my finger on it and go that, "That's it." But it's really a go-with-your-gut kind of thing. There is just a certain feeling that I get when I listen to something, whether it's mine and I listen back to it or I'm listening to someone else's song for the first time. It's like, "Oh my God, yes! That!" Then you just cross your fingers and hold on for your life.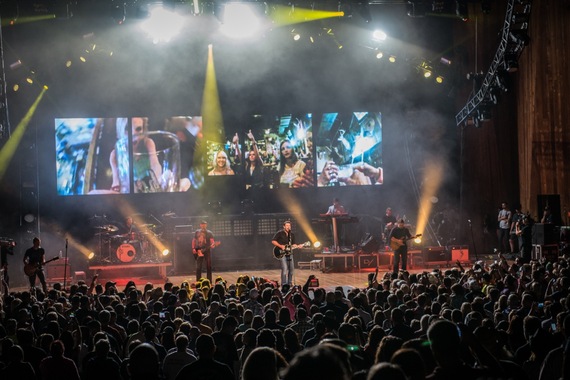 ON KARAOKE:
You're known for doing lots of great cover songs in your set. Fans have been loving your version of Eric Clapton's "Change The World" recently. Tell the truth: do you ever sing that song at karaoke?
I have never karaoked that song.

So, what is your go-to karaoke jam?
"Moves Like Jagger." The last time I sang it was probably a month and a half ago, somewhere in Nashville. I won't say where. [Laughs] I will say that one of my other most recent go-tos, just because it is fun, is "Sweet Caroline." Everyone knows that, everyone want to do the "Ba Ba Ba" part in the chorus, and it's just a lot of fun. It works pretty much everywhere, any time someone asks you to get onstage and sing or karaoke.

ON FANTASY FOOTBALL:
Are you a fan of fantasy football?
I'm a huge fantasy football fan. I'm in three leagues right now. One is a fan league where several different artists play in the league with nothing but fans. That's new this year. I am also in two leagues that I've done every year. One league is with a bunch of friends that are songwriters and buddies. Then there is another league that is several artists and several song pluggers that I'm in. We've been doing those leagues with the same guys for three years now.
Will you reveal your team names?
Let's just that they are funny. One year, things actually got way out of hand. In one of my leagues, we played where if you beat someone, you get to rename their team every week. It got brutal. Two people stop playing in the middle of the season. We had to stop it and be like, "Okay, everyone can go back to our usual names." It sucks, because I'm 7-0 in that league this year. I would be having all kinds of fun with people if we hadn't changed the rules back.

ON HALLOWEEN:
Do you have anything fun planned for Halloween this year?
Not yet, but I am off so I am going to find something fun.
Are you going to dress up?
You have to. It's Halloween! But I haven't picked a costume yet.
What's your all-time favorite costume?
Do you remember the old Burger King commercials? One year I actually went out and found a wrap-around head. Not just a mask that you put on with a string, but a full-on, complete head. So, I wore that with a costume. Nobody knew it was me. I had more people stop me for photos on the street than I ever had in my entire life, including when I'm on tour. It was hilarious.
New York-area fans can catch Chris Young at the Best Buy Theater on Friday, November 14. For upcoming shows in other cities around the world, visit ChrisYoungCountry.com
photos courtesy Ben Enos