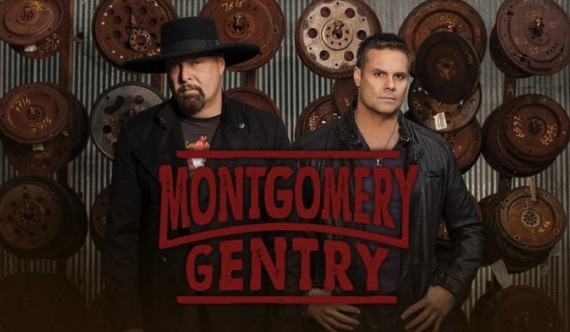 What do you get when you take one of country music's most successful duos, add a new hit song, a tongue-in-cheek reference to the female anatomy, and a philanthropic focus? Montgomery Gentry's "Check Your Headlights" bundle on new digital music service GhostTunes.com.
The exclusive bundle includes the band's current hit single, "Headlights," plus a fun "Check Your Headlights" t-shirt for $19.99, including shipping. All profits from the campaign will be donated to Making Strides Against Breast Cancer, an American Cancer Society initiative.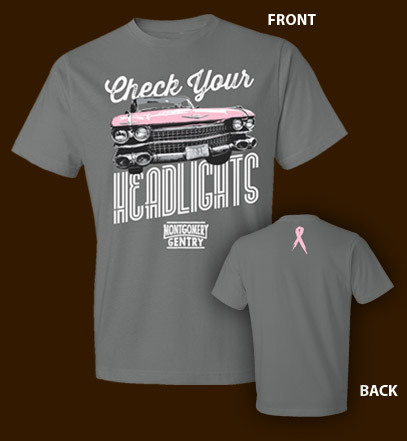 "It was just a no-brainer to put this bundle together to help bring awareness and help raise some money for a great cause through the American Cancer Society," Troy Gentry said about the effort. "Being married and having two daughters, breast cancer is something that's always in the back of your mind."
The idea for the bundle came while the duo was in the studio with producer Michael Knox, working on their new album, due out early next year. "The song 'Headlights' automatically jumped out at us as a single," Gentry said. "We were sitting around the table and talking about the different things that come to mind when you hear the word 'headlights.' Someone said, 'Next month is Breast Cancer Awareness Month. This could be the perfect opportunity to put the song to use to raise awareness for a great cause.'"
The band approached new digital music service GhostTunes with the idea for the campaign at what turned out to be the perfect time. "We were already planning on launching our philanthropic program, although we didn't have it quite up and running yet," said GhostTunes CEO Randy Bernard. "We're honored to partner with Montgomery Gentry to introduce the 'GhostTunes GivesBack' philanthropic program that uses the power of music to make the world a better place."

Founded by Garth Brooks and launched in September 2014, GhostTunes was created to "celebrate the personal connection between artists and fans," the site explains. The platform was built with ease of fan use in mind, and allows artists to bundle their digital music and physical merchandise any way they choose. In addition to the $19.99 bundle, Montgomery Gentry fans can also opt for a $35.00 bundle that includes two t-shirts.
"Headlights" will appear on the duo's first album for Blaster Records. "We've known everybody at Blaster Records for years, and we are so happy to be part of the family," Gentry said of the label, which is also home to Hank Williams, Jr., Aaron Lewis, and Chuck Wicks. "We love the opportunity they give us to go in and make our own music. They're letting us be creative and hands-on, knowing that we know what style of music we want when we go into the studio. They feel confident in us that we can do that with Michael Knox and get them a great product to work with."
The final product will consist mostly of up-tempo, driving songs, Gentry promises. "I'm sure every artist says this, but every time we go into the studio we try to create the best record possible. A record fans will want to listen to top to bottom, all the way through. I think a lot of people are going to find songs they can embrace and love, lyrically, that deal with everyday life situations. A few of them are about celebrating the weekend and having a great time. There are a couple of mid-tempo tunes, but for the most part it's up-tempo, in-your-face, moving music that will get you through the day."
With "Headlights" so perfectly setting the tone for the upcoming album, there couldn't have been a better tie-in to both introduce the new music and raise awareness for a cause close to the band. "Given my own personal battle with cancer and our blessed lives as husbands and fathers, Troy and I are always looking for ways to give back," Eddie Montgomery said. "We hope our fans will have fun with this exclusive 'Check Your Headlights' bundle on GhostTunes and help make a difference."
"Breast Cancer strikes so many people these days, and it's easy to detect," Gentry added. "Everybody's got a mother, a lot of people have got sisters. Cancer doesn't discriminate. We can help stop it by bringing awareness to the women we love: our family, our friends, and the people we surround ourselves with. Something as easy as going in once a year and having a mammogram can mean the difference in detecting it early and knocking it out."
According to the American Cancer Society, about 12% of women in the US--or 1 in 8--will develop invasive breast cancer during her lifetime. It is estimated that more than 230,000 new cases of invasive breast cancer will be diagnosed in 2014, and about 40,000 women will die.
Although breast cancer is the second-leading cause of cancer death in women (exceeded only by lung cancer), death rates have been declining for the past 15 years, due largely to earlier detection through screening and increased awareness and improved treatment. For more information about early detection and ways to reduce risk factors, explore the American Cancer Society's breast cancer guide.