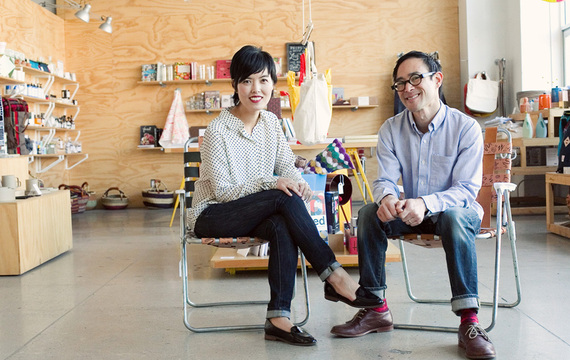 Poketo founders Angie Myung and Ted Vadakan
This weekend will mark the fifth installment of Small Business Saturday, a holiday designed to shine a spotlight on small business owners across the United States and increase retail sales during the weekend that falls between Black Friday and Cyber Monday.
The annual program, which was started by American Express in 2010, has gained momentum each year. In 2013, consumers reported spending $5.7 billion at independent retailers on Small Business Saturday, an increase of 3.6 percent from the year before.
Millions of Americans -- including the Obamas -- have made a ritual of patronizing the shops, restaurants, and boutiques that make up their communities. It's a day that helps unite shoppers with great entrepreneurs like husband-and-wife Ted Vadakan and Angie Myung, the duo behind Los Angeles-based small business Poketo.

Poketo, which creates functional wares that look more like art-gallery pieces than everyday staples, has collaborated with more than 200 artists to create products ranging from wallets to stationery. Its flagship store opened in the Artist District of Los Angeles in 2012, and a second L.A. store opened earlier this year in Koreatown.
"We saw sales double from Small Business Saturday 2012 to 2013," Vadakan says. "We are looking forward to seeing everyone come out in full force this year."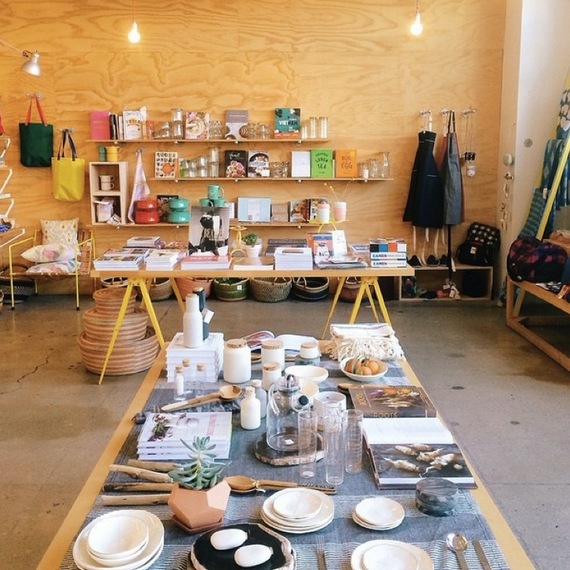 Vadakan says his favorite part about being a small business owner is the opportunity it affords him to be part of his community.
Poketo is not only a retail experience, but we also have events, workshops, and art shows at our store. My favorite thing is supporting this type of creative experience, supporting artists and designers, and meeting our customers face to face. I love seeing our shop buzz with activity and when I see people laughing and having a good time in the shop. That is my favorite thing about owning a store and doing what I love.
The community loves Poketo, too -- enjoying classes and activities, not to mention the artesian products that have garnered the founders praise from the New York Times Magazine, Real Simple, Entertainment Weekly and more.
"Small business brings people together," Vadakan says.
It's what makes a community. There are real people behind it, people that actually live in the community. We live three miles away from our store. We bike here quite a bit. We are so connected to both the local and global community that shops with us in-store and online. More common than not, we are in the shop, talking with our customers, meeting new people. It's this relationship that goes beyond an impersonal transaction, It is about supporting a community and building relationships. It's those relationships and friendships that help us thrive.
In addition to helping infuse money into their own communities and meeting awesome entrepreneurs like Vadakan and Myung, shoppers with American Express cards have the added benefit of qualifying for up to $30 in cash-back statements when shopping at small businesses like Poketo on Saturday. For each purchase at a participating small business, shoppers can earn a $10 statement credit. By visiting three participating businesses, cardholders can earn a total of $30 cash back.
For more information and to find participating businesses in your community, visit SmallBusinessSaturday.com.