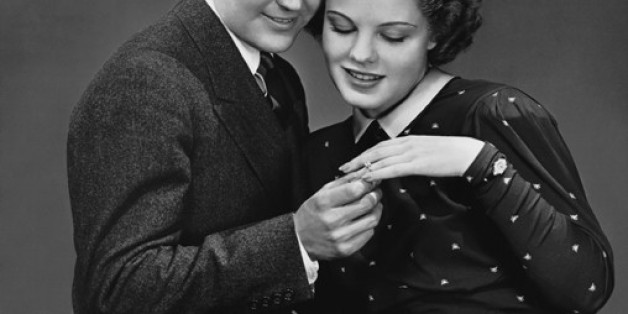 This morning, I came across a video of a marriage proposal. Yes, I know that instead of wasting my time on the Internet I should be saving cats afflicted with lupus, or finding a solution to stabilize the world economy, but I told myself that a brief pause before reflecting on the strengthening of diplomatic relations between France and Barbados would not harm the country.
Anyway. I watched the video of this man, a police officer who, to propose to his dearly beloved, had her arrested by colleagues, police sirens wailing. The poor thing was terrified (imagine, they threatened to give her a ticket), but fortunately, the bashful lover arrived to get her out of this mess, and took the opportunity to make his request. Of course, the girl tearfully responded "Yes, I do" or something like that (it's difficult to understand people when they talk with snot coming out of their nose). [Small aside: from the psychological point of view of the victim, it is difficult to say if she accepted because she was happy not to be getting a ticket or because she is in shock and therefore very emotional, or if she truly wants to marry this man. This will remain a great mystery... End of aside.]
All of this could have remained private, and the world would have been better off -- but no, humiliation has no limit. Indeed, the cherry on top of this situation is that this man decided to keep an indelible record of this moment by filming the sequence and then entrusting it to the local news channel. Just like that, the entire town knew, and the rest of the world too -- oh, the joys of YouTube.
But FUCK! Here's my opinion.
How could he know that his sweetheart would be overjoyed about such a proposal while she's busy crying all of the fluids out of her body? (I suspect that even her joints are filled with synovial effusions.) Not tears of joy, but of fear, as if she feared for her life (e.g.: "Honey, we're going to crash!") or that of her boyfriend (e.g.: "I threw myself off of a roof").
Still, I'm an unbearably romantic girl, born in blue flowers and bottle-fed fairy tales. But, the fact remains that if my heart's chosen one -- who should probably hurry up, if he's even born yet -- attempts a marriage proposal of this kind, I will kick him out of the house. So, to make sure that he watches his step, here's some ideas on how to ask for my hand:
• No filming. The dripping romanticism stuff doesn't do well on camera and neither do I. I have cheeks and thighs that give the impression of being disproportionately swollen (although my breasts, bizarrely, stay the same size. The camera has something against me...)
• Possibly, if he is a well-established film director, I would accept a proposal in this manner. It just shows that when I'm in love, I want to look good to the world, like an obese beaver.
• Do not kneel. Not only does it dirty your pants, but also, I will think I'm getting ready for a little oral pleasure, but instead you only want to stick a band on me like I was a stray bird => I'll be mega frustrated => I'll be in a bad mood (no wordplay or sexual innuendos, dirty minds!) => I will say no.
• Not in public. I do not want my response -- yes -- to be forced on me by tears of joy from my grandmother on oxygen and a feeding tube, the killer looks from his mother, the pals ready to open bottles of rum (I would say whatever you want to have a glass of Cuba Libre).
That being said, I think the easiest thing for him to do is to write me a letter explaining in detail how he will make my life a daily joy, and attach his criminal record and bank statements while he's at it, possibly a certificate from his orphanage (if the guy is an orphan, he's extra badass), and then I will consider his candidacy seriously. Response time: within two weeks.

This post originally appeared on HuffPost France and was translated into English.
Like Us On Facebook |

Follow Us On Twitter |

Contact HuffPost Women
PHOTO GALLERY
13 Adorable Marriage Proposal Reactions