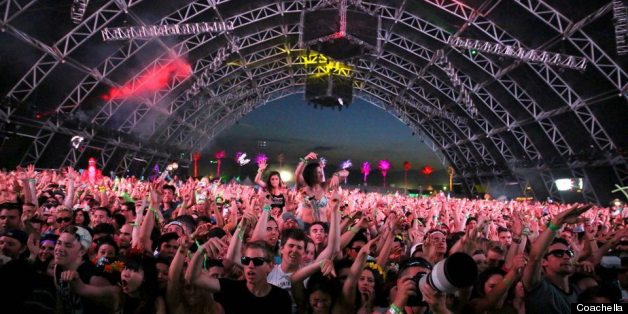 We know some people are going back to Coachella this weekend, and to them we say.... You are far more awesome than we will ever be. Also, "Don't take drugs!" (To quote one of our favorite movies of all time.) Also, are you nuts?? One weekend of sunburns, exhaustion, and sandstorms is already more than our little broken bodies could take.
If you're with us here at Broke Girl's Guide, it seems that staying local is the right move; the weather is going to be glorious this weekend, and there will be lots to do, including Brokechella, which we love for obvious reasons, the LA Times Festival of Books, which is basically our Christmas, and a really random '80s dance party, which needs no caveat.
Let's get started, shall we?
Friday
Friday night is going to be a bit of a whirlwind... Are you ready? Start off at the Pacific Design Center for the West Hollywood Women's Leadership Conference kick-off event, or go in the complete opposite direction by attending a performance by Ghostface Killah...in Pasadena. Or, if you're a dance lover like us, get your dance fix downtown with a performance by the always amazing Alvin Ailey American Dance Theater.
Later, branch out by catching this sci-fi burlesque show. Yep, you heard that right. Not enticed? You could instead opt for one of the following activities: a show featuring Subsuelo, Mad Decent, Jeremy Sole & others at Bootleg; a pop-up art exhibition in a laundromat; a performance by The Abigails at El Cid; or, a party featuring Two Man Gentlemen at The Satellite.
Whichever path you choose, grab dinner at some point at newly-opened Sprouted Garden Cafe to start your weekend off on a healthy note, or just nosh on one of of Eater LA's 15 New Burgers To Eat Right Now.
You could also skip everything on this list, enjoy a gorgeous happy hour on the beach, and call it a night. This is also known, lovingly, as "the over-30 plan."
Saturday
Those of you who are really committed to arts and crafts should take a day trip out to Anaheim to partake in the Earth Day 2013 Craft Swap and Celebration. The rest of you should start your day downtown at USC for the LA Times Festival of Books, which runs from 10 a.m. until the early evening.
Some of you may opt to bail early for a (slightly pricey) tour of Tom Waits' LA (maybe you're a big fan!) at noon, while others of you may leave to catch a 2 p.m. performance by Alvin Ailey if you missed Friday's. Either way, grab lunch (meat pie, mmmm) at new-kid-on-the-block resto Bronzed Aussie. Or, pop over to Taco Madness at Grand Park for a bite... or 20.
Later, get thee to Brokechella, which starts at 4 p.m. Unlike other music festivals (ahem!), tickets are $10 as opposed to $400, and while you might not see many big names running around, you also won't see as many dumb hippie headdresses...which we consider to be a win. If you get bored, hop on over to this completely-free-yet-totally-random '80s dance party, or hit up the Johnny Thunders Tribute at Los Globos; a show by Kaleidoscope UK at The Satellite; or a show by The Backstreet Boys (seriously!).
Later, head to LACMA to have breakfast served for dinner at midnight in conjunction with a 24-hour screening of Christian Marclay's The Clock.
Sunday
First up, we suggest you take in an amazing 8-course brunch at BEP Vietnamese Kitchen on Melrose. Then (after 30 minutes to rest and digest, of course) grab your bike and join CicLAvia's To The Sea, in which 15 miles of road from downtown to the beach will be cleared of all traffic so that pedestrians, cyclists, tricyclists and the like can run wild. We suggest you do half the route and then stop in Culver City, which will be hosting a huge celebration as a part of the event.
Too worried about your job situation (or lack thereof) to enjoy a lazy Sunday? Instead, head to the Barnes & Noble at the Grove, where Lauren Berger (aka the "Intern Queen") will be offering career advice and giving away free, signed copies of her book to the first 30 people who arrive.
Later, grab dinner at BGG-favorite Sugarfish's newest location in Beverly Hills. Then, sneak into the sold-out Tinariwen show at Hollywood Forever or gain entry the proper way to one of the following shows: Blu plus Tiron & Ayomari at The Roxy, Cotillon at Bootleg, or The Telescopes at The Echo. Now isn't it nice to catch a Sunday night show without having to suffer through a 3-hour drive home from desert after?