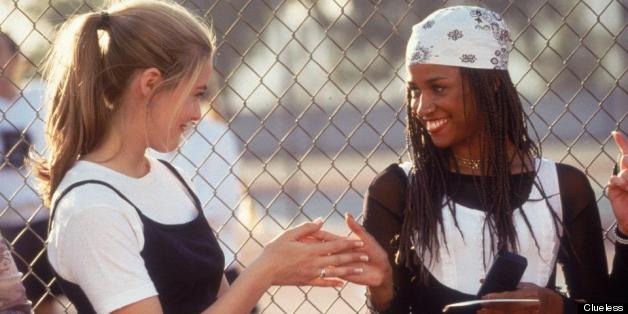 What a difference a few days can make! Just two days ago we were grouchy, underslept messes trying to get our heads in the game after three days of blissful freedom and (PG) debauchery. Now, it's already almost the weekend again, and what a weekend it's going to be! The weather is going to be insanely gorgeous, and there's so much going on that writing this weekender felt like undertaking a post-graduate thesis.
Seriously, can you beat a weekend that involves 85 degree temperatures, outdoor screenings of films like Risky Business and Clueless, and (randomly) tons of shellfish? We think not.
Keep reading to get this party started (ASAP!)...
Friday
There's so much going on tonight that we had to divide our itinerary between the East Side and the West Side. Those of you who prefer to stay east should start early at Shecky's Girls Night Out, an uber-girlie shopping event downtown that includes pampering and goodie bags.
After, grab a quick dinner at newbie Indian gastropub Badmaash, and then choose between the following activities: free tango lessons downtown; an outdoor screening of Back to The Future at Pershing Square; Robertson's block party; Chvrches at The Fonda (tix are still available on Stubhub); Trixie Whitley at The Troubadour; Peach Kings and Strange Vine at The Bootleg; Peace, Team Spirit, and The Black Watch at The Echo; Tijuana Panthers' record release party at Center for the Arts--Eagle Rock; The Blank Tapes, Jeffertitti's Nile, and Blackfeet Braves at The Satellite; Neon Indian, Yacht, and Ladyhawke at Lure Nightclub; or Dub Club featuring Horace Andy and Quinto Sol at Echoplex.
Whew! Those of you who want to stay west will have an easier time deciding what to do as there aren't quite as many options. First, you'll want to start the night with Good Food Fridays at Santa Monica Place. Festivities will include live music, cooking demonstrations, food sampling, and tastings. Guests will also enjoy 10% off all purchases from the purveyors in The Market. After, pop into the Santa Monica Museum of Art, which is opening three new shows on Friday. Or, skip right over to The Getty for Sonic Overdrive, a special one-night performance of songs and stories involving Chris Hillman (The Byrds), The Silversun Pickups, and others.
Saturday
Before we get started with Saturday's itinerary, it's worth noting that The Melt in Burbank will be giving away free grilled cheese sandwiches and soup between noon and 6 p.m., if you happen to be in the area. Click here for more details.
Other than snagging free grilled cheese (which is mandatory), you've got quite a number of options today. You could start out by paying for a tour of Santa Monica's culinary delights at 11 a.m., or you could join in on some free fun via the Santa Monica Festival. You could also opt to spend the day in one of the following ways: Spoonful's Lowcountry Boil, which involves all kinds of shellfish; Make Music Pasadena, which involves performances by Yacht and others; or Skam Poolside at Drai's, which involves lots of sun and lots of music.
A little later in the afternoon, you may want to join either the 2nd Annual Liquid Nitrogen Ice Cream Social or the East Hollywood Ethnic Eats Tour.
Still later, you're going to have to make some tough decisions. Do you want to take a class in Julia Child's French cooking? Or do you want to see an outdoor film? If it's the latter, you've got to choose between Clueless, Risky Business, and Some Like it Hot.
If you're one of those people who can never get enough concerts, you'll have your pick of the following: Black Rebel Motorcycle Club (tix are still available on Stubhub); !!! at The El Rey; Flying Lotus at the House of Blues; Shannon and the Clams at The Echo; or Pictureplane at Los Globos.
Finally, those of you who'd prefer to spend the night perusing artwork and supporting a good cause should opt to attend Andy Warhol's "Silver Factory" at Get Art 2013 instead.
Sunday
If you're an Etsy kind of girl, we suggest you head to Long Beach on Sunday to check out the Patchwork Indie Arts & Crafts Festival.
Otherwise, those of you wanting to play on the eastside should start your day at the Design-N-Dim Sum Bike Ride, which is exactly what it sounds like...awesome. Later, hit up the Beverly Glen Arts Fair and/or the Playboy Jazz Fest.
In the late afternoon, swing by Public at the Roosevelt to help celebrate Marilyn Monroe's birthday with special cocktails and cupcakes. Then, hit up Katana's Red Sun BBQ anytime after 6 p.m. to partake in tons of bar and menu specials. Later, choose from one of the following activities: Studio at REDCAT; Mumford and Sons at San Manuel Amphitheater (warning: tickets are a bit pricey, and this is a bit of a drive!); My Jerusalem at The Bootleg; Black Rebel Motorcycle Club at The Observatory (Santa Ana!); Bjork at The Hollywood Palladium (again, tickets are a bit pricey); Dom La Nena at The Hotel Cafe; or Part Time Punks at The Echo.
Those of you wanting to spend the day west should instead start by joining in on the Vintage Venice Reel to Real Tour. Then, join the "Gay the Bay" beach cleanup (note: anyone can join) and afterparty at Roosterfish. Later, head to Catch to partake in "Suds & Shellfish" between 4 p.m. and 8 p.m. Tickets are $45 but include a 4-course menu of regional seafood favorites. After, if you don't feel like tucking in early, make your way over to the new Palihouse Santa Monica for a cocktail or two.