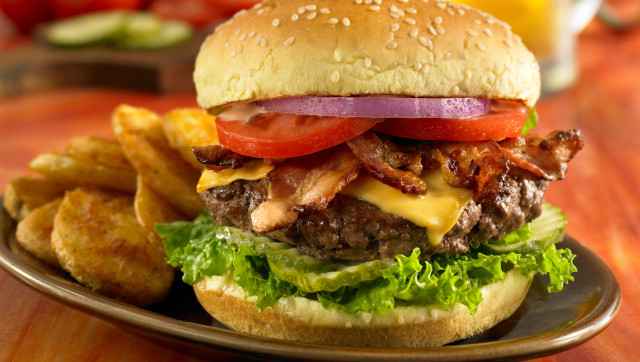 With temperatures pushing 90 all week, we at Broke Girl's Guide are just about ready to ditch our work-appropriate clothing and wander into the office in a bikini. Our responsible/sane/dessert-stuffed side will hopefully prevent us from actually doing this, but the impulse alone is proof that this weekend can't come quickly enough!
Friday
Your boss is starting to take notice of your liberal interpretation of Summer Fridays, so to ensure your continued (if minimal) salary, perhaps you should try to make it all the way until closing time this week. Besides, the Barney's Warehouse Sale is online this year, and it's much easier to click-to-purchase from your desktop than from your first generation iPhone.
By the time you do escape the office, we feel you'll have earned yourself a trip to Hawaii! Since we're not actually offering aforementioned trip (sorry about that), head to Grand Performances for the free Na Lei Hulu I Ka Wekiu show. It will feel just like you're on the islands, especially if you hit up early happy hour at Trader Vic's for some tropical cocktails beforehand.
We're anxious to see what post-Dan Harmon "Community" will look like this fall, but in the meantime, we're getting our Troy (a.k.a. Donald Glover a.k.a. Childish Gambino) fix at The Hollywood Palladium on Friday night. If you have trouble securing last-minute tickets, opt instead to nab tickets to the the 8th Annual HollyShorts Film Festival, where there will be screenings of short films all weekend. Look for discounted Day Passes or All Access Passes from Thrillist, or just elect to catch the late-night horror/thriller program on Friday.
Saturday
Get your workout in early with Lululemon by taking advantage of free yoga as part of the final weekend of the Yogalympics at the Brentwood store, or by joining Saturday Morning Run Club at the Robertson location. Free Zumba at Santa Monica Place and donation yoga at Runyon and Mary Hotchiss State Park continue as well, so there's really no excuse for skipping your weekend workout these days.
Meanwhile, the school year is quickly approaching, and although we haven't been to class since x-year-we-refuse-to-publish, this doesn't mean we're immune to the need for a wardrobe refresh. Enter Back-to-School Saturday with Teen Vogue, which means free manicures at The Grove along with discounts at several stores we share in common with our juniors (like H&M, American Apparel... and Gucci? Kids these days!). Here's hoping the beauty experts at Nordstrom's YSL Skincare Event can restore some of the youthful glow we seem to have left with our lockers all of those years ago.
If you aren't into embracing your inner tween -- at least not beyond abbrev-ing everything and setting your DVR to record Pretty Little Liars -- Milk Boutique is in the midst of their killer Summer Sale (up to 75 percent off) down the street. Or, for a unique, handcrafted find, scour the tables of homemade goods at the Bitchcraft Trading Post Summer Bazaar in Atwater Village. Be amongst the first to get there for a free beer koozie, complete with a free beer, to start your shopping off in the classiest way possible.
Later, take in a little culture at the New Original Works Festival at Redcat, making sure to stop by Chaya Downtown beforehand to indulge in their all-night (5 p.m. - 10 p.m.) happy hour. Or, if you are dying to take advantage of one of LA's many outdoor movie screenings before their curtains close at summer's end, we recommend hitting up Street Food Cinema for a screening of Alice in Wonderland or Eat See Hear for a screening of Friday. Sadly, the Oscars Outdoors screening of Back to the Future, starring our '90s boyfriend Michael J. Fox, is already sold out. If only we had a time machine (yuk, yuk!). If you're more of an indoor gal, The Aero's playing Before Sunrise and Before Sunset back-to-back starting at 7:30 p.m.
If you're feeling a little less than fabulous lately and could thus use a heavy dose of sequins, you might want to opt instead to see Liza Minnelli perform live at the Hollywood Bowl on Saturday at discounted ticket prices of $13 - $17. Considering the fact that this is about what we paid to see Sex and the City 2 -- in which Liza's rendition of "Single Ladies" was by far the best part of the film -- this seems like a great deal. If we haven't quite sold you on Liza as a must-see classic, however, there's always free Shakespeare in Griffith Park featuring A Comedy of Errors -- jazz hands not included.
Sunday
Beat the Sunday blues -- or at least meditate through them for a bit -- with free yoga at Athleta at the Grove, happening every Sunday morning in August thanks to Hot8Yoga. If you're hungry after your workout, we suggest you ohm-nom-nom down on burgers at Umami Burger's new Grove location (because nothing goes with a healthy morning of yoga quite like an afternoon lunch of red meat, cheese, and fried onion rings, right?). We think the Grove Truffle Burger might be the most highly anticipated release of the summer, which is either further proof of the movie business' imminent decline (blasphemy!) or just an explanation for our ever-expanding waistlines. If you're feeling particularly gluttonous, indulge in an Umami vs. Short Order burger-off.
Later, Bouchon Bistro is celebrating Beverly Hills Cocktail Week and Julia Child Restaurant Week all at once. Join their Sunday evening festivities with an outdoor screening of Casablanca coupled with Bouchon's (relatively) reasonable $36 Sunday Supper and a "Farm to Shaker" Blackberry Bramble. If you're not yet ready for your weekend to end once Casablanca's credits have rolled, stop by Sotto after the film and mention Beverly Hills Cocktail Week for a $10 La Pesca Gustosa (and yes, this is considered a deal in the 90210). If black-and-white movies and booze aren't your thing, however, perhaps the Red Hot Chili Peppers are? They're performing at Staples, and tickets are only $40.
Those of you who choose to spend the day westside instead should make a reservation at the Annenberg Community Beach House to lounge poolside and/or invest in one of their stand-up paddle board or synchronized swimming classes. Once you've had your fill of fun in the sun, make a quick stop at Bay Cities for picnic fare, and then settle in for an evening of free jazz at Stewart Street Park.
Much much MUCH later, there will be another show to capture your attention: the Perseids Meteor Shower (as we all know, space is cool again!). Since your busy social schedule kept you from checking it out on Friday or Saturday night, try to observe the shower's peak sometime around midnight -- the further away you can get from the city lights, the better. So take your sweetheart for a drive up PCH looking for the perfect remote place to park. Better yet, use... er, utilize any friends or distant relatives who own property in the desert for optimal viewing. The best part of this supernatural show? Unlike certain out-of-this-world-based entertainment, it's free!
Written by Caila Ball
PHOTOS: A visual guide to the weekend
PHOTO GALLERY
Hello, Weekend!