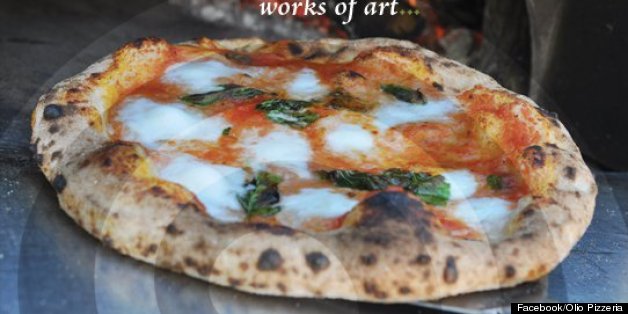 We know, it's been a long week, and you just want to dive in to the weekend as quickly as possible. We're right there with you. But before you start trying to pretend that this week was nothing more than a bad dream, take a minute to enter our latest giveaway, which ends tomorrow. The winner will receive a $500 shopping spree at FitFrosting.com, which sells activewear that is so cute you might actually start working out, plus a financial planning package from LearnVest.com valued at $299. Not too shabby, eh? So hurry up and enter! 
With that out of the way, it's now time to focus on this weekend's upcoming concerts, parties, screenings, and...puppies. Yes, puppies. If you've been dying for a new furry cuddle buddy, head to the Love Comes in All Sizes event this weekend, where you can adopt a dog for $20 or a cat for $10. Here's hoping your new BFF (best furry friend) has a ton of energy, because you have a very packed weekend ahead of you.
Friday
As always, we're going to recommend that you sneak out of work a bit early on Friday. While this may not be the best advice in terms of climbing the corporate ladder (bo-ring), it's excellent advice if you're wanting to snag deeply discounted items at the Lovers + Friends sample sale downtown, where everything will be priced at $20 or less!
After, it's time to head to MISSION: SAKE, the Little Tokyo Service Center's 7th Annual Sake and Food Tasting Event, or the free Dance Downtown event at The Music Center. Those who want to head even further east tonight can check out the Old Pasadena Film Festival, which will be screening Sleeper and 180 Degrees South. 
In the middle of town, we recommend the Pico/Robertson Block Party, which is always fun, or the Rooftop Beer Garden at the Thompson Hotel (because, well, we've never met a beer garden we didn't like). You also might want to check out the free Summer Music Series at The Farmers Market from 7 p.m. - 9 p.m.
Over in Santa Monica, catch a free screening of Three Amigos! at the Promenade, or swing by Good Food Fridays at Santa Monica Place. Chef and author Evan Kleiman will be making an appearance (and beer cocktails!) at the interactive dining event, which will include live cooking demonstrations, music, food sampling, wine and beer tastings, and more. And although we have officially given up dating for the rest of our lives, those with a more optimistic outlook might want to head to Wilshire Restaurant for the Hunt and Match Networking Mixer (for singles aged 24-44).
And if you're looking for some live music options, you've got plenty to choose from: PAPA, NO, and La Font at the FIGat7th Downtown Festival (free); Tijuana Panthers and Grmln at The Echo; Hockey and Saint Motel at the El Rey Theatre; Peter Murphy at The Fonda Theatre; Bonobo (DJ Set) at The Observatory; Weezer at the Pacific Amphitheatre (worth a road trip, no?); The Shilohs, Tashaki Miyaki, and Speedy Ortiz at Bootleg Bar; The Goods with KCRW DJ Anthony Valadez at Zanzibar; THEM Jeans at Los Globos; The Bluegrass Situation Presents MilkDrive with Jamestown Revival at The Mint; KROQ Presents Rancid, Transplants, and The Interrupters at the Hollywood Palladium; University of Gnawa & Ethiocali hosted by KCRW's Tom Schnabel at California Plaza (free); Chuck Manning at Vibrato Grill & Jazz; and Modest Mouse at the Huntington Beach Pier.
Saturday
We recommend starting your morning downtown at the Drenched 5k, where you will run through "hot" zones and "drenched" zones where you may encounter slip n' slides, fire hose spray, and sprinkler zones. Once you've dried off, check out the Rachel Pally sample sale (from 10 a.m. - 6 p.m. at 2301 East 7th St. # C100) or National Dance Day. We're also planning to spend some time at Double Vision, an immersive experience bringing together music, fashion, art, and special offerings (like 1 for $25 or 2 for $40 vintage boots from The General Store). Later, Almost Famous is screening via Eat See Hear, while Street Food Cinema will be showing Monty Python and the Holy Grail. 
Meanwhile in the middle of town, Wasteland's four-hour sample sale will be happening from 12 p.m. - 4 p.m.; we recommend RSVPing and showing up early, then grabbing pizza from The Fresh Brothers or Portland's Salt & Straw ice cream, now being served at Alfred on Melrose Place. After, we recommend hitting up the Japanese Cultural Market and then indulging in an Alcohol Dessert Tasting in Culver City. Later, head to Hollywood, where Caddy Shack is screening via Cinespia, an "Epic Club Crawl" is going down, and Three of Clubs is hosting a comedy show with happy hour specials and front row free shots.
If you'd rather spend your day on the west side, we recommend stopping by the designer vintage sale at Addresse Boutique and then checking out the Santa Monica Wellbeing Health & Fitness Festival. Unless the health festival inspired you to begin a strict no-sugar / no-alcohol / no-meat diet, snag a mini slider with the purchase of a bottle of beer at 3 Square Cafe, or grab a bite of raw coconut ice cream at recently-opened Kippy's. Later, Zoetic Cuisine will be popping up at The Cook's Garden with a raw, vegan, four-course dinner; the William Turner Gallery will be hosting HOA: A Cirque Charity Experience; and Giant Robot will be presenting Laughing Ghost Nation, an art show featuring new works by Theo Ellsworth.  
If you're looking for live music tonight, you're in luck. You can choose from: Bruno Mars and Ellie Goulding at the Staples Center; Fitz & The Tantrums at The Wiltern; Lucky Dragons, Cat 500, And Martin, and Mikki And The Mauses at The Smell; Speedy Ortiz at Origami Vinyl; Dave Alvin and Eilen Jewell at Pershing Square; ARORA, Katie Boeck, and KonstantSurprises at Bootleg Bar; Swamp Dogg at The Echo; KCRW DJ Anthony Valadez at Sayers Club; Zola Jesus with JG Thirlwell at the Hollywood Forever Cemetery; Stan Ridgway at McCabe's Guitar Shop; Frightened Rabbit, Tapioca and the Flea, Gothic Tropic, and HOTT MT at the House of Blues; Radical Something, Can't Stop Won't Stop, and Short Story Long at the Troubadour; Chico Trujillo and Las Cafeteras at California Plaza (free); Dennis Ferrer, Hector, and Plastic Love at Avalon Hollywood; and Rancid at Fox Theater in Pomona.
Sunday
Unless you're the type who spends their entire Sunday in bed (not that we would know anything about that), we recommend waking up at a reasonable hour to get to the Downtown Flea by 10am. Next, we plan to hit up the Champagne Sip & Shop Party & Sample Sale, and then brush up on our mixology skills at Poketo's Sparkling Summer Beverages Workshop (though it's $80--be warned) or the Craft Soda Cocktails presentation and tasting ($15 - $20) at the Craft & Folk Art Museum. Continuing with the theme, America's lead mixologist Rob Floyd will be hosting Great Cocktails in Sports at the Parlor later tonight. If you'd rather catch a great documentary, Oscars Outdoors and KCRW will be screening Style Wars, the 1983 counterculture documentary about street art and hip hop in New York City. There will also be live art by graffiti legends, b-boys performing, and more.
If Pasadena's calling your name today (sure, why not?), join the Pasadena Pacers for an invigorating hike up Mount Wilson, then enjoy the Jazz Summer Series at the Pasadena Playhouse or the Higher Ground Collective's first artists' showcase at the Old Towne Pub.
And as always, if live music's your thing, you have a wide variety to choose from: Bruno Mars with Ellie Goulding (round two) at the Staples Center; Jay Z and Justin Timberlake at the Rose Bowl; Grand Park's Sunday Sessions (free); Sundays In The Dark Live Jam at The Three of Clubs; Kobo Town at Levitt Pavillion MacArthur Park; Mimosa Music Series featuring Cayucas at Federal Bar; Shakey Graves, Fort King, and The Mid Cities at Bootleg Bar; and Part Time Punks, Weekend, Tennis System, and Surf Club at The Echo.
Check out HuffPost LA's picks of the best weekend events from the Broke Girls Guide agenda in the slideshow below.
PHOTO GALLERY
Your Weekend Agenda July 26-28