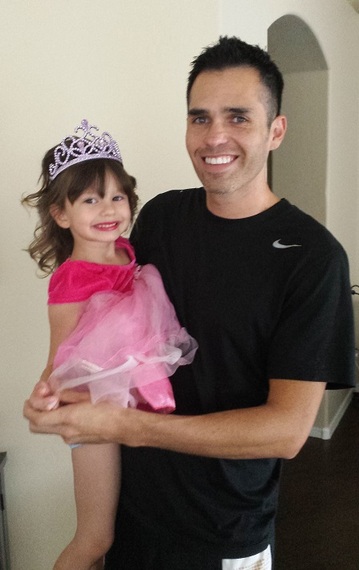 To thank you for all you do is not enough. Trying to express my feeling in a sappy card just won't cut it. Buying you a "World's Best Dad" mug just seemed a little cliche. You are my husband, the father of my children, the patriarch of our little family. Simply saying "Thank You" for everything you do and everything you are didn't seem appropriate. Instead, here are some promises I will make to you to honor the amazing father that you are.
I will make a promise to you. You will forever be loved and needed. You will always be the designated bug killer, monster spray spritzer and diaper blowout cleaner.
As your wife and mother of your children, I vow to try my best to not let the Nick Jr shows take up so much space on the DVR that your Playoff games get cut short.
I promise to keep the "Princess Daddy" makeover pictures off of Instagram, or at least keep them to a minimum (maybe).
I will honor my wifely duty of relaying to our children how funny, cool and attractive you really are. While they may be only able to see you as "Dad", I will always think of you as the handsomest man in the room who was able to sweep me of my feet with a single smile.
When the baby wakes up hungry and crying at 3:00am I will keep the resentment to a minimum and realize that it's not totally your fault that I am the one with breasts that produce milk.
When you reach the phase where corny dad jokes become your brand of humor, I will attempt to laugh and do my best not to roll my eyes along with the children. Or at the very least ensure that they don't make fun of you until you are out of earshot.
Once in a while I will bite the bullet and play "bad cop" so you can uphold your status as the cool parent.
When you are struggling to put together any Ikea or Target assemble-your-own furniture, I will always make a big deal when the project is complete and boast that you are the handiest man out there. I will shield the kids from the fact that you had 8 left over screws, viewed four YouTube how to videos and owe $150 to the Swear Jar.
I will try my hardest not to get jealous that the kids act like you are a rockstar giving away free ipads every time you walk in the door.
As little as I care about football season or player stats, I vow that on Sundays I will dress our children up in the appropriate jerseys and cheer along with you. Well, at least look up somewhat frequently from my magazine when it seems like something big is happening.
I will attempt to keep the "woe is me" bitch fests to a minimum because as much as I hate to admit it, being a dad is just as difficult as being a mom.
After I step on the scale and realize that our nightly Summer Family ice cream dates have caused me to gain 7 pounds, i will keep my cool, even when I have to order sugar free sorbet and you and the girls indulge in Quadruple Fudge Peanut Butter Surprise.
I promise that at least half of the time 30 % of the time you can be the one who "doesn't wake up" when our child enters our room at 2:00am because of a nightmare.
I will stand behind you in your belief that duct tape and Gorilla Glue can fix anything.
Never will I forget to be grateful that you are the one responsible for unclogging toilets for a family of four.
Lastly, what I want to promise you from the bottom of my heart, that you are more than I could have ever wished for as a partner in this whole "parenting thing". You are messiest, most unconventional, silliest father around and you are perfect.
Visit Crazy Mama Drama. Find Crazy Mama Drama on Facebook, Twitter or Instagram.