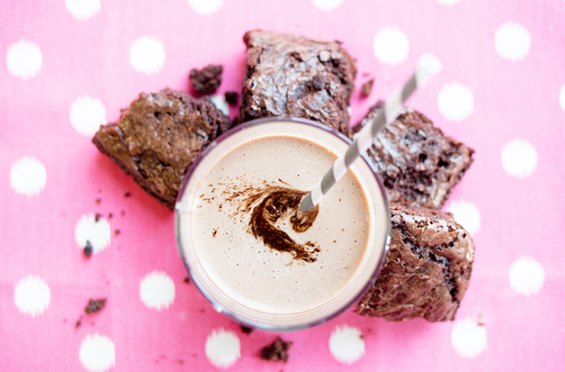 For a punch of protein that tastes like dessert, try this Brownie Batter Protein Smoothie. For only 98 calories and 8 grams of sugar, you can start your day or finish your workout with a bang! To keep that sweet tooth satisfied, try this Cake Batter Protein Shake next.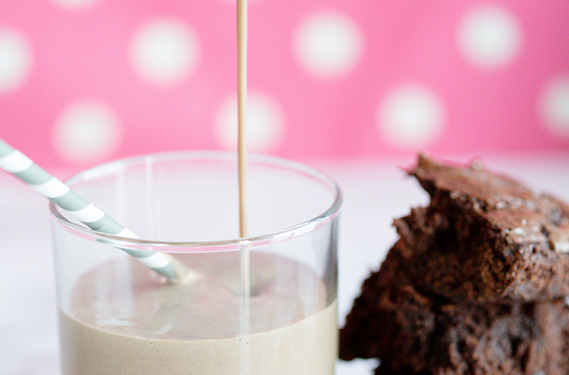 Prep time: 5 minutes
Cook time: None
Yield: 2 servings
Serving size: 6 ounces
______________________
Ingredients
1 banana, frozen
½ cup unsweetened almond milk
¼ cup plain, nonfat Greek yogurt
3 tablespoons chocolate protein powder
1 tablespoon cocoa powder
½ teaspoon instant espresso powder
¼ teaspoon vanilla
Instructions
Blend all of the ingredients together in a blender until smooth.
Nutrition Information
Per Serving: (6 ounces)
Calories: 98
Calories from fat: 31
Fat: 4g
Saturated Fat: 1g
Cholesterol: 18mg
Sodium: 161mg
Carbohydrates: 12g
Fiber: 4g
Sugar: 8g
Protein: 9g
WWP+: 3
SmartPoints: 3
______________________
The nutrition content of recipes on SkinnyMom.com has been calculated by Registered Dietitian, Jessica Penner, of Smart Nutrition.
______________________
For more amazing (and healthy!) recipes from Skinny Mom, click here!