To whet your appetite for the reopening of the Flea and Smorgasburg this weekend, April 7+8, and to provide a dose of humility while you're waiting on line, here's a minutely detailed and highly personalized take on what it's really like to be a Flea/Smorgasburg food vendor -- the guts behind the glory.
Toward the end of last season, we asked Danny Lyu to blog about his popular booth Cemita's, makers of the 10-layer monster Mexican sandwiches that were one of the market's breakout hits in 2011, and he revealed that Flea success is not an exact science, nor is it easy or glamorous.
Wouldn't you know it: Danny has decided to not just double-down this season, but to triple his luck (and risk) with two new Smorgasburg stalls set to launch this month. He dropped by Flea HQ last week to fry up his three new varieties of fish sandwiches (Korean, Vietnamese, and Nashville), alongside fried mushrooms and fried shrimp, all of which were delicious and passed our strict vendor test. (That booth is named for Danny's dad: Handsome Hank's Fish Hut.)
Then we moved on to his second concept, Mozz Shop, in partnership with Matthew Lief of Landhaus, makers of the renowned BLT at the Flea and Smorgasburg. Danny and Matthew will be serving fresh mozzarella with tomato, basil, and speck (like prosciutto) at Smorgasburg, plus insane fried bocconcini (mini mozzarella balls) with marinara, and an Italian corn dog filled with sweet sausage, fresh mozz, and polenta. Whoa.
Here's the insider's view of what it takes to make it at Smorgasburg. Thanks, Danny!
Cemita's -- Season One
I told myself I'd never do it again. No blood, sweat or tears. What am I? A sucker? But, walking away is never that easy.
Smorgasburg wasn't my first foray into the food world. I had grown up in it and even grown to love it until one day it broke me and I said goodbye. That damn sushi restaurant had me off spicy tuna for years. I was happy with my career in TV, then in e-commerce. But soon enough, the restaurant business started eating at me again. I developed a Mexican-sandwich concept called Cemita's that I wanted to open in the vacant kitchen of a bodega selling cigarettes and Quick Draw numbers. The neighborhood needed some authentic Mexican food and it was a pretty sound investment, right down the block from my office in Midtown and right next door to a Mexican chain restaurant. "No problem," I said. I'd evil-Russian laugh like Drago and think, "I must break you, Chipotle." Bitches. But my numbers didn't hit and the lease fell through. Rocky won at the end the movie, too.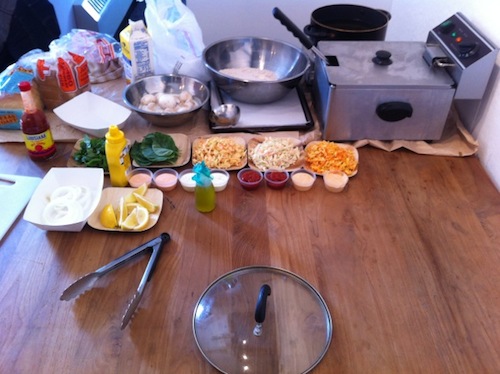 Right around then, I heard about Smorgasburg. I had been working on Cemita's for a few months doing dozens of tastings for friends and hungry hanger-ons. I couldn't let the idea slip. I got my act together and requested a tasting with the Smorgasburg organizers. Chances were slim. My tryout was all but cancelled at the last-minute; they already had too many vendors selling Mexican food. Still, I knew that if I had the chance to get my sandwich in front of the tasting panel (Eric and Jane), they'd love it. I gave it my all to make the right product. Last thing I heard was "You're in!" and we were off to the races.
Getting everything together for day one was a blur. All I remember is U-Haul rentals and making it rain up and down the Bowery.  I spent thousands of dollars on equipment, containers and small wares that I ended up returning back to the hawkers at a loss because it wasn't the right stuff. This outdoor vendor thing was nothing like my past restaurant life. I was buying for barracks but we were living in teepees. I bought a $700 griddle that weighed 500 lbs, not knowing that by the end of the season, I'd have a $200 propane griddle that weighs 50 lbs and two electric tabletop griddles. There was no Smorgasburg handbook. But I didn't care. I was going to do what I had to do to make it all come together.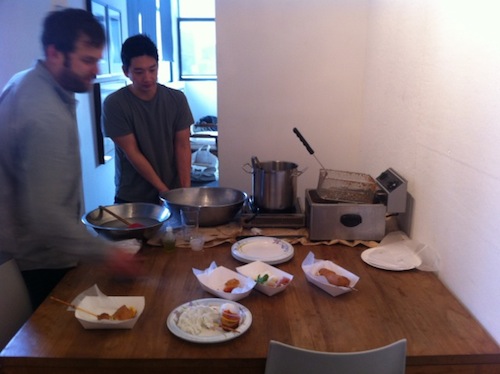 Cooking the food was never really an issue for us. We had been making the same exact stuff for months for our private tastings, just not at the same scale. I had a team of kitchen pros, so scaling up was just a matter of buying and prepping more. Don't get me wrong, though. Getting the system down to a science so I could get my crew home early didn't happen overnight. Prepping from 11 a.m. to 3 a.m. was common at the beginning. I'd get home at 4 a.m., shower, have a drink, get some gear together and head out at 5:30 a.m. to pick up the food from the kitchen. I was motivated by fear, success and a crew I didn't want to let down. Still, making the food was the easy part. It was service that proved to be a bear.
Our first day selling at Smorgasburg was a "disaster," as described by our first Yelp review. Two stars. Thanks Kassie M. of Brooklyn, N.Y.! But, we deserved it. The service was poor, our $700 griddle was broken, we ran out of cemitas by 1 p.m. and actually ended up grilling burgers that had zero resemblance to a cemita, on bread that was given to us by our neighbors who had also sold out of food. Shameful. We only had two cooks including me, two support staff with zero food experience, and a cashier. At the end of the day, we were sweaty, discouraged and covered in ash from the grill. But we were also a phoenix. We adapted and we rose.
After the first day, it was all about learning and adjusting to make our service the best. Nothing else mattered. I'd obsess over weather reports, checking every day, every hour until it was time for Smorgasburg. On game days, it was a competition between our better and worse selves.
Could you beat the pressure of 50 customers surrounding your tent waiting for food, with another 50 in line? How would you react when you're on the brink of screaming, crying or worse, punching the guy asking you to cut his sandwich into six pieces? Just focus, never look at the gigantic line of customers you'll be serving nonstop for the next four hours, and work the next 10 tickets in front of you. Don't eat, down a bottle of water when you have a second and put in work, son. Keep your head down but your chin up. That's what we did.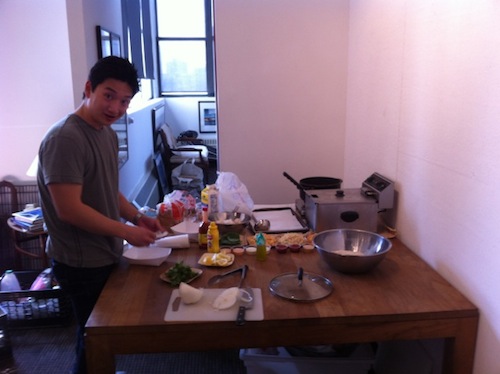 Next time I looked up, it was almost Thanksgiving. At the end of it all, Cemita's was rocking up to four market locations every Saturday and Sunday at Smorgasburg, Brooklyn Flea and special events. We were laughing in the face of what seemed like an apocalyptic summer: earthquakes, hurricanes and even a snowstorm in October. It ended as quickly as it had begun but we were stronger, wiser and better looking.
We lost a lot of people in the summer season but we built an incredible core team: Sergio, my main man with 25 years of cooking experience under his belt; Jason, who proved to be an incredible kitchen man even though he had no experience; Eric, who became a master butcher and sandwich maker after prepping thousands of pounds of meat; Jesse, who came in late but is so talented he jumped into our crazy line and knocked out food with ease from day one; and last but not least, Tess, my sister-in-law/cashier who impressed me more than anybody with her work ethic.
The valuable thing I'll take away from it all: it's all about the people. If all you care about is the money or the food, you'll go crazy. It's that moment when a customer says his cemita was the best thing he's ever eaten or when I get emails or phone calls from customers asking where they can get their cemita that day. We made a difference in how people think about Mexican food and in a broader sense, sandwiches. That makes the blood, sweat and tears all worth it. How could I resist coming back for more? What can I say? I am a sucker for this.