This post was co-authored by Marisa J. Pascucci, Associate Editor, The Art Economist.
The annual fall auctions have just taken place during the week of 11-11-11, and so we've picked the top 11 priciest bombshells from the final "hammer price" tabulations. The auction itself is full of excitement, with a large room full of well-dressed people who represent the art world, famous celebrities, top tier society types and superstars, all contributing to the eccentric and thrilling mix of attendees on the bidding floor. In this environment, everyone in the audience knows your business, made explicit by the numbered paddles raised high in the air, unless you are a distant phone or internet bidder who can keep your buying habits confidential.
Most attendees come prepared, with homework accomplished and an educated sense of what they are after. We were pleased to hear that quite a number of people at the auctions were carrying issues of The Art Economist as a quick reference tool that can add some confidence and perspective as the bidding continues. Here are our top surprises: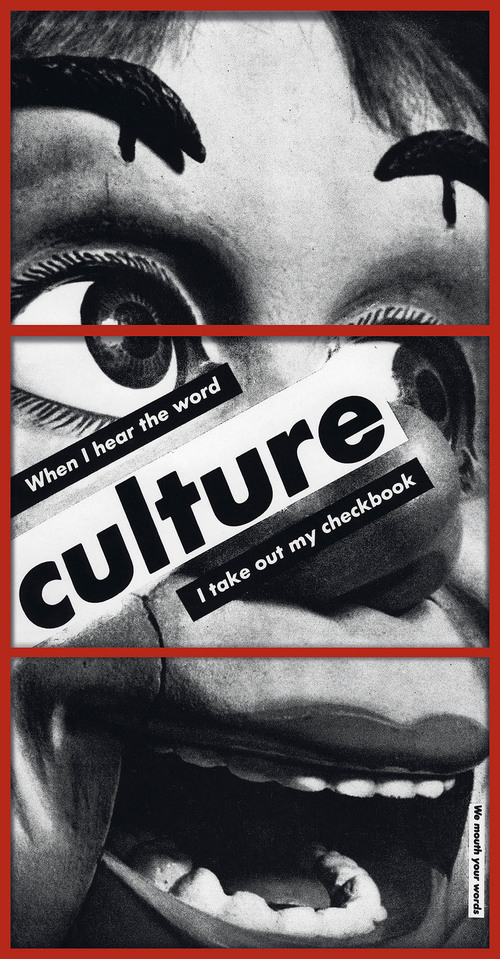 1. Barbara Kruger, Untitled (When I hear the word culture I take out my checkbook), Gelatin silver prints in artist's frames, 1985, Overall: 137.7 x 67 in. (349.8 x 170.1 cm), Christie's New York, Tuesday, November 8, 2011, Lot 3, Works from the Peter Norton Collection, Estimate: $250,000-350,000, Sold For: $902,500, Courtesy Christie's Images Ltd. 2011
This work from 1985 achieved an all-time career high record for Kruger--even $300,000+ above her iconic Untitled (I shop therefore I am). We like to think that as the featured cover artist for Issue 8, The Art Economist might have played a small part in this lot reaching 2 ½ times above the high estimate. Kruger's brief, jeering, satirical quotes often leave the viewer feeling chastised.
(Image Unavailable)
2. Glenn Ligon, Untitled (Stranger in the village no. 17), 2000, Acrylic, oilstick, coal dust and resin on canvas, 78.2 x 132.2 in. (198.7 x 335.9 cm), Christie's New York, Tuesday, November 8, 2011, Lot 10, Works from the Peter Norton Collection, Estimate: $300,000-500,000, Sold For: $1,178,500, Courtesy Christie's Images Ltd. 2011

Ligon not only achieved a career-high record, but also broke the $1 million mark. This is yet another iconic work by a leading contemporary artist that went from his gallery to the Norton Collection, giving it a pedigree that helped catapult it so high above the pre-sale estimate. (This separate twenty-six-lot sole collection sale realized a practically-unheard of 100% sold and set a total of nine artist records.)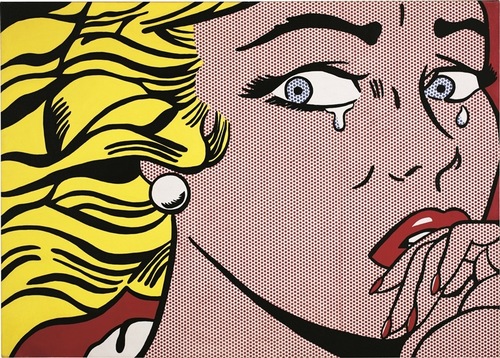 3. Sturtevant, Lichtenstein, Frighten Girl, 1966, Oil and graphite on canvas, 45.5 x 63.75 in. (115.6 x 161.9 cm), Phillips New York, November 8, 2011, Lot 255, Contemporary Art Part II, Estimate: $250,000-350,000, Sold: $710,500
Sturtevant has had an exceptionally good year: the Venice Biennale recognized her illustrious, 50+ year career with the Golden Lion for Lifetime Achievement, and this all-time career auction record. This appropriated Pop work by Lichtenstein dates from her original explosion onto the New York art scene in the 1960s, when she began to meticulously and exactingly copy the multiples, in print and sculpture, of Pop art icons.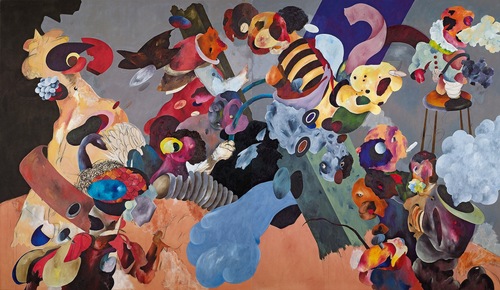 4. Ahmed Alsoudani, Baghdad I, 2008, Acrylic and charcoal gesso on canvas, Overall: 82.9 x 144 in. (210.5 x 365.8 cm.), Christie's London, Friday, October 14, 2011, Lot 37, Post-War & Contemporary Art Evening Auction, Estimate: $380,000-530,000, Sold For: $1,121,229, Courtesy Christie's Images Ltd. 2011
Alsoudani rarely comes to auction, so when Charles Saatchi chose to sell this work it reached double the high estimate. The prestigious pedigree combined with the artist's selection as one of five artists representing Iraq at this year's Venice Biennale (the country's first appearance since 1973), definitely caused his surge into the seven-figure range.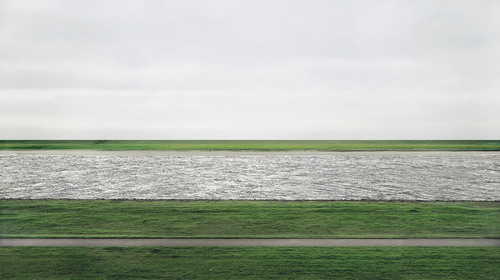 5. Andreas Gursky, Rhein II, 1999, Chromogenic color print, 73 x 143.1 in. (185.4 x 363.5 cm), Edition 1/6, Christie's New York, Tuesday, November 8, 2011, Lot 44, Post-War Contemporary Evening, Estimate: $2,500,000-3,500,000, Sold For: $4,338,500, Courtesy Christie's Images Ltd. 2011
To say that photography shined at the November auctions in New York is putting it mildly. This Gursky work became the most expensive photograph to ever sell at auction. He has been selling at the $1-2 million range since the mid-2000s, and has held this record before in 2007, until Cindy Sherman bumped him from this honor for a brief six months after the May sales in New York.
(Image Unavailable)
6. Zhang Xiaogang, Forever Lasting Love, 1988, Oil on canvas, Triptych, left, 49.25 x 38.25 in. (125 x 97 cm); center, 48.5 x 38.25 in. (123.2 x 97 cm); right, 50 x 39.25 in. (127 x 100.3 cm),
Sotheby's Hong Kong, Sunday, April 3, 2011, Lot 808, The Ullens Collection--The Nascence of Avant-Garde China, Estimate: $3,215,250-4,501,350, Sold For: $10,167,906 © 2011 Zhang Xiaogang
This was the prime lot of the Ullens sale of 105 top works from the couple's collection, exceeding the pre-sale expectations by three to become the highest result in any Hong Kong auction and the most expensive work by a Chinese contemporary artist to sell publicly.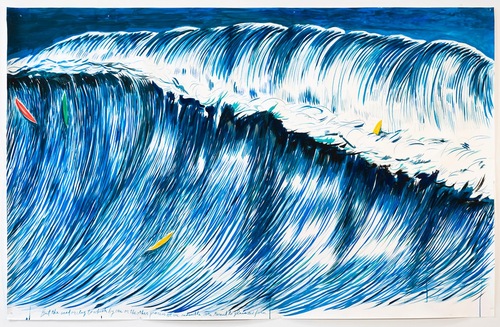 7. Raymond Pettibon, No title (But the sand...), Acrylic, ink and pastel on paper, 2011, 79.5 x 126.5 in. (201.9 x 321.3 cm), Christie's New York, Thursday, September 22, 2011, Lot 14, Artists for Haiti, Estimate: $300,000-500,000, Sold For: $820,000, Courtesy Christie's Images Ltd. 2011
Pettibon created this work (and another equally large-scale piece in his signature California-culture imagery) expressly for the Artists for Haiti auction organized by Ben Stiller and David Zwirner. While helping a country in desperate need, the artist also indirectly brought about his own career auction record.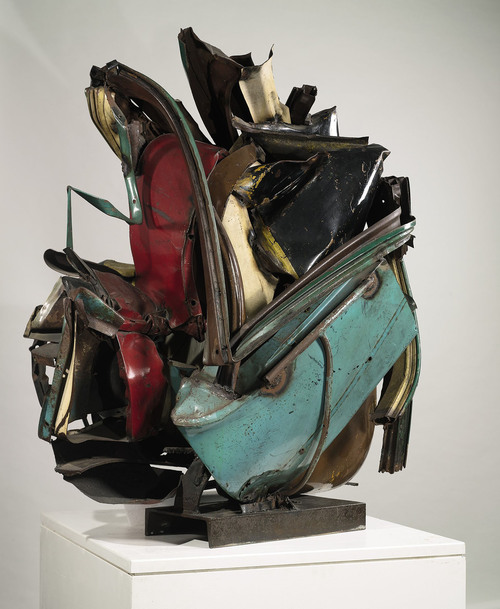 8. John Chamberlain, Nutcracker, 1958, Painted and chromium-plated steel, 45.5 x 43.5 x 32 in. (115.5 x 110.5 x 81.2 cm), Sotheby's New York, Monday, May 9, 2011, Lot 9, The Collection of Allan Stone Volume I, Estimate: $1,200,000-1,800,000, Sold For: $4,786,500
At age 84, Chamberlain has hit his all-time record. This early, seminal work of crushed car parts went from the artist's studio to his then-gallery, back to the artist and within five years into the collection of Allan Stone, the late, illustrious collector and dealer. If the work looks familiar to you, it was one of the "Top Ten Undervalued Works at Auction," as selected by us and published in the May 7, 2011 entry to this blog.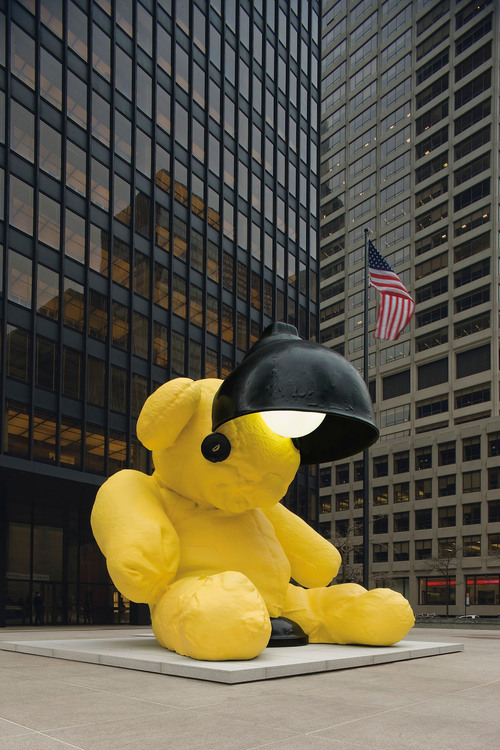 9. Urs Fischer, Untitled (Lamp/bear), 2005-2006, Cast bronze, epoxy primer, urethane paint, acrylic polyurethane topcoat, acrylic glass, gas discharge lamp and stainless-steel, 275.6 x 255.9 x 295.2 in. (700 x 650 x 749.9 cm), Edition 1/2, Christie's New York, Wednesday, May 11, 2011, Lot 32, Post-War and Contemporary Art Evening Sale, Estimate: No Estimate Received,
Sold For: $6,802,500, Courtesy Christie's Images Ltd. 2011
As with previous auction years, size can indeed matter. Urs Fischer's gargantuan 35,000-pound teddy bear resting under a lamp realized a hefty sum, but just how hefty is anyone's guess, as Christie's did not publically release a presale estimate (a not unheard of tactic, especially when it comes to gigantic outdoor works that also include the buyer paying for shipping costs).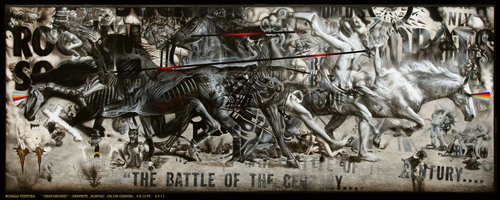 10. Ronald Ventura, Grayground, Graphite, acrylic and oil on canvas, 2011, 60 x 155.9 in. (152.5 x 396 cm), Sotheby's Hong Kong, Monday, April 4, 2011, Lot 268, Modern and Contemporary Southeast Asian Paintings, Estimate: $28,294-45,013, Sold For: $1,082,896, Image courtesy of the artist
Aggressive bidding by several interested parties moved this realized price to an unbelievable twenty-four times above the high estimate. This lot also set the record for the highest price paid at auction for a work of Southeast Asian (here specifically Filipino) contemporary art.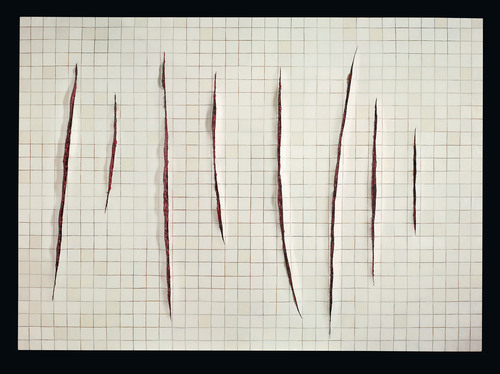 11. Adriana Varejão, Parede com incisões a la Fontana II (Wall with incisions a la Fontana II), Oil on canvas and polyurethane on aluminum and wood, 2001, 70.9 x 98.4 in. (180 x 250 cm), Christie's London, Wednesday, February 16, 2011, Lot 58, Post-War & Contemporary Art Evening Auction, Estimate: $310,000-450,000, Sold For: $1,769,505, Courtesy Christie's Images Ltd. 2011
This lot shows an ever increasing interest in Latin American contemporary art. It set two milestone records: being the first work of Brazilian contemporary art to reach the $1 million mark and also a career achievement for the artist (regrettably not such a common occurrence for female artists, no matter her homeland).
(Note: prices realized include buyer's premium set by the individual auction houses, while the pre-auction estimates do not.)
For further information please visit The Art Economist.
This post was co-authored by Marisa J. Pascucci, Associate Editor, The Art Economist