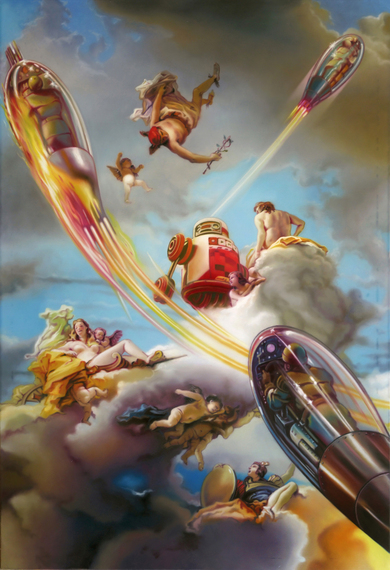 Medardus, Suicide Squadrons of Space--Recomposed Giambattista Tiepolo, Olymp, 1764, 2014, Oil on canvas, 69 x 43 ¼ in. (175 x 110 cm). Courtesy Joerg Heitsch Gallery.
This year, expanding from Miami, CONTEXT New York will premiere on Pier 94 alongside its sister fair, Art New York, which looks like a visual double whammy of emerging, mid-career and established blue chip talent representing 1,200 artists at more than 150 distinguished galleries from fifty countries around the world. The Manhattan piers have a rich and dynamic history, including tracing back to the 1800s when immigrants landed en route to Ellis Island. Located on the West Side, the wharves had a glorious past as passenger ship terminals, home to the White Star and Cunard Lines among others, which inspired the name "Luxury Liner Row." With the invention of jet planes, the elongated parking spots for huge boats became obsolete, but with the silver lining of a more practical use as event and exhibition space. Now these mighty docks make an exceptional showcase for memorable events and exhibitions.
In this inaugural year for CONTEXT New York, presented by Art Miami, the preeminent producer of leading contemporary and modern art fairs, the quality of works on exhibit that I was able to preview in advance are part of a distinguished and memorable line-up with plenty of surprises included. Here is a 'top picks' list from my point of view as space permits, offered with images of the most engaging and interesting works:
Medardus' fascinating portrayal of the old and the new (pictured above), is an intriguing composition of rocketeers blasting through space and in and around heavenly clouds occupied by Baroque-looking semi-clad figures, some with wings attached. These are strange and somewhat ambivalent spaces and places where humanoids, animals and futuristic machines seem to fuse into timeless views. Joerg Heitsch Galerie (Munich, Germany): Heitsch Galerie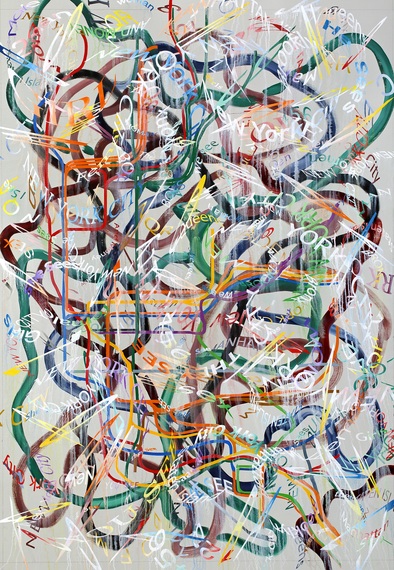 Doug Argue, New York City, 2016, Oil on canvas, 78 x 54 in. Courtesy Waterhouse & Dodd.
Doug Argue has developed a singular pictorial language that literally incorporates letter forms and mysterious word equations stretching inventively in all directions, like a professional contortionist who seems comfortable pushing boundaries. The foundation of this recent series of letterscapes is an endless, meandering puzzle-like spiral of thick colorful lines, reminiscent of early Brice Marden's sensibility with a twist of Christopher Wool. In the work illustrated here, which has the spirit of a subway map gone wild, Argue cleverly incorporates text that reflects a New York state of mind accented with the curvy names of boroughs, streets, spaces and places, and a little sex thrown in for good measure. Waterhouse & Dodd (New York and London): Waterhouse & Dodd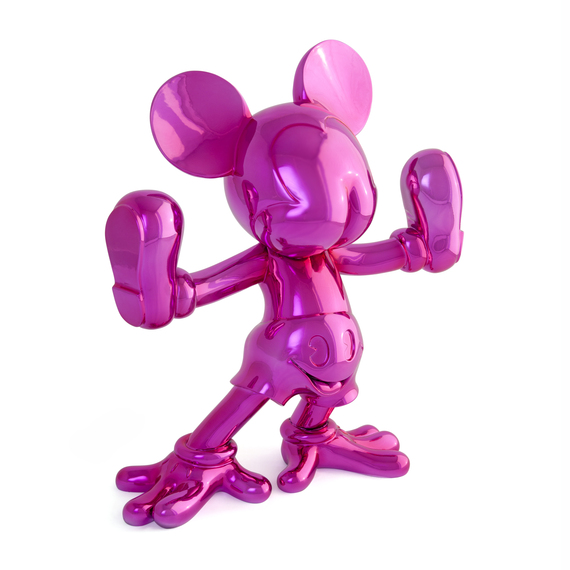 Fidia Falaschetti, Freaky Mouse (fuchsia), Resin, aluminum painted, 43 x 36 x 12 in. Courtesy Fabien Castanier Gallery.
Fidia Falaschetti is an Italian artist who started out as an illustrator and graphic designer, later incorporating his skills into replicating recognizable brands and objects, often with shiny surfaces that seem to reflect an exterior that Jeff Koons has explored extensively. In this series, the artist's world is a kind of surrealistic society made up of bizarre iconic characters that you might find parading around Times Square looking for a handout. In the cast sculpture Freaky Mouse, arms are substituted for legs, feet become hands, and a smile embellishes the pants with a message. I'm all ears. Fabien Castanier Gallery (Los Angeles and Bogotá): Castanier Gallery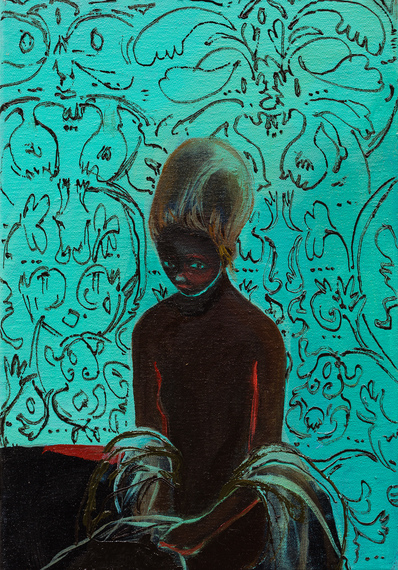 Lisa Wright, The Silent Room, Oil on canvas, 36 x 25 cm. Image Lisa Wright courtesy Coates & Scarry.
Lisa Wright experiments with provocative compositions utilizing a central figure that can express loneliness or despair, and shift to mystery and intrigue. In much of her work, figures are reduced down to monochromatic color schemes, which act as a dreamlike backdrop where some become transparent or seem to be levitating. In The Silent Room, Wright repeats her penchant for isolating a figure in space, here surrounded by a Matisse-like wallpaper that may be hiding a secret clue. Coates & Scarry (London): Coates and Scarry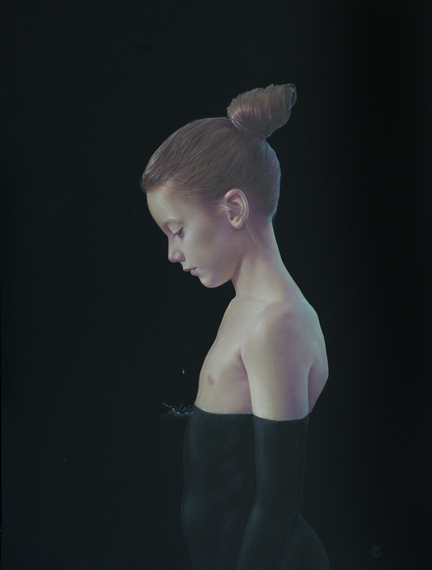 Salustiano, I'll be there, 2016, Natural pigments and acrylic resin on canvas, 125 x 90 cm. Courtesy Galería Lucía Mendoza.
Salustiano was born in Seville, Spain, where apparently he assimilated the great history of native figurative painters such as El Greco, Velázquez and Goya. The artist has a unique aptitude for isolating a single or double figure on a stark background, often in pure red tones or black. In this painting, titled I'll be there, a portrait of a contemplative little girl is set in front of a provocative black background. She seems to be submerged in a black liquid that helps center and cement this beautiful portrait. Galería Lucía Mendoza (Madrid, Spain): Lucia Mendoza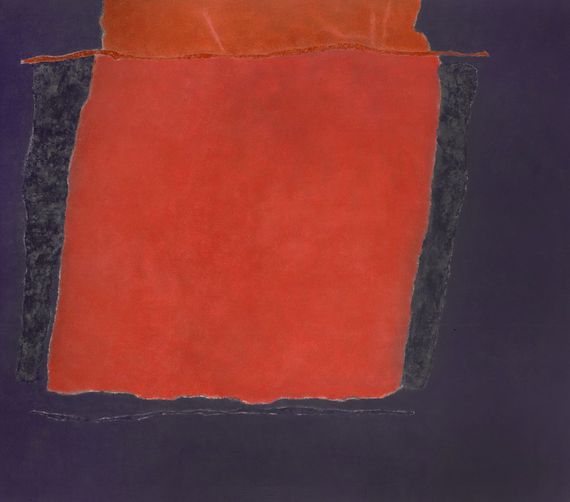 Theodoros Stamos, Infinity Field, Lefkada Series, 1979-80, Acrylic on canvas, 67 x 76 in. Courtesy Hollis Taggart Galleries
Theodoros Stamos was one of the original and youngest Abstract Expressionist artists working in New York City in the 1940s and 50s. He grew up on the Lower East Side, where he became acquainted with the work of Arthur Dove and Georgia O'Keeffe, and by the time he was twenty-one, the legendary gallerist, Betty Parsons, gave him a solo exhibition as part of her remarkable stable of artists. In the late 1940s, Stamos became a member of the Irascible Eighteen, a group of abstract painters that included de Kooning, Gottlieb, Pollock and Motherwell, who protested The Met's policy towards excluding American painting. In this rare work titled Infinity Field (Lefkada Series), the raw talent and sense of superb minimalist composition is obvious. Hollis Taggart Galleries (New York): http://www.hollistaggart.com/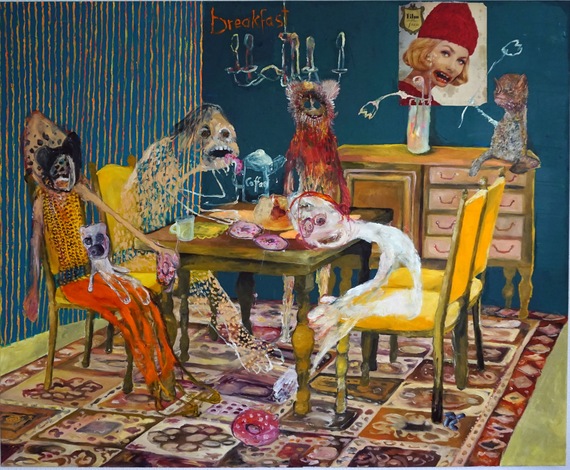 Juliane Hundertmark, Breakfast 3, 2016, Oil and mixed media on canvas, 55 x 62 in. (140 x 160 cm). Courtesy Knight Webb Gallery.
Juliane Hundertmark has invented a cast of hysterically funny characters that could serve as substitutes for some of the creatures in the movie "Men in Black." In the work Breakfast 3, the artist presents a bizarre and motley crew seated at a table cringing over each others' jokes. The participants may have inherited the DNA from artists like Dubuffet, who delighted in the strange world of outsiders in often freakish circumstances like this one, where even the poster on the wall has a nutty slant. These works are consistently recognizable from an idiosyncratic self-taught style that makes for serious fun. Knight Webb Gallery (London): Knight Webb Gallery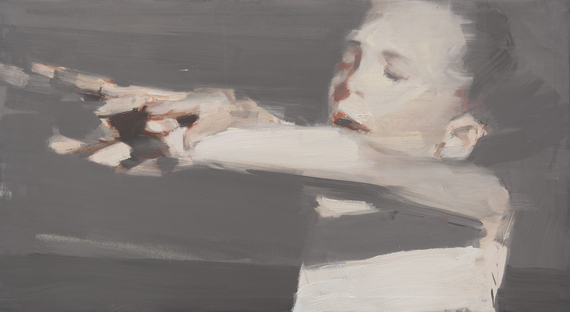 Vladimir Semenskiy, Vision, 2016, Oil on canvas, 65 x 120 cm. Courtesy 11.12 Gallery.
Vladimir Semenskiy's Vision happens to be my favorite painting in the fair. The biggest problem I encountered in selecting a great image as I did research on this article, was sifting through a treasure trove of superb and masterful artworks, all amazingly consistent with a virtually brilliant style of picture making that not only is a fresh breath of air, but for my money, solid investments that one could enjoy every day. What's the big deal? Answer: This is a remarkably talented and particularly skilled artist, a painter's painter who is obviously aware of art history and has the subtle harmonious touch influenced by other artists as varied as Richard Diebenkorn, Franz Kline, Eric Fischl, de Kooning, Tony Scherman, Francis Bacon, Thomas Eakins, Adolph Menzel, Mary Cassatt and Wayne Thiebaud. This is extremely high caliber work that gives credence to a critic's argument that if you look hard enough and long enough, there are great discoveries out there to relish. 11.12 Gallery (Moscow and Singapore): http://www.11-12gallery.com/
There are many more exciting works at CONTEXT New York, which opens May 3 with a VIP Preview (2-5pm); the fair continues through May 8. For information about the fair: Contextny Fair