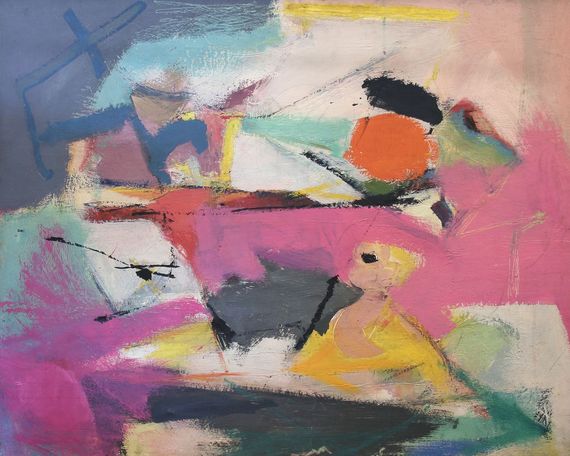 Franz Kline, Untitled, Circa 1947, Oil on canvas, 28 x 35 in. (71.1 x 88.9 cm). Courtesy of Allan Stone Projects, New York. © The Franz Kline Estate / Artists Rights Society (ARS), New York.
All signals point to an optimistic and rising art barometer as another whirlwind Miami Art Week approaches. Not only is the expected temperature perfect for the first week in December, but recent auction results show a healthy push for acquiring outstanding examples of contemporary art. Christie's, Sotheby's and Phillips' recent evening sales totaling almost $450 million were perhaps the best predictor that the art market is alive and well and has weathered an earlier dip successfully, so now it looks like sunny skies are ahead. Not surprisingly, most financial advisors are recommending a healthy percentage of wealth be invested in contemporary art. Concerns about the impacts of continued lagging oil prices (not oil on canvases), the aftermath of Brexit, and the unexpected U.S. presidential election results, when markets immediately plunged and then recovered (and as of this writing the Dow topped a record 19,000 points), appear to have had little effect on art buying confidence from sophisticated collectors. Last week, someone finally figured out that de Kooning is still the greatest abstract expressionist painter who ever lived on the planet and plunked down $66 million at auction for an exceptional 1970 abstract landscape. There were plenty of other impressive sales, including Christopher Wool ($5.5 million), Dubuffet ($23 million), rocker Eric Clapton's Richter ($22 million) and Hockney ($1.7 million), so it seems that the climate is encouraging for obtaining iconic and exemplary blue chip and museum quality works of art. Coincidentally and not surprisingly, all of these record-breaking artists and more are well-represented at Art Miami, the longest running continuous art fair in the U.S., inaugurated in 1989 by Nick Korniloff and partners, and its neighboring sister fair, CONTEXT, which are living up to their well-earned reputation as America's foremost contemporary and modern art fairs.
Art Miami returns for its 27th installment, kicking off on November 29th with a VIP Preview sponsored by Christie's International Real Estate benefiting Pérez Art Museum Miami (PAMM) in the Art Miami Pavilion. Eighty-five thousand art lovers attended the fair in 2015, and this year attendance is expected to rise, with 135 international exhibitors and over 450 artists from more than forty different countries.
Some of the unique highlights I spotted in advance are a pastel of Edward Ruscha's DO ING, previously exhibited at the San Francisco Museum of Modern Art, LACMA and the Whitney, which will be at ARCHEUS/POST-MODERN; Frank Stella's Brazilian Merganser, along with stunning works by Dzubas, Diebenkorn and Olitski, are at Leslie Feely; Roy Lichtenstein's Reflections on Expressionist Painting and some iconic Warhol silkscreen pieces are at Benrimon Projects; and Mayoral Galeria D'Art is presenting Salvador Dali's Rhinocéros en désintégration, along with a handsome Alexander Calder painted sheet metal sculpture and Joan Miró's Personnage. Sims Reed Gallery is featuring a work from a famous and rare series of works by David Hockney, titled Illustrations for Six Fairy Tales from the Brothers Grimm; and Allan Stone Projects will exhibit Willem de Kooning's Abstraction, circa 1945, and selected works by Wayne Thiebaud.
In addition, on view will be works by an alphabetical who's who of artists, including Andre, Baselitz, Basquiat, Botero, Chamberlain, Cragg, Condo, de Saint Phalle, Dine, Fairey, Frankenthaler, Hashimoto, Hirst, Johns, Judd, Kelly, Kiefer, Koons, Kusama, Longo, Murakami, Noland, Picasso, Rauschenberg, Richter, Rosenquist, Sultan, Twombly, Venet, Warhol, Wool and Zakanitch. Suffice it to say, this exciting line-up of world-renowned artists make for a great art fair that also encourages the display of mid-career and emerging artists who are represented by leading galleries around the world.
Among the top works previewed, here is a list of my personal favorites in no particular order:
Franz Kline, Untitled, circa 1947 (Allan Stone Projects; pictured at top): an unusual but delightful painting by one of the most important abstract expressionist artists of our time. Allan Stone was known in the business as an exceptional dealer and collector with a perfect eye. The works in his overcrowded Manhattan office were always outstanding examples of leading artists, including an extraordinary Chamberlain that I predicted in The Art Economist magazine would set an all-time auction record, which it did! Allan Stone Projects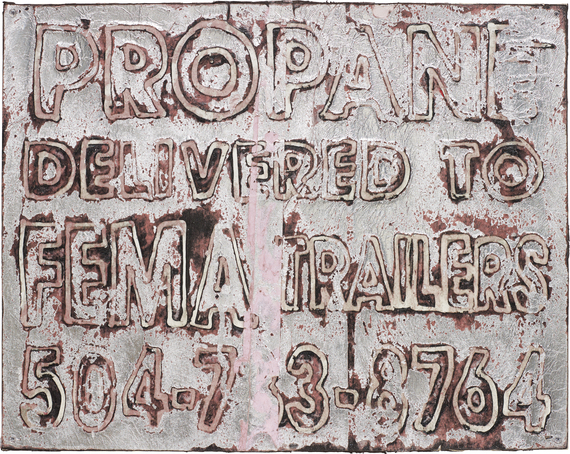 Mark Bradford, Untitled (Corner of Desire and Piety) III, 2008, Mixed media collage, 22 x 27 ¾ in. (55.9 x 70.5 cm). Courtesy ARCHEUS POST-MODERN, London.
Mark Bradford, the hot shot whiz kid and perhaps one of the most sought after artists of the last few years, who will represent the U.S. in the 2017 Venice Biennale and has work touring in the celebrated "Open This End" exhibition of Blake Byrne's collection, shows Untitled (Corner of Desire and Piety) III at ARCHEUS/POST-MODERN, a mixed media collage that is instantly recognizable as a solid example of the artist's oeuvre. Bradford's art is concerned with cities (and maps thereof), racial identity, history and injustice. He usually creates his collaged compositions by utilizing discarded materials from posters and other urban neighborhood sources, which often are sanded down. Archeus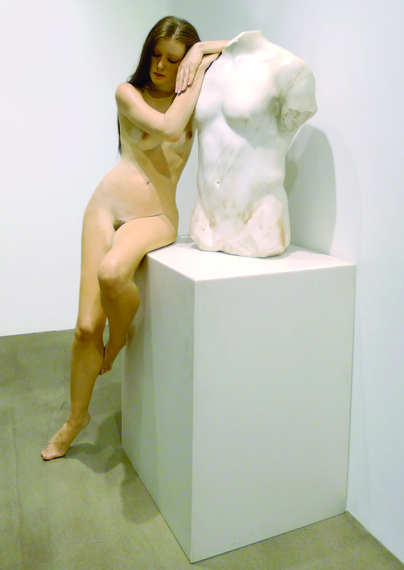 John DeAndrea, Classical Allusion, 1987, Oil on polyvinyl, marble, 60 x 30 x 31 in. Courtesy of the artist and Bernarducci Meisel Gallery, New York.
John DeAndrea's hyper-realist sculpture Classical Allusion, 1987 (Bernarducci Meisel Gallery) is a simply astonishing, unthinkably perfect rendition of a female nude study that is leaning on the corner of a sculpture stand displaying a male torso. This work is far superior to other artists who try to create real figurative illusion and there is no contest. This sculpture will be one of the most talked about and admired in the fair. Bernarducci Meisel Gallery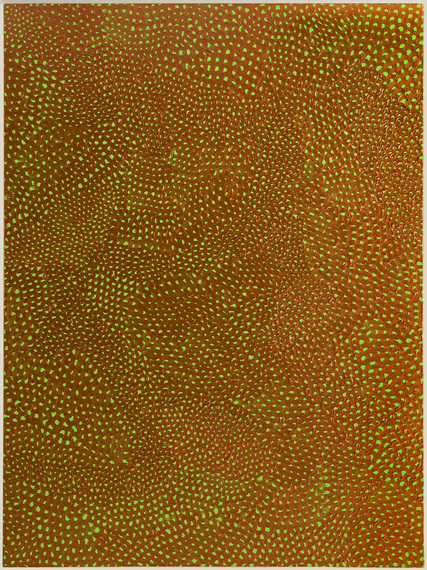 Yayoi Kusama, NETS- INFINITY (OPQA), 2004, Acrylic on canvas, 51.3 x 38.2 in. (130.3 x 97 cm). Courtesy Galerie von Vertes, Zürich.
Yayoi Kusama's hypnotic work from Galerie von Vertes, NETS-INFINITY (OPQA), has swirls and dots on canvas that are deceptively simple, but in reality, have a complex formula that seems to come naturally from this prominent and gifted artist. Gallery Von Vertes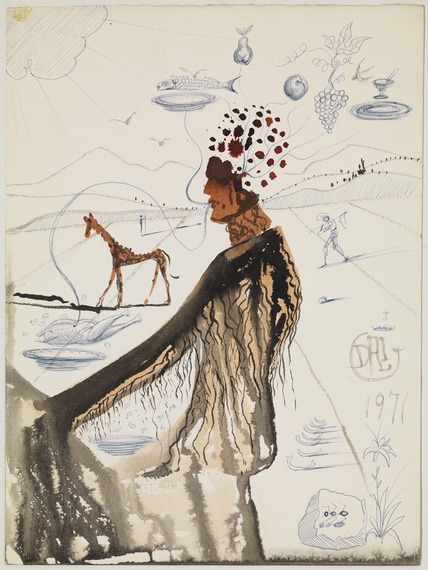 Salvador Dali, The Earth Goddess (Illustration for a eponymous Lithograph 1979-80), 1971, Gouache, blue ballpoint pen and felt pen (silver?) on paper, 47.1 x 35.2 cm irregular. Courtesy of Mayoral Galeria d'Art, Barcelona.
Salvador Dali's The Earth Goddess (Illustration for an eponymous lithograph), 1971 (Mayoral Galeria d'Art) is a rare example of a titan of 20th century artists, complete with Dali-esque semi-conscious doodles of flying fish and fruits juxtaposed with characteristic watercolor applications from a great grandfather of surrealism. Galeria Mayoral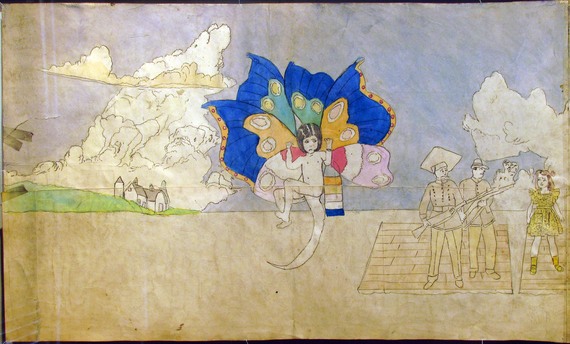 Henry Darger, At Jennie Richee . . ., c. 1940-50, Double-sided, carbon transfer and watercolor on paper, 18 x 76 in. Detail. Courtesy Carl Hammer Gallery, Chicago.
Carl Hammer Gallery is internationally acknowledged for representing some of the best outsider artists in the world, well known in their own right, like Bill Traylor, Joseph Yoakum, and illustrated here, the reclusive Henry Darger, who is a truly remarkable artist with the most bizarre story attached to his life and working methods than any other I know. Janitor by day, artist by night, his late shift portrayals of a secret world often dominated by rebellious children are wondrous and beautiful. Carl Hammer Gallery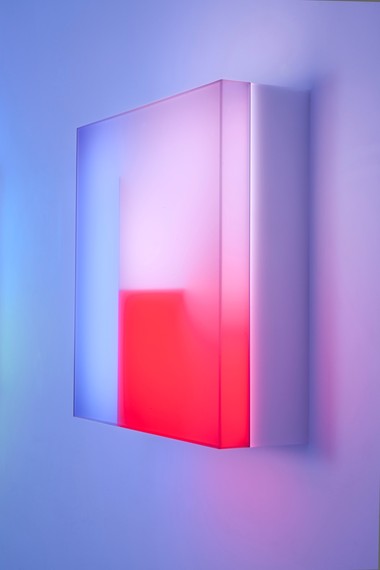 Brian Eno, 3 Fields, 2016, Light box: LED lights, perspex, wood, usb stick, 65 x 65 x 19 cm. Photo credit Masami Naruo. Courtesy Paul Stolper, London.
Paul Stolper Gallery of London is presenting a series of light box "colorscapes" at CONTEXT by musician, composer and artist Brian Eno, known for his collaborations with such musical acts as U2, David Bowie and the Talking Heads. These dramatic glowing works could almost be a theoretical hybrid of Dan Flavin, Josef Albers and Kenneth Noland, all in one. Paul Stolper Gallery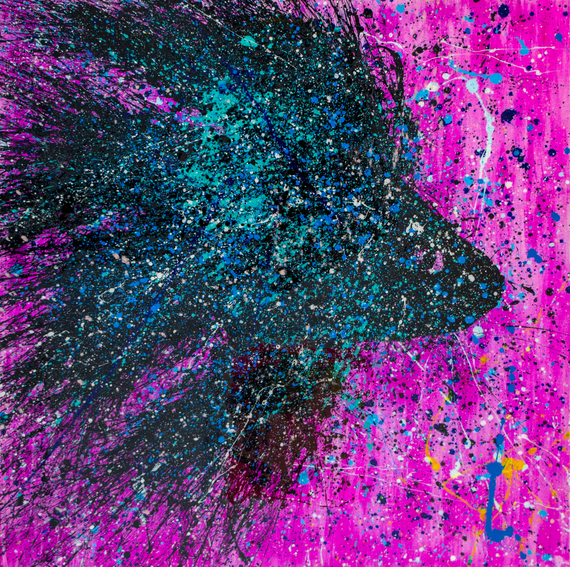 Adrien Brody, Purple and Black Fish, 2016, Acrylic on canvas, 48 x 48 in. Courtesy of David Benrimon Fine Art, New York.
Adrien Brody, Academy Award winning actor and artist, is exhibiting a new series that incorporates bold colors and narrative imagery that relate to saving the environment. These works shown by David Benrimon Fine Art successfully combine a number of painterly styles, including abstract expressionist drips and flat fields of color, with recognizable narrative outlines of fish and fowl. David Benrimon Fine Art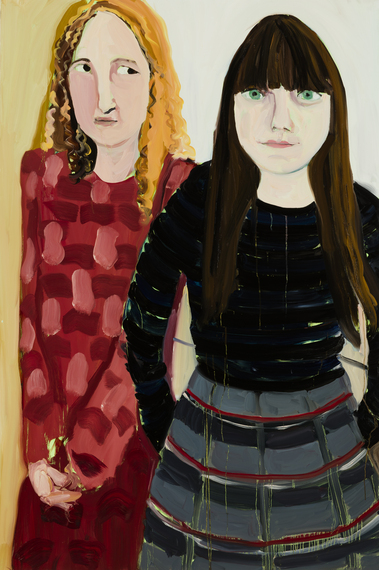 Chantal Joffe, Alba and Esme in the Winter, 2016, Oil on board, 72.05 x 48.03 in. (183 x 122 cm). Courtesy Galerie Forsblom, Helsinki.
Galerie Forsblom of Helsinki is showing Chantal Joffe's dual portrait titled Alba and Esme in the Winter, 2016. Joffe is recognized for her large, highly expressive paintings and commanding interpretations of female figures, including self-portraits. Her new series, which includes pastels on paper, has a gentleness and airiness that captures a sense of ephemerality reminiscent of the Impressionists. Galerie Forsblom
Art Miami opens November 29 with a VIP preview and continues through December 4. Ticket information: 1-800-376-5850, email info@art-miami.com
For more information about Art Miami, CONTEXT and Aqua art fairs: www.artmiamifair.com, www.contextartmiami.com and www.aquaartmiami.com